The Road to 70.3 - Race Day
2014 Jul | By SwimOutlet.com Staff
By Jordan Turner, SwimOutlet.com Social Media Coordinator



"If it is important to you, you will find a way. If not, you will find an excuse." I will be the first to admit that I found a lot of excuses on the road to 70.3, most of which involved avoiding my bike. However eventually, after countless hours of training, endless support, a few meltdowns and some serious soul searching, I also found my way.
On July 26, I completed my very-first 70.3 distance triathlon, Barb's Race in Sonoma County. Crossing the finish line after a long 70 miles— a 1.2-mile swim, 56-mile bike ride, and 13.1-mile run—is not something to be taken lightly. In fact, it was my biggest athletic accomplishment to date.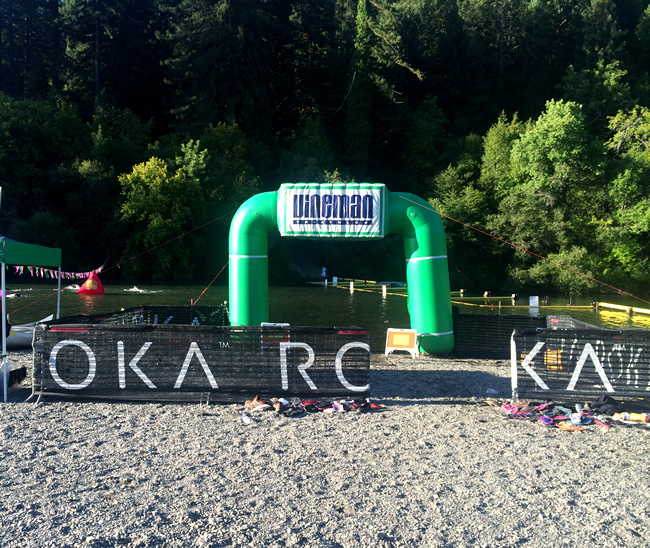 I know what you're thinking, who in their right mind would sign up to race 70 miles in the first place? Well, being that I am young and fairly active (and maybe a little bit crazy), I am constantly finding new ways to challenge myself. At first, after college, it was a 5k fun run here and there—emphasis on fun (often times a tutu and paint were involved). When I got bored with the local 3-mile courses, I graduated to half-marathons. After having a handful of half-marathons under my belt, I decided it was time to test the waters in a triathlon (you see where I am going with this?). A few races later, I found myself standing on the edge of the Russian River in Guerneville, CA anxiously awaiting the 10-second countdown to my first 70.3 triathlon.
They say that if it scares you, then it might be a good thing to try— well, I was scared. I spent the entire week leading up to race-day playing different scenarios (nightmares, actually) in my head—what if I don't make it to the finish line before the time cut-off, what if I forget how to clip-in and fall off of my bike, what if I drown—all of which very unlikely (and very dramatic). Fortunately, regardless of the event or distance, I always hit this point on race day when I realize that the last 48 hours (or in this case, 7 days) of stress are no longer relevant. Eventually you are forced to face the race that lies ahead of you, give it all that you've got, and enjoy the ride (no pun intended).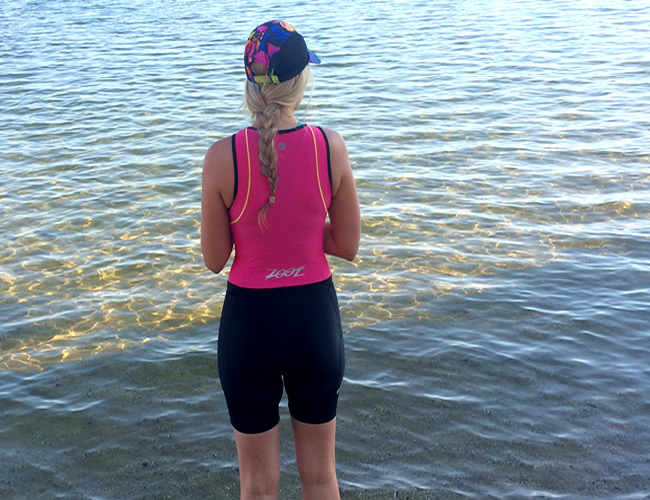 Like clockwork, all pre-race doubts and last minute meltdowns were suddenly washed away as soon as I dove into the water. Before I had time to second-guess myself, the race had begun and I was on my way to a triumphant 70 miles.
I swam with my head above the water for the first couple of minutes, avoiding the flailing arms and fluttering legs. The Russian River was very narrow and shallow, which was much different from my previous open water swims. I took the 1.2-mile swim up the river at an easy pace, with the next two legs of the race in mind—the bike and the run.
When I came out of the water, I ran into transition one (T1) with more energy than expected—realizing now that I probably could have kicked it up a notch (or two, or three) on the swim. I took a big gulp of coconut water, bit off a small piece of my protein bar, fastened my helmet, and ran my wheels up to the bike course. I was clinging on to the fear of a clip-in malfunction, so you can imagine my excitement when I made it out of T1 without a crash. Throughout the entire race I forced myself to take it one beautiful, scenic mile at a time (optimistic, right?), as opposed to dreading the remaining hours. This did wonders on the bike—incase you were curious, 56 miles gives you a lot of time to question your sanity. Finally by some miracle, I had survived the quad-burning vineyard hills and rolled into T2. Immediately, I kicked out of my cycling shoes and wiped my hands clean of the bike. I don't think I have ever been happier to slip into my running shoes and hit the pavement—this meant I was almost done, almost.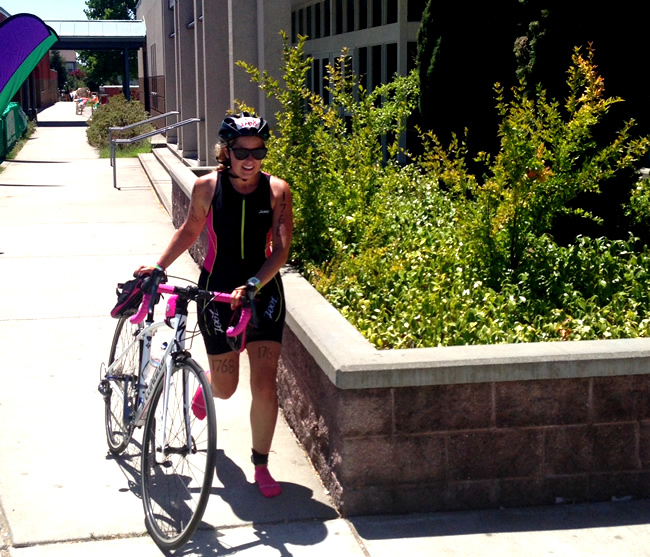 I left T2 with the intentions of only walking at the aid stations— it was 91 degrees in Windsor, CA on Saturday, so I understood the importance of staying hydrated. Thankfully, there was an aid station (or rest station, as I like to call them) every mile stocked with water and ice, electrolytes, nutrition gels and chews, cookies, chips, fruit, Coca-Cola and the occasional volunteer spraying you with a hose. Unfortunately, in conjunction with these rest stations there were also long rolling hills every mile throughout the run. I set out on the 13 miles on pace to finish under six hours and thirty minutes (my goal time), but my tired legs quickly started to weigh me down to the asphalt. It became harder to hold a steady pace, and I inevitably had to walk up the majority of the hills. Despite the pain, my fellow competitors and the spectators along the way kept me going with their constant encouragement. Triathletes share this unanimous understanding somewhere in the middle of determination and exertion, and it is that unspoken bond that makes triathlons so inspiring to be a part of.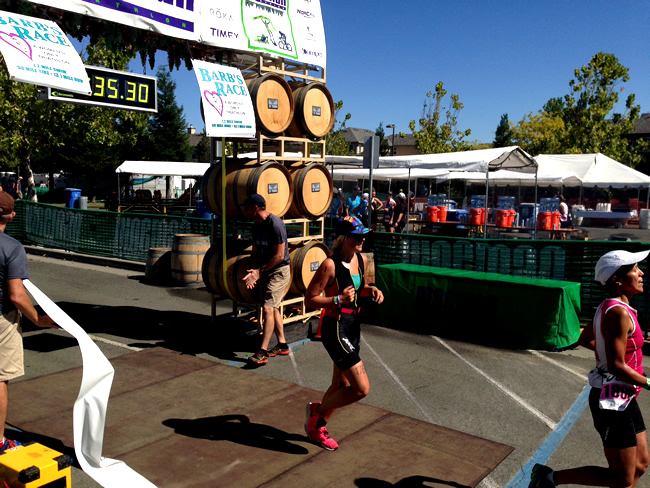 Eventually, 70 miles and 7.5 hours later, I crossed the finish line with a smile. I will not say that this race was easy. In fact, it was easily the most challenging thing I have ever done. Before you talk yourself out of signing up, I will also tell you that it was easily the most humbling and empowering thing I have ever done.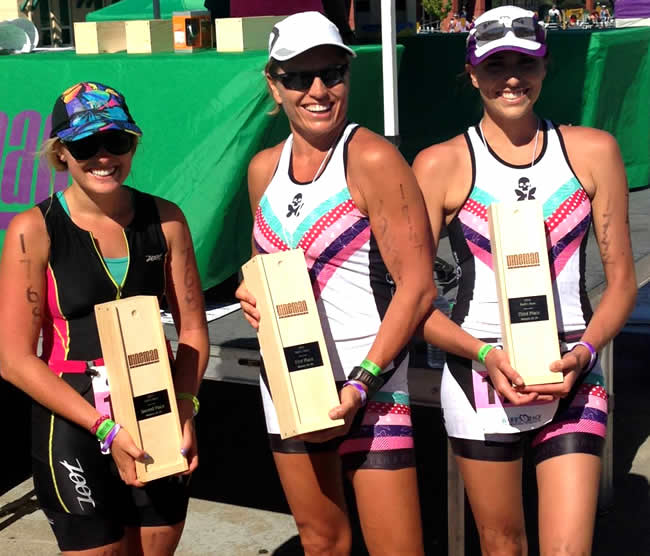 I walked away from this journey with a lot of lessons learned—some about race prep, but mostly about myself. If you had asked me 18 months ago if I thought I would compete in a 70.3 triathlon, I would have been quick to respond with a very firm "no." Today, as I sit here writing this, I can't help but ask myself—what's next?
Are you thinking about "TRI-ing" a triathlon? Tell us where you want to do your first triathlon in the comments below by 11:59pm PT on Friday, August 8th, for a chance to win a Sporti duffle bag.