The Road to 70.3 - My First Olympic Triathlon
2014 Jun | By SwimOutlet.com Staff
By Jordan Turner, SwimOutlet.com Social Media Coordinator
 
If you're anything like me, you have thought about "tri-ing" a triathlon because, well, why not? You can swim, you can bike and you can run-- so how hard can it be, right?! 
A year ago, I registered for my very first triathlon. It was a sprint, which consisted of a quick 400 yard swim, a 12 mile bike ride, and a 5k run. Being a swimmer, and having a few half-marathons under my belt, I went into this race with a mountain bike, minimal training and oodles of confidence. The race was tougher than I anticipated (especially as I watched everyone zoom past me on the bike course), but fun nonetheless. So naturally, I was already looking for my next race (and a road bike).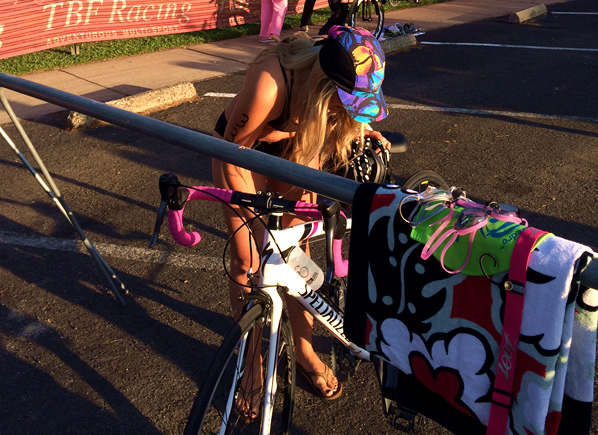 As we entered the 2014 triathlon season, I knew that I wanted to try a longer distance. I felt stronger in the water after joining a local U.S. Masters swim team, and was without a doubt quicker on land. Though I still hadn't spent much time on my bike, I was confident that I could complete a full triathlon. With that in mind, I registered for Barb's Race -- a 70.3, half-ironman distance. It took me a few seconds after getting the confirmation e-mail to realize what I had just done. I bit the bullet for this monstrous race, without even attempting the standard Olympic distance.
The next logical thing to do was to find a local Olympic triathlon, and test the waters (literally) of a longer course. With little to no training, I completed my first Olympic tri on Sunday June 1. I will be the first to admit, it was nothing short of challenging.
I stared into the Northern California lake Sunday morning, thinking to myself, "this is going to be a piece of cake." When you look at the break down of events individually-- a .93 mile swim, a 24 mile bike, and a 10k run-- they sound easy enough. After swimming for 20+ years, and running half-marathons every couple of months, those distances seemed small in the grand scheme of things. Boy, was I wrong.
I dove into the lake to warm-up, waiting for my wave's swim start. Considering that the swim portion was only about half the distance of what I swim on any given day, I was not worried-- swimming will always be my strongest leg in triathlons, there is no doubt about it. I felt great coming out of the water and hit T1 (transition one) with a smile, until the nerves started to set in. Since I had only rode my new set of wheels a handful of times leading up to this race, I was not comfortable on my bike. I barely knew how to shift gears, and would have had no idea what to do if I would have gotten a flat. Despite my lack of experience, I kept telling myself, "it's just a bike ride, enjoy the ride." What I was forgetting was that it was a 24-mile ride, uphill. I was tired, really tired. I kept checking my Garmin, watching my fellow competitors fly by and wondering, "am I done yet?" Eventually I made it back to the transition area, and left T2 with a hungry stomach and wobbly legs. Thankfully it was only 6 miles, right? I hit a wall. I was exhausted, and ran the slowest 6 miles of my life. I pushed through, not because I wanted to win, but because I just wanted to be done (let's be honest, the REAL victory is finishing). 
Afterwards, as I stood on the podium, I felt so happy that I had just completed one of the more challenging things I've ever had to do. And then it hit me, in just seven weeks I have to DOUBLE the distance for my 70.3 race. It will not be easy by any means, but I am excited for the challenge. The pain is temporary, but the euphoric feeling you get from accomplishing what others wouldn't dare attempt makes it all worthwhile.
Are you thinking about trying a tri? Follow along with me as I track my progress on the road to my very first 70.3 triathlon!
What I wore: Sporti Double Cross Workout Bikini Top & Bottoms (Thankfully, the California water was warm enough that I did not need a wetsuit) // Sporti Antifog S2 Metallic Goggle // Garmin Forerunner 10 GPS // Giro Women's Amare Cycling Helmet // Zoot Women's Active Tri Mesh Tank // Zoot Women's Performance 8" Tri Short // ON Cloudsurfer Running Shoe // Zoot Race-Day Belt