SwimOutlet.com Team Division Product Highlight Featuring Dolfin
2018 Jan | By SwimOutlet.com Staff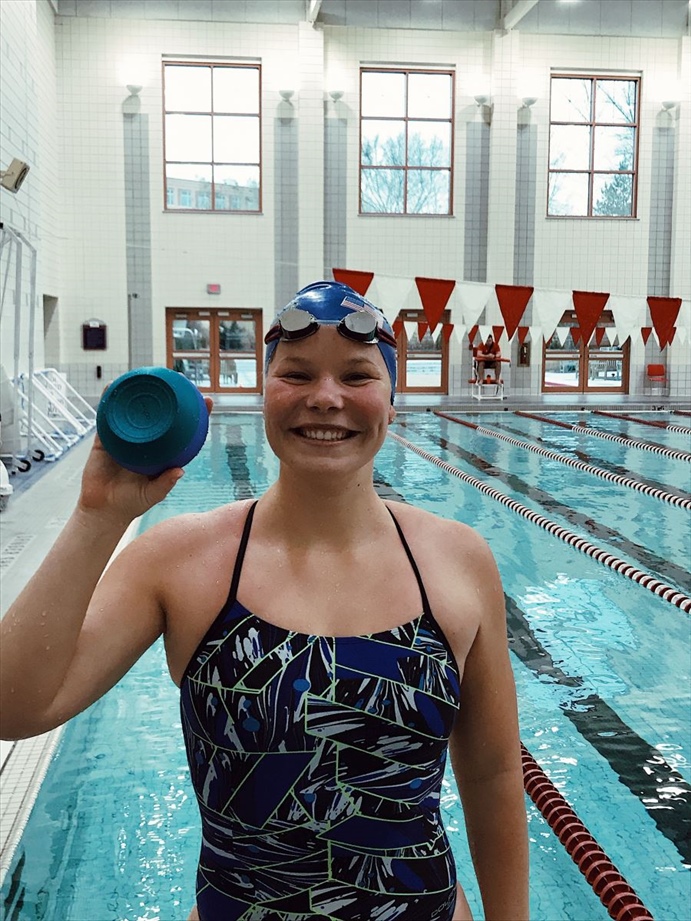 Elise Locke, SwimOutlet.com's resident team product guru, has swam competitively for over 15 years, 4 of them at the collegiate level with Washington State University, where she qualified for Olympic Trials in the 200 fly.  Elise has started the next phase of her swim life with SwimOutlet Team Sales. She is here to share her in depth swim and product knowledge to provide you the best gear information for your team's next purchase.
Today I tried out the Dolfin Graphlite Women's Vantage One Piece Swimsuit and Dolfin Kickball. I have been a competitive swimmer for over 15 years and have gone through a lot of swimsuits and tons of training gear. The level of cuteness in a print and comfort have been the main drivers of my suit purchases in the past. Today I will review design, fit, material, and team suit potential of the Dolfin Graphlite Women's Vantage. I will also take the Kickball through my practice to see if it brings value to my training.

Initial Thoughts/ Design

When I first pulled this suit out of the package, I was so excited to put it on! The suit felt like some tech suits do, a little like paper, but lined in the front.
I was also a little bit surprised that this swimsuit was made by Dolfin. Dolfin in my mind, is known best for its "Uglies" line. The vibrant two-patterned, one pieces, that usually consists of swirly prints or polka dots. The Graphlite Vantage is like the Uglies' edgy older sister who still looks kind of fun but could also smoke you in a race.
The pattern is a cool geometric with black thin straps, which compliments the minimal coverage open cross back.

Fit
This suit was made for racing and training based on it's tight fit. I ordered a size 30 and I probably could have ordered a size 32 according to the size chart but I always like to get a size down so that when the suit inevitably stretches out, it will still fit me!
The neckline was high enough to cover my chest and felt secure enough on the sides. I thought there was a good amount of compression on my chest and stomach without the suit being constricting or uncomfortable. Also, the straps are stretchy enough that they didn't dig into my shoulders or back, which is a huge deal when you have two hour practices! In addition, they didn't roll or move while swimming.
Material

Like I mentioned before, the material felt a little different than what I am used to, but I have never had a suit that was 71% Nylon and 29% Xtra Life Lycra before. This material is designed to keep its shape and retain its color for longer.
This suit is also front lined but not lined in the back. I wasn't sure if it would feel different, but I didn't even notice. The suit fit tight against my body and I didn't feel any drag throughout practice.
In summary, the material felt durable and it dried quickly!
Team Suit Potential

I would love this as my team suit:

- It sets you apart with the pattern since a lot of teams go with a solid or a splice suit.
- It comes in 4 different colors (blue, green, orange and red) so you are able to wear your school or team color if it is available.
- This suit is made to be durable so that you can wear it for the whole season or for a year around club.
- It comes in youth sizes, as well as matching jammers and briefs.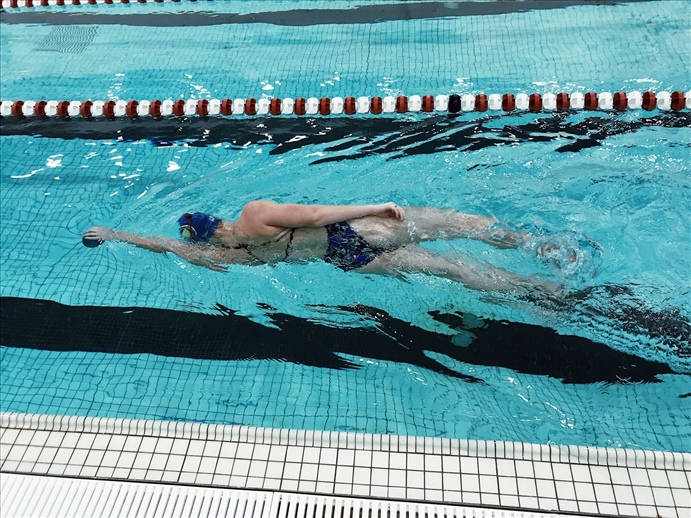 If I'm being honest, I had never heard of a kickball before. I asked one of my swimming peers if they had ever used one and he had not only heard of it, but his mom uses one!
My initial thought when I pulled the kickball out of the box was, "This is lighter and squishier than I thought it would be." It is a 4.5" ball that is a foam material and has two indents on either side of it, making it so versatile. It is designed to go in between your knees when swimming or in your outstretched arm when kicking on your side.
When I put the kickball to the test, it was actually really hard for me! It forced me to engage my whole body while I swam/pulled with it in between my knees. After using it for a little bit doing freestyle, I noticed my body position was where it should always be, on top of the water, and even my legs were engaged while I squeezed the Kickball between my knees. I was also able to focus on rotating and using my core to do so instead of just spinning my arms.
I tried using it for kicking on my side next and it was a good tool to practice the initial pressing down motion of my freestyle catch. I was able to get all the way on my side, stack my shoulders and my hips while working on the drill.
This product is also the only device on the market that corrects your breastroke knee position. No more putting a buoy between your legs and having it fall out constantly.  By the end of practice I was able to do breastroke with the Kickball between my knees with no slipping!
I think the key to this device is to use your creativity, because with the versatility this product can be a multipurpose training aid. It is such a multifunction and light-weight tool that you are able to travel with it to a swim meet or carry it in your gear bag to the pool deck.
Pictures with kickball: 1) The Kickball is in between my knees 2) The ball is in my hand (I'm pressing down on it to practice the initial catch in freestyle and practice rolling all the way on my side)