Rio Swim Schedule by Day!
2016 Aug | By SwimOutlet.com Staff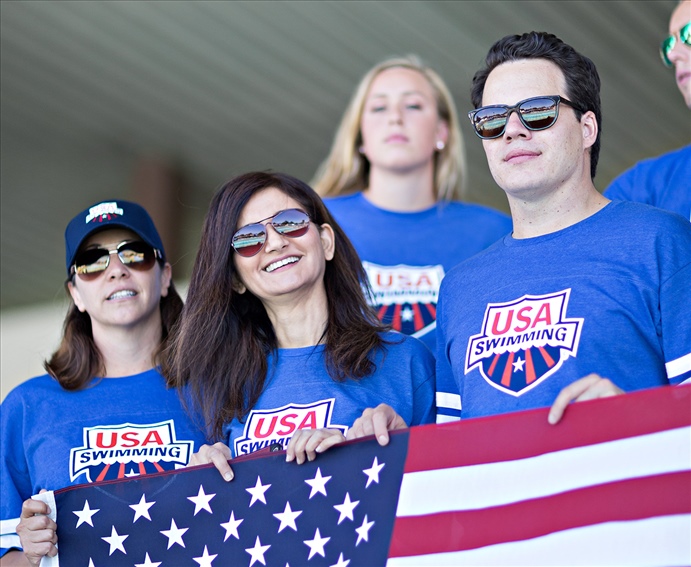 We're just days away from this summer's big swim meet! You know, the one we've been waiting four years to come back around. The excitement kicks off Saturday, August 6 and ends after eight days of competition on Saturday night, August 13.
As the official online retailer of USA Swimming we support all members of the U.S. swim team. We also know there are some standout personalities and stars on the team, so we've highlighted the individual events where you can catch Katie Ledecky, Missy Franklin, Ryan Lochte and Michael Phelps, for quick reference
By that count, Tuesday, Thursday and Friday will be big nights on the program. With Phelps competing in the 200 fly on Tuesday, and with Ledecky and Franklin likely facing off in the 200m free -- plus the added bonus of a relay race -- mark down Tuesday, August 9 as one of the high points on the calendar. 
The quartet of stars will also be part of the relays, but we expect you to watch all the relays to support America's best swimmers, so sit back, make a big bowl of popcorn and enjoy the action on NBC every night starting at 8pm ET.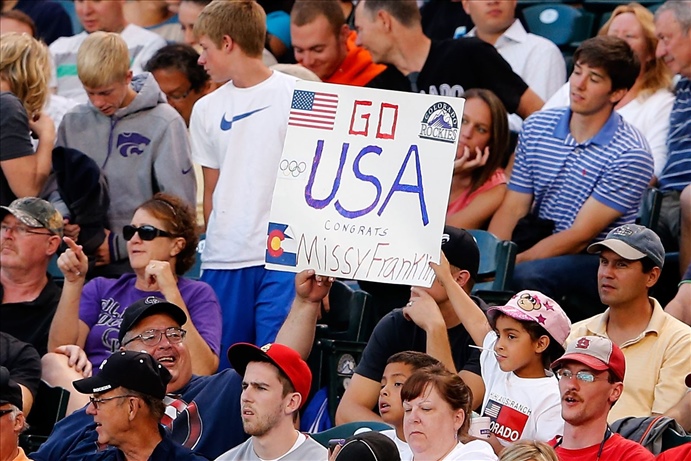 SATURDAY, AUGUST 6
PRELIMS
Men's 400m IM
Women's 100m Fly
Men's 400m Free
Women's 400m IM
Men's 100m Breast
Women's 4 x 100m Free Relay

SEMIFINALS/FINALS
Men's 400m IM – Final
Women's 100m Fly – Semifinal
Men's 400m Free – Final
Women's 400m IM – Final
Men's 100m Breast – Semifinal
Women's 4 x 100m Free Relay – Final
 
SUNDAY, AUG 7TH
PRELIMS
Women's 100m Back
Men's 200m Free
Women's 100m Breast
Men's 100m Back
Women's 400m Free (Katie Ledecky)
Men's 4 x 100m Free Relay

SEMIFINALS/FINALS
SUNDAY, AUG 7TH
Women's 100m Fly – Final
Men's 200m Free – Semifinal
Women's 100m Breast – Semifinal
Men's 100m Breast – Final
Women's 400m Free – Final  (Katie Ledecky)
Men's 100m Back – Semifinal
Women's 100m Back – Semifinal
Men's 4 x 100m Free Relay – Final
MONDAY, AUG 8TH
PRELIMS
Women's 200m Free  (Missy Franklin, Katie Ledecky)
Men's 200m Fly (Michael Phelps)
Women's 200m IM

SEMIFINALS/FINALS
Women's 200m Free – Semifinal  (Missy Franklin, Katie Ledecky)
Men's 200m Free – Final
Women's 100m Back – Final
Men's 100m Back – Final
Women's 100m Breast – Final
Men's 200m Fly – Semifinal (Michael Phelps)
Women's 200m IM — Semifinal
 
TUESDAY, AUG 9TH
PRELIMS
Men's 100m Free
Women's 200m Fly
Men's 200m Breast
Men's 4 x 200m Freestyle Relay

SEMIFINALS/FINALS
Men's 100m Free – Semifinal
Women's 200m Free – Final (Missy Franklin, Katie Ledecky)
Men's 200m Fly – Final (Michael Phelps)
Women's 200m Fly – Semifinal
Men's 200m Breast – Semifinal
Women's 200m IM – Final
Men's 4 x 200m Freestyle Relay – Final
 
WEDNESDAY, AUG 10TH
PRELIMS
Women's 100m Free
Men's 200m Back
Women's 200m Breast
Men's 200m IM  (Ryan Lochte, Michael Phelps)
Women's 4 x 200m Freestyle Relay


SEMIFINALS/FINALS
Men's 200m Breast – Final
Women's 100m Free – Semifinal
Men's 200m Back – Semifinal
Women's 200m Fly – Final
Men's 100m Free – Final
Women's 200m Breast – Semifinal
Men's 200m IM – Semifinal  (Ryan Lochte, Michael Phelps)
Women's 4 x 200m Freestyle Relay – Final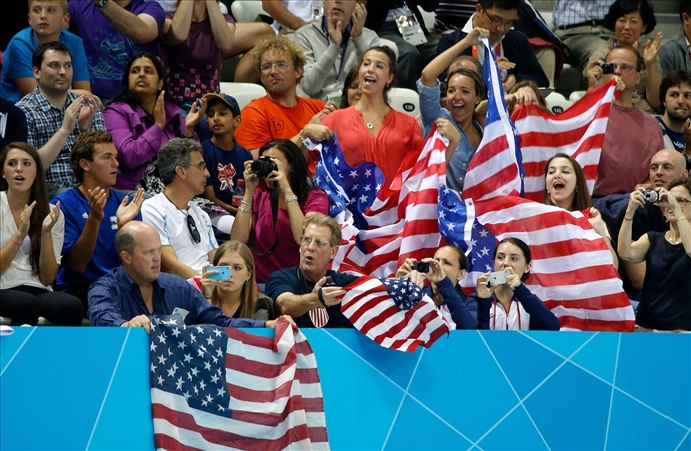 THURSDAY, AUG 11TH
PRELIMS
Men's 50m Free
Women's 800m Free  (Katie Ledecky)
Men's 100m Fly  (Michael Phelps)
Women's 200m Back  (Missy Franklin)

SEMIFINALS/FINALS
Men's 50m Free – Semifinal
Women's 200m Breast – Final
Men's 200m Back – Final
Women's 200m Back – Semifinal  (Missy Franklin)
Men's 200m IM – Final  (Ryan Lochte, Michael Phelps)
Women's 100m Free – Final
Men's 100m Fly – Semifinal  (Michael Phelps)
 
FRIDAY, AUG 12TH
PRELIMS
Women's 50m Free
Men's 1500m Free
Women's 4 x 100m Medley Relay
Men's 4 x 100m Medley Relay

SEMIFINALS/FINALS
Women's 200m Back – Final  (Missy Franklin)
Men's 100m Fly – Final  (Michael Phelps)
Women's 800m Free – Final  (Katie Ledecky)
Men's 50m Free – Final
Women's 50m Free – Semifinal
 
SATURDAY, AUG 13TH
FINALS
Women's 50m Free – Final
Men's 1500m Free – Final
Women's 4 x 100m Medley Relay – Final
Men's 4 x 100m Medley Relay – Final