Open Water Preparations: One-week countdown to the Tiburon Mile!
2013 Sep | By SwimOutlet.com Staff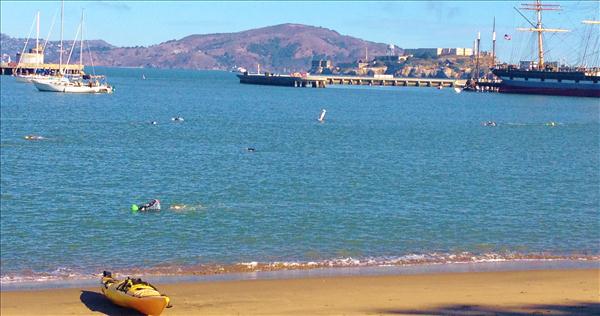 In preparation for the RCP Tiburon Mile on September 29th, our SwimOutlet team headed up to San Francisco this past weekend to test the waters. We met up with the Water World Swim group to do a short open water course around Aquatic Park in the San Francisco Bay. On the drive up we were a little nervous about how cold the water was going to be, since we would be swimming without wetsuits. Sure enough, upon our arrival we were greeted by several dozen swimmers pulling on their full-sleeve triathlon wetsuits. Thankfully, there were a few others skipping the neoprene. We breathed a sigh of relief…
The practice started with a short run up the beach to get our body temperature up. Shortly after, it was time to dive in to the face-tingling waters. After a few strokes with our heads above the water, we were able to stabilize our breathing and begin the swim. The water in Aquatic Park was calm, but as we headed out into the bay the waves picked up – the calm before the storm.
As we left the security of the park, the current pushed us down the sea wall, and into the waves pretty quickly. Making the loop and turning around to head back was slower, as we were fighting the current. We elongated our strokes, and kicked it up a notch – literally kicking. We headed back into shore just in time to start regaining the feeling in our fingers and toes.
It was a beautiful day in San Francisco, so we were able to warm up in the sun and enjoy great views of the Golden Gate and Alcatraz. After the unnerving car ride up, our team was very happy we got the opportunity to train in the open waters of the Bay. The chance to test-out first-hand where we will be racing this weekend left us feeling confident about our swim from Angel Island to the shores of Tiburon.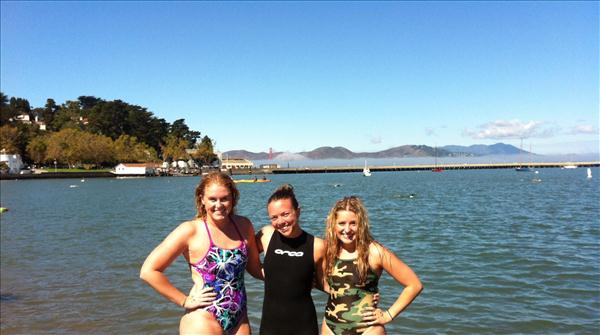 What's in our bag for the RCP Tiburon Mile? 1). Double the swim caps for added warmth; 2). Fresh goggles; 3). Gu Energy Gel for strength; 4). Water bottles for hydration
Will you be there? Share your Tiburon Mile photos with us and stay posted for an event recap.