Must Have Gear for Water Aerobics
2018 Jan | By SwimOutlet.com Staff
by Melis Edwards, Health & Fitness Author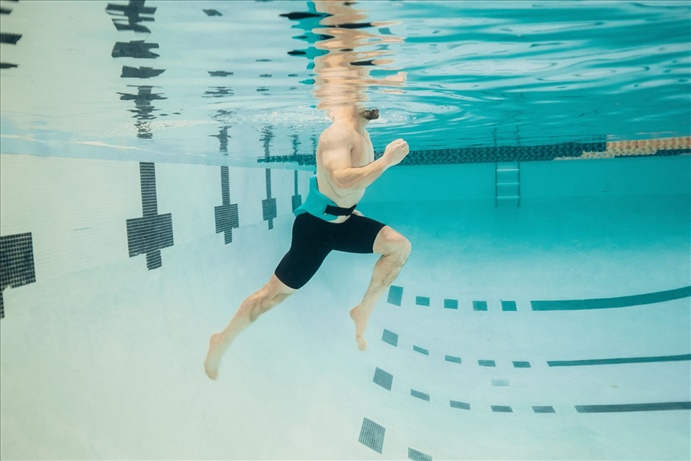 If you are embarking on your first water aerobics session, plan on picking up a few key pieces of equipment to make your experience the best possible. 
First, for women, a racer back bathing suit is key.  Water aerobics will have you jumping and moving about, and the racerback straps will stay in place whereas regular straps typically fall off the shoulder in intense movements. If you choose to wear a  two piece, be sure your bottoms are ones which allow free movement.  Brazilian bottoms may look good on a beach, but they can potentially create chafing if they move where they do not belong! And for men, trunks work on dry land, but in a pool the fabric can bind and create unnecessary drag. A pair of swim jammers allow for a more streamlined movement.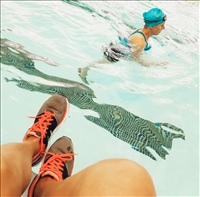 Next, consider a pair of water shoes which allow for better traction on the floor of the pool with less slipping (usually caused when stepping on a tiled pool floor lane). When you know you won't slip, you will naturally work harder. Water shoes will also save your feet from potential abrasions and even blisters over time, as the friction of the feet impacting and pushing against the pool floor can be rough. So, while creating better traction and happy feet, water shoes also provide a bit of good drag during movements, promoting increase leg strengthening. The other great thing about water shoes is that they are designed to drain and dry quickly, which helps them last longer so you will have them for years; purchasing a good pair is a sound investment.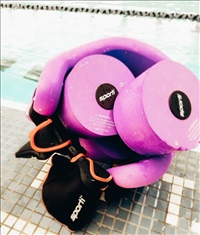 Finally, there is buoyancy and resistance equipment.  Many facilities provide aquatics equipment, but just like swimmers - if you are into your sport - you will want to secure your own which can travel with you anywhere you go.  Consider purchasing your own floatation belt, which is useful in both shallow and deep water. Keeping a belt on when moving from the shallow end to the deep end creates a seamless workout, not to mention that the drag created by the belt when running sprints in the shallow end is also an added benefit.  If you want to maximize the water work wherever you go, you should also have a few tools in your water gear arsenal which promote more resistance and drag. There are many types of water training devices from floatation dumbbells to fitness gloves to water paddles; each creating resistance when moved through the water. This added resistance can help with increased core engagement as well as strengthening of your limbs. In addition, I find having a variety of equipment to choose from keeps the workouts fun and interesting and this equipment can supplement your workout desires; the harder you work against the water - the harder the workout intensity - you choose!
Check out all of SwimOutlet.com water aerobics gear here.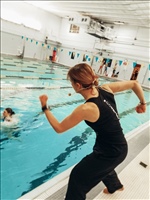 Melis Edwards has over 25 years of experience working in both shallow and deep water training, as a running and triathlon coach, personal trainer, fitness instructor and athlete. Ms. Edwards holds a Master's Degree in Health Promotion, a Bachelor's in Health Education, and several teaching and training certifications and is the author of Deep End of the Pool Workouts: No-Impact Interval Training and Strength Exercises. Check out www.hitmethodfitness.com for information on water workshops.