Get to Know...Mark Gangloff
2015 Aug | By SwimOutlet.com Staff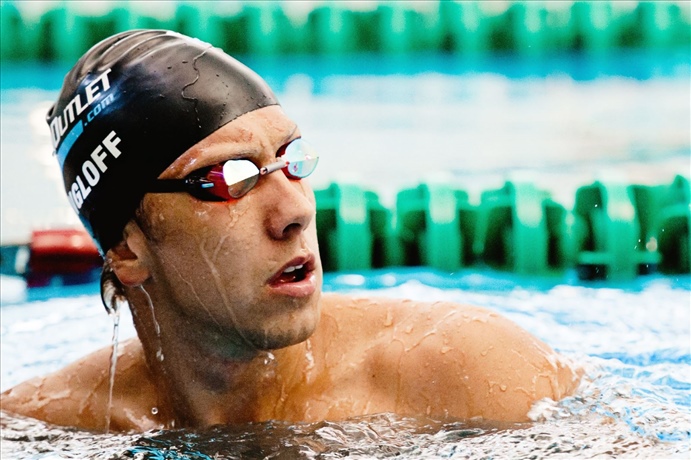 Mark Gangloff's swimming career is multi-faceted and spans over two decades. As a swimmer, he has been an age-grouper, collegiate athlete and two-time Olympic Champion. Now retired from competition, he uses his experiences to impact the next generation of young athletes as a clinician on the Fitter and Faster Swim Tour Presented by Swimoutlet.com and a coach at The University of Missouri.
When working as a clinician on the Fitter and Faster Swim Tour, Gangloff likes to think back to his own excitement as a young swimmer on Ohio's Akron Firestone Team.  At ten years old, he was inspired by meeting 1992 Olympic Gold Medalist, Mike Barrowman.  Gangloff said, "It's so much fun to think back to when you were their age and to remember those experiences." He enjoys working with age-groupers because they bring a fresh, new energy to learning: "It's the excitement in their eyes. They're excited to be there and to learn. It's so much fun to...remember what it was like to be that age."
Gangloff uses the young swimmers' high level of interest for his teaching style. He explained,"I make them think about it (swimming) in a lot of different ways...It's not about just going through the motions. It's about thinking about what you do." At a recent Fitter and Faster clinic in Louisiana, he noticed that swimmers were only executing their first turns properly and neglecting the rest. He told them, "The only difference between your first turn and your third is the amount of focus you're putting into it." His goal as a clinician is to make swimmers put more thought and concentration into the fundamentals of all four strokes.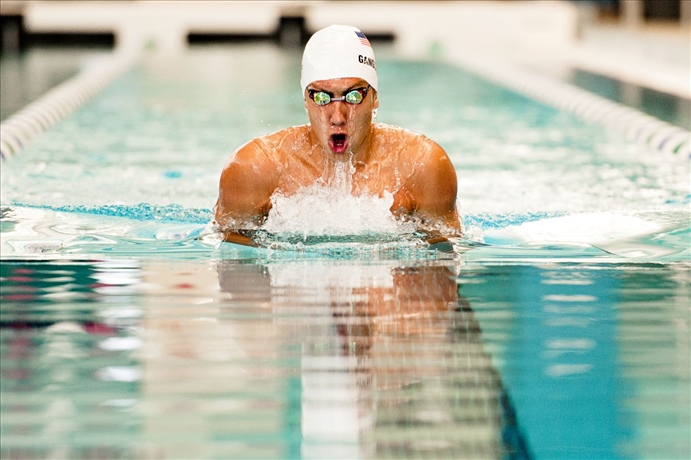 Gangloff further draws on his experience for his role as a coach at the University of Missouri. Although coaching college kids is very different than working with age-groupers, there's still a high level of excitement because everything is new. Gangloff said, "They're at a turning point in their lives where they are coming into their own...I like to be there to help them to become adults." He enjoys teaching student-athletes how to be fully committed to their passions. The fact that he's an Olympic Champion certainly adds to his credibility. Gangloff feels his Olympic experience helps his insight as a coach:  "It's one thing to guide someone through a process...but, it's another thing to tell them exactly what it feels like to be at Olympic Trials, at the finals...and knowing how to manage those emotions."
Although Gangloff has a lot of stories about his time as a swimmer, he likes to focus on big picture teaching moments.  When talking to his athletes about the importance of a team, he remembers his collegiate career: "The main thing I hit back on is my time at Auburn and my experience I had there as a collegiate athlete...and realizing the potential as a team when everyone is on the same page." Gangloff's emphasis on the team component focuses his swimmers on building positive relationships and working toward a common goal.
With the Olympics only a year away, Gangloff often thinks back to what the year leading up to the Olympics was like for him as an athlete.  He explained, "It was about perfecting what you do, how you eat, how you swim, your race strategy." He recalls a time of absolute dedication:  "I think most about that fully invested life for that one goal. Every minute of your day being structured around that one minute of time where you'll swim the 100 breaststroke. Everything I did was for that one moment." His goal now is to draw on his experience to help the athletes he works with to find that laser focus.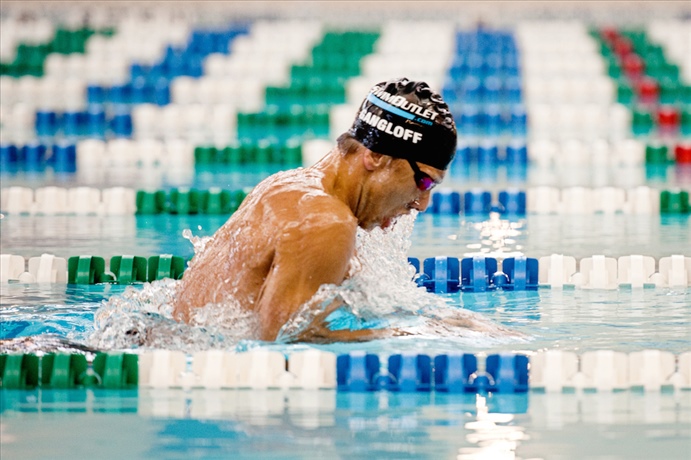 Although Gangloff's time in the pool is over, his passion for the sport remains deep. He's enthusiastic to continue working as a clinician on the Fitter and Faster Tour and college coach at the University of Missouri. He also is the writer of SwimOutlet.com's popular Tech Suit Review each year, as well as an expert on other product reviews. Young swimmers are lucky to have the guidance of such a famed veteran of the sport.
Swim with and learn from Gangloff at Fitter and Faster clinics in Cumming, Georgia: sign up here
To read more about Mark Gangloff, click here.
Essentials of Breaststroke and Freestyle
High Performance Breaststroke and Freestyle
Did you know that Mark Gangloff is also featured on the breaststroke "Swim Like a Champion" DVD? Learn more here:  http://fitterandfaster.com/dvd/
To read Mark Gangloff's Tech Suit Review, read here.