Final Training Weekend before Wildflower
2013 Apr | By SwimOutlet.com Staff
Less than a week to go to Wildflower, I spent this past weekend getting race ready. Saturday morning I slipped into my On Cloudracers and linked my Garmin Forerunner 210 to the satellite. Heading out on the trails I started at an easy pace and charged the hills like I was racing up San Antonio Drive. I spent the last mile of my run focusing on my form and pacing to dial in the right speed and comfort for race day.
Sunday I was eager to get on my bike and test out my new Giro Air Attack Aero Helmet. I headed out on a flatter course so I could stay in the aerobars as much as possible. The helmet was incredibly comfortable and felt fairly lightweight. My test on a local Strava segment proved it would help my speed on race day. The remainder of the week my workouts will taper down as my excitement grows for Sunday's race.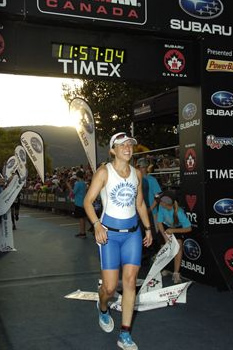 Even after 10 years of racing triathlons it's easy to get wrapped up in the excitement of Wildflower or any triathlon, it's important to remember in this next week that I've done all I can to prepare and going hard in a workout or adding extra workouts this week will not benefit me race day and may even be detrimental. These next few days it's important to focus on getting lots of rest, eating healthy, hydrating and getting mentally prepared for the race.
I look forward to seeing 7,000 athletes achieve their goals this weekend. I'll be at the Orca booth Friday and Saturday stop by and say "hello", or test out an Orca Wetsuits on Saturday at the Demo located at the boat launch from noon to 3pm.
Happy Racing!
- Polly
About Polly Feyereisn

Polly Feyereisn works as the Assistant Buyer Triathlon, Cycle and Comp Swim here at SwimOutlet.com. Feyereisn started doing triathlons at Cal Poly, San Luis Obispo when she joined the Triathlon Team in 2002 and has competed in over 40 events since that time. She enjoys off-road tri's to Sprints and Ironman distance, among her favorites the 2008 Ironman Coeur d'Alene and 2012 Ironman Canada. Not surprisingly, Feyereisn also loves to run; she's run four marathons and multiple half marathons. When she's not training for her next race or researching the latest tri gear, Feyereisn enjoys mountain biking, stand-up paddling, hiking and going to the beach.