Earn Cash Back for Your Team!
2012 Nov | By SwimOutlet.com Staff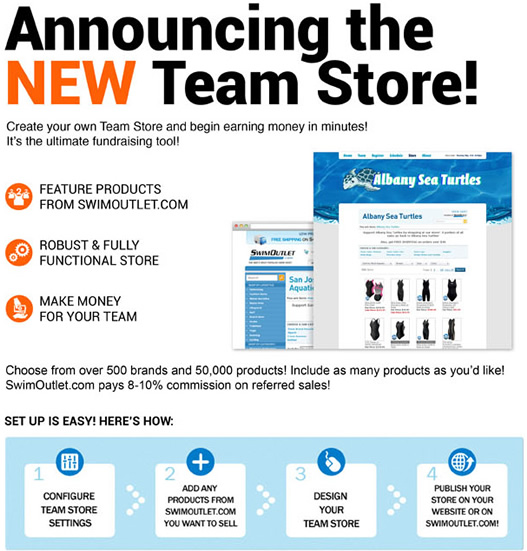 SwimOutlet.com has just launched its new Affiliate Team Store feature this past month as part of its Team Affiliate Program!

This is great news for any club, team, coach, school, facility, or aquatic organization that wants to set up its online store. The Team Store can be embedded directly onto your own team site or hosted on SwimOutlet.com. Affiliates will earn 8-10% commission -- cash back or store credit -- on referred store orders. This gives teams a great way to increase fundraising efforts! It's also very easy to use as well as customize.

To see how it works, check out the Team Store Information Page. Swim teams around the country have already launched their Affiliate Team Store! If you'd like to see it in action, here's an example team site we've created: Albany Sea Turtles

Check out what the Lancaster YMCA Stingrays has to say about it! 
"Setting up the team store was a success! SwimOutlet.com understood exactly how to display what we requested and gave us easy step-by-step directions on how to embed the team store on our website. SwimOutlet.com has been a great partner in turn by giving back to our team; we are grateful for this support!"
- Cindy Gilmore, Parent Board President, Lancaster YMCA Stingrays
Have your club, team or school join the Affiliate Store program today! Click here to get started: www.swimoutlet.com/teams/fundraising-tools/store