Understanding Triathlon 101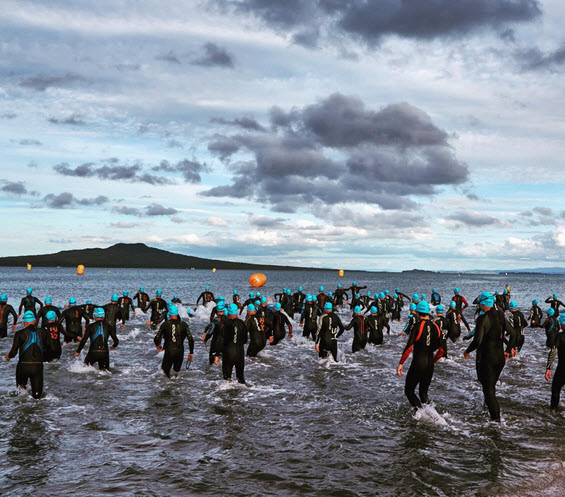 The popularity of triathlons has grown rapidly throughout the years. Triathlons are a great way to get in shape, to challenge yourself, and to get familiar with the tight-knit triathlon community. However, participating in a triathlon for the first time might seem overwhelming. This guide will go over the basics of a triathlon so you can know what to expect on race day.
Different Distances
Triathlons are composed of four different distances for a range of differently skilled triathletes. Based upon your fitness level and training, your choice can differ. While the total distances may vary, they all contain a swim, bike, and run portion. The following are your four main options with approximate distances:
Sprint: Swim 0.5 miles, Bike 12.4 miles, Run 3.1 miles.

A sprint triathlon is ideal for a beginner to experience the fast-paced nature of a triathlon without all the training and pressure of a high-stakes competition.

Olympic: Swim 0.93 miles, Bike 24.5 miles, Run 6.2 miles.

The most common choice among triathletes, Olympic triathlons are very popular as they are considered the standard. Like the name suggests, this type of triathlon has the same distance as the triathlon in the Olympics.

Half Ironman: Swim 1.2 miles, Bike 56 miles, Run 13.1 miles.

The half Ironman is exactly half of one full Ironman. Ironman competitions are considered to be the ultimate triathlons since they require serious dedication and intense, consistent training for an extended amount of time. For some full Ironman competitions, your time in the half Ironman will determine if you qualify for a full Ironman. Be sure to have triathlon experience before attempting a half Ironman.

Full Ironman: Swim 2.4, Bike 112 miles, Run 26.2 miles.

A full Ironman is the pinnacle of all triathlons. This competition is not for the faint of heart, but if you decide to compete in one, it'll be incredibly rewarding. Full Ironman competitions are not held as frequently as other triathlons, but there are at least two dozen available competitions. Achieving a fast enough time could qualify you for the Ironman World Championships held in Hawaii.
Drafting vs. Non-Drafting
Local triathlons often specify whether they are draft-legal or non-drafting. Many triathlons tend to be non-drafting, but what does this mean? During the cycling portion of a triathlon, a cyclist rides closely behind another cyclist to take advantage of the reduced air pressure created by the leading cyclist. This is known as drafting.
When cycling in the drafting zone, a cyclist expends less energy so exhaustion can be delayed. A drafting zone looks like an imaginary rectangle that has the length of three bicycles. In this zone, the secondary cyclist will soak up the aerodynamic advantages and can maintain a competitive speed with less effort. For this reason, drafting is typically considered illegal; although, there are still draft-legal triathlons.
On-Road vs. Off-Road
It's a personal preference whether you compete in an on-road or off-road triathlon. If you favor mountain biking or trails in general, off-road triathlons are the best option for you. Off-road triathlons are great for adventure-seeking triathletes as it lets participants explore new sceneries. Typical settings for off-road triathlons include trails, mountain towns, lakes, and picturesque woods. A common distance for an off-road triathlon is comparable to the distances found in a sprint triathlon. The most popular off-road triathlon series is known as the XTERRA. XTERRA hosts countless races each year.
On-road triathlons are what most people imagine when they picture a triathlon. It consists of the traditional swim, bike, and run portions with the bike portion carried out on a road instead of on an off-road trail.
Multiple Transitions
There are two transitions in a triathlon and critical time can be lost if you're not prepared for each one. The first transition (T1) is from the swim portion to the bike portion. The trickiest part of this transition is quickly taking off your wetsuit and changing into your cycling gear. Thankfully, you're able to arrive to the competition early to prep your stuff at the transition area. Here are some basic tips for your T1 transition:
Most importantly, check the rules of your triathlon to see what is and is not allowed. You don't want to make a simple mistake during your transition, like put on your helmet too soon, and get disqualified.
Before your race, apply an anti-chafe lubricant to your arms and legs so that your wetsuit will slide off easily when transitioning to the bike portion. You also can place some lubricant around the openings of your shoes (cycling and running) so that you can put on each pair quickly.
Make sure you arrive early enough to scope out the layout and to find a good, easy-to-find spot for your transition items. If possible, try to place your bike at a memorable area of the bike rack such as at the end of it. If you can't find an easy access spot, tie a flashy bandana to your bike or look for visual landmarks nearby.
Use your helmet as a receptacle. Hang it upside down on an aerobar (handlebar) and tuck your sunglasses inside.
Double-check the air in your tires.
Place a full water bottle in the bottle cage of your bike.
When you are done with the swim portion and start running towards your bike, start removing your arms from the wetsuit. Your wetsuit should hang at your waist as you run to your bike. Finish taking off your wetsuit once at your bike.
Your other transition (T2) is from the bike portion to the run portion. Here are some basic tips for that second transition:
Replace your traditional shoe laces with elastic laces, unless you have Velcro-fastened running shoes. Elastic laces do not require tying, thus saving you time on your transition.
Tuck dry socks into your shoes to save room.
If you have any gels or energy bars, try to neatly put them in your shoes.
The transition area is usually a cramped space and affords participants little room to place their stuff. It's necessary to combine all of your transition items so that everything can neatly fit on a towel. Cycling and running shoes provide enough room to place small items inside.
Relax and Have Fun
Anybody can participate in a triathlon. Don't let the overwhelming amount of advanced products scare you away. Once you invest in a triathlon wetsuit, the basics—bike, helmet, running shoes, goggles, etc—should be sufficient for your first triathlon. As you become more accustomed to triathlons, you can upgrade your gear as you better determine what you need. With this crash course in triathlons, you'll soon be able to experience the fun, competitive spirit of a race while getting in fantastic shape.