Understanding Monokinis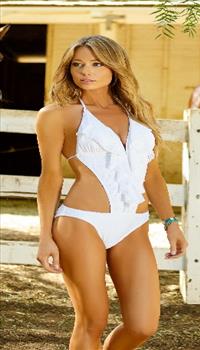 While monokinis have become a modern swimwear trend, the idea for this sexy style originally started in the mid-60s as a topless swimsuit. The swimsuit was modeled on the cover of Womens Wear Daily and, as expected, generated a great deal of controversy. While the idea of the monokini started as a protest against a repressive society, the style has moved from being a hot-topic trend to a modern, new take on fashion swimwear.
Modern monokinis are one piece suits with large cut-outs at the sides and front and generally feature an open-back design. These cutout features are connected with fabrics like mesh to link the top and bottom pieces together. From the back, monokinis will appear like a regular two-piece swimsuit. While monokinis are designed to be aesthetically pleasing, the skimpy coverage is not always functional and doesn't offer the support that other swimsuits do.
While monokinis are generally skin-bearing style, the coverage within monokinis varies. Some styles offer full front coverage, while others offer larger side-cut outs. With v-necklines, plunging necklines, and bandeau necklines, monokinis come in dozens of cuts and colors, offering a wide variety of choices within the monokini family.
Monokinis definitely make a splash when you're at the beach and are not for the faint of heart. The open back and skimpy coverage can mean bearing skin on the beach that other one piece suits hide. With trendy details and sexy cuts, these trend-setting suits are great for those summer sun soakers.