Ultimate Guide to Speedo Swim Goggles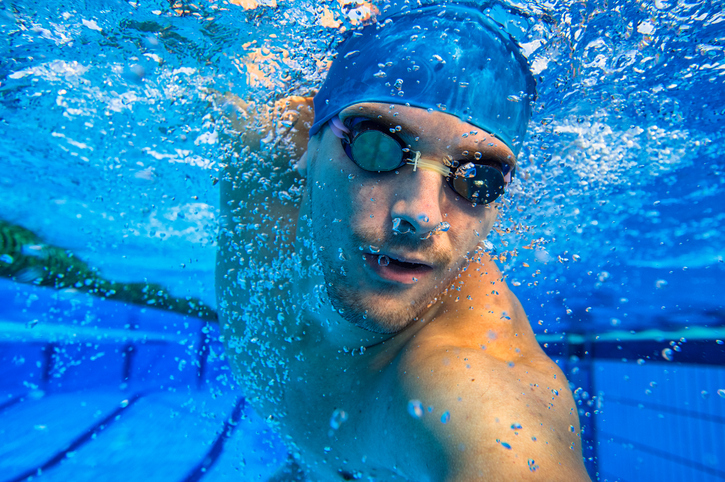 There are tons of goggles out there, and while you may know that Speedo makes the best goggles on the market, you may also know that make a lot of different varieties. With so many options that serve so many different needs, how can you know which type is right for you?
A general rule of thumb is that if the goggles fit comfortably for you, then they are right for you. But even within that guideline, there are still a lot of considerations to take into account when making your purchase. Fortunately, that's where we come in.
Speedo Goggle Types
While each Speedo goggle is unique, there are broad categories that the goggles can fall into. Deciding what style of goggle you want or need will be a big help in narrowing down the list of available options. Depending on the type of goggle, socket size and lens size can vary.
The size of the socket determines where the goggle meets the face. The smaller the socket, the more pressure on the orbital bone. Depending on the size of your own eye sockets, you may need a smaller or larger pair of goggles. Lens size determines the size of the lens on the goggle. A wider lens indicates a wider field of view, while a smaller one indicates a smaller field.
Here are the types available:
Competition
Speedo competition goggles are generally low profile, technical, and fit close to the eye socket. The close proximity to the socket reduces drag, making you more hydrodynamic. They're meant for racing and can be uncomfortable if used every day, although many swimmers do practice in them.
Practice
Meant for everyday use, Speedo practice goggles are less hydrodynamic than competition goggles, choosing instead to prioritize comfort over performance. Even so, the goggles are still high quality and will serve you well even in competitions in a pinch. Since they're meant to be worn more frequently and for longer durations than competition goggles, they are easier on the eye sockets, due to a higher amount of gasket rubber. This softens the pressure against your eyes while maintaining a good seal.
Recreational
Although cheaper to purchase than the other types, Speedo recreational goggles are not designed for long swimming exercises. Instead, they are designed for quick, casual use. Someone swimming purely for exercise rather than competition. They can create a good seal around the eyes and will not fog up, but they will not be as hydrodynamic as the other more professional goggles. With that said, if you are looking to just casually wear them to the beach or as part of an occasional exercise regimen, these will serve you fine.
Swim Masks
Designed for scuba diving and snorkeling, Speedo swim masks are much larger than other goggles, designed to be worn over a long period of time. They prioritize comfort. Plus, they cover the nose, which some less experienced swimmers may prefer. However, because most swim masks are soft and comfortable, some recreational swimmers prefer these goggles. However, they are designed for competition use.
Types of Lenses
Once you settle on a style you want, you need to consider what kind of lens you want as well. As mentioned above, lens size can determine the field of view, meaning that if you want to be more focused on your own swim, you want a narrower less and vice versa. However, even within those parameters there are many types of lenses to choose from. Read on:
Metallic Lenses
A metallic lens, also known as a mirrored lens, are designed to be used frequently or in competitions. They are dark tinted, much like sunglasses, and can help protect your eyes and ensure that you can see clearly in your competitions. If you tend to swim during bright, sunshine-fueled times, or you do a lot of backstroke, these goggles are the best.
However, if you tend to swim at light or in a poorly lit pool, these lenses will make swimming more difficult and harder to see.
Clear and Light-Colored Lenses
In contrast to the metallic lenses, clear and light-colored lenses work well indoors or if you swim with low sunlight. If you choose a light color, you will get some tint that will help you see better in the water. For example, orange-colored lenses make the world underwater seem brighter and all the easier the see in.
However, if you are in a bright spot, these lens will not help you. They offer little protection from the sun's glare and you do not want to deal with that when you're swimming. You'll be forced to squirt, an unpleasant position for your eyes to take when wearing goggles.
Dark Color Lenses
Dark colored lenses offer similar sun deflection as metallic lenses, and are generally in either a dark blue or black. They are good, versatile goggles that can be used in a variety of situations, but do not excel in any one way.
Profile
When it comes to goggles, "profile" refers to how far the lens sticks out from the wearer's face. Profiles can be classified as either "low" or "high" depending on how far they stick out. While this affects the goggles' look, it can also affect how well they perform in competition. The further they stick out, the more resistance you will receive when swimming. Plus, they tend to fall off when you try to swim quickly in them.
Lower profile goggles offer less resistance, but a smaller field of view because the lens isn't as big.
Comfort
While Speedo strives to make sure their goggles are as comfortable as possible, the fact of the matter is that no goggle is perfect for everyone. Each goggle fits differently, and one man's perfect goggle may be a woman's worst nightmare.
The only truly surefire way to ensure that a goggle is comfortable is to simply try it on for yourself. If you can, try to wear them for a long period of time, or imagine that fit over a long stretch. If a bit of the goggle presses into your face uncomfortably, that will only get worse the more and more you wear it. Take the time to make sure the goggle you pick will fit you well. And once you settle on a style, stick with it!
Fit
While one goggle may be more comfortable, you must remember to take into account the goggles' fit to your eye socket. If there is no suction-cup seal, then the goggle will do you no good in the water. The seal can be affected by the size of the socket. In short, if it does not fit around your eye, it will not serve you well in the pool!
While the socket plays a big part, the strap can also affect the seal as well. If your strap is too loose, or has no elasticity left, the seal won't stay in place and the goggle won't work for you.