The Most Important Surfers of the Modern Era
While it's impossible to create a totally objective qualifying criteria for those individuals who have had the most impact on the sport of surfing, we've nonetheless compiled a list of several of the most important and influential surfers from the last half-century. Admittedly, this list is nowhere near complete; thousands of people in the last 50 years have helped shaped the world of wave-riding in some way.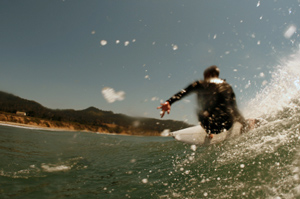 Many will undoubtedly disagree with the selections, and ordering, of the following five surfers.This list functions foremost as a way to acquaint the beginning surfer with just a few of the important figures in the history of modern surfing.
1. Kelly Slater
Like Michael Jordan or Muhammad Ali, Kelly Slater is the undisputed champion of his sport. With nine world titles under his belt to date, his legendary status is firmly cemented despite the fact that he's still going strong in his late 30s.
Slater first arose as a child-phenom in the waters around his hometown of Cocoa Beach, Florida. By the time he reached his teens, he was regularly traveling to Hawaii, California, and Australia, making believers out of everyone who saw him surf. As a teenager, Slater revolutionized the sport by combining the fluid aggression of the power-surfing generation with the progressive antics of his peers. His ability to excel in all conditions — from two-foot California slop to 25-foot Hawaiian surf — remains unprecedented. Without doubt, Slater stands as the greatest champion the sport of surfing has ever produced.
2. Gerry Lopez
Gerry Lopez's nickname is Mr. Pipeline, but that only accounts for a small slice of what he's given to the sport of surfing. Born and raised on the Hawaiian island of Oahu, Lopez honed his skills at Ala Moana before assuming his role as the North Shore's greatest phenom. His brilliance at overhead Pipe turned the surf world upside down — suddenly, riding gigantic tubes went from perilous to pure. Style master, explorer (he was one of the first surfers to sample the perfect lefts of Indonesia), and worldwide surf ambassador, Lopez remains one of the sport's greatest heroes.
3. George Greenough
Even though he doesn't surf standing up, George Greenough is unquestionably one of the most important wave-riders of all time, initiating an era of progression unmatched to this day. Greenough began surfing in Southern California in the mid-1950s, preferring kneeboarding to stand-up surfing because it allowed him to stay closer to the water and perform tighter turns. He began shaping his own boards in the early 1960s, and in 1965, Greenough constructed a revolutionary new kneeboard that he called Velo. It featured a unique "spoon" shape and an 11-inch high fin built by Greenough himself.
The board's design allowed Greenough to fly through turns with astonishing speed, inspiring Bob McTavish and Nat Young to develop similar models for standup surfing. His developments spurred an entire movement, later called the "shortboard revolution," but Greenough didn't bask in the limelight or even take credit for his contributions. Instead, he further explored new concepts of wave riding by surfing canvas air mattresses. He also developed new photography techniques, ushering in the modern age of surf photography with his incredible inside-the-tube footage.
4. Tom Curren
Though he's not surfing's first enigmatic hero (Miki Dora holds that title), Tom Curren is probably the sport's most influential. The son of big-wave pioneer Pat Curren, who is a legend in his own right, Tom grew up surfing the perfect sand-bottom points of Santa Barbara, California. His combination of talent, pedigree, and access to world-class surf made Curren an instant force in the surfing world. As a teenager, Curren assembled an unprecedented competitive streak, winning the boys' division of the U.S. Surfing Championships in 1978 and 1979, and the junior title in 1980.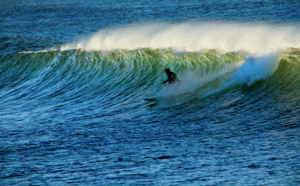 His blend of style, power, and wave-sense took the surfing world by storm, causing a seismic shift in the way most surfers approached wave riding. Curren was at once aggressive and smooth; his tube riding was simply flawless.
As Curren's success translated into three world titles (1985, 1986, 1990), he began to lose interest in competitive surfing, and by the early 1990s he was traveling more than surfing contests.
In the mid-1990s, Curren regularly appeared at surf breaks with strange and seemingly illogically designed boards, though he rode them with his usual finesse. As each new generation of surfers comes to recognize Curren's brilliance, his place among the greatest surfers of all time is reaffirmed. And as anyone who has ever seen him surf can tell you, even though everybody tries to surf like him, only Curren can ride waves like Curren.
5. Simon Anderson
Honorable Mention
The following surfers are married to the modern history of surfing in an absolute sense- without them, the innovations in style, craft, and overall progression would be incomplete.
Mark Richards
Shaun Thompson
Laird Hamilton
Lisa Anderson
Layne Beachley
Ian Cairns
David Nuuhiwa
Christian Fletcher
Rell Sunn
Rabbit Kekai
Michael Ho
Wayne Lynch
Michael Peterson
Mark Richards
Cheyne Horan
Mark Occhilupo
Rabbit Bartholomew
The late 1970s were hard on Australian pro Simon Anderson. Once at the forefront of competitive surfing, Anderson had been fumbling with the newly popularized twin-fin board designs of the era. Fellow Australian pro Mark Richards rode the twin-fin better than anyone, and while Richards stood atop the podium (winning four world titles), Anderson began work on the single greatest surfboard innovation since the use of foam: the tri-fin.
Anderson named his new board the Thruster, and the design changed the possibilities of wave riding almost overnight. The addition of the third center fin gave surfboards a drastic increase in both control and turning capability. Within a few years, nearly every average surfer — and every pro — was riding a Thruster or something similar.
Anderson himself promptly won back-to-back contests at Bells Beach and the 1981 Pipeline Masters. That year, Anderson was named "Surfer of the Year" by Surfing magazine, and he was inducted into the Australian Hall of Fame in 1989. Although he has subtly moved himself out of the limelight in recent years, Simon Anderson's imprint on the sport of surfing is anything but discreet.