Technology in Running Apparel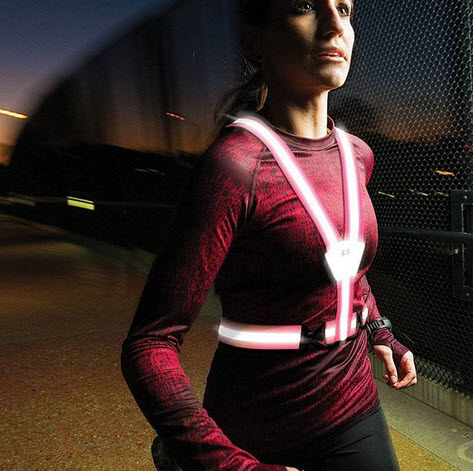 Long gone are the days of throwing on sweat pants and your old college tee shirt to go for a quick jog. Now-a-days, entire clothing brands are dedicated to fashionable and functional running apparel. Brands have put the latest technology into their clothing to make running more comfortable and much safer. Below are the top active apparel technologies and how they can help your running routine.
Reflectivity
Outdoor runners are no longer confined to the daytime hours to get their daily jog in. A number of running apparel items now contain reflective logos and insets to keep you seen on dimly lit streets or during the early morning or late evening hours. Brightly colored clothing and reflective features ensure that no matter when you're running, you will always be seen.
Moisture Wicking
It's no secret that running makes us sweat. Not only can sweat-soaked clothing be uncomfortable, but it can also be a hindrance to our workout. Sweating can cause discomfort and chafing, and it can affect our body temperature as the sweat causes clothes to get wet. Many running tops and pants come equipped with moisture wicking properties which help draw the sweat away from our skin and out of the fabric, ensuring that our skin not only stays dry and at a comfortable temperature, but that our clothing dries as quickly as possible. Many brands have coined their own terms for moisture wicking properties, such as Nike's Dri-FIT line, but no matter what it's called, all these features aim to keep you comfortable.
UPF Rating
UPF, or Ultraviolet Protection Factor, determines how effectively fabrics shield your skin from harmful UV rays. The sun's UV rays are dangerous to our skin, as they cause sunburns, accelerated skin aging, and, in severe cases, skin cancer. When we're running in the day-time, exposure to the sun is constant. UPF-rated clothing protects our skin from those harmful rays without worrying about applying sunscreen. Sunscreen can sweat off, but UPF-rated clothing keeps you covered.
Compression
Compression apparel is typically made from a Spandex or other stretchy material and provides a fitted, tight fit that hugs and supports the muscles. This secure compression keeps the muscles warm and reduces muscle vibration for preserved energy and increased recovery. By keeping the muscles warm, this compression technology decreases the chance of muscle straining in addition to facilitating the prevention of muscle fatigued. For some, compression is essential as it keeps your body in the best shape possible mile after mile. Compression clothing usually also contains moisture wicking qualities to prevent any rashes or chafing.
Insulation
Insulated clothing is ideal for those in cold environments. No runner wants the weather to stop them and with this kind of technology keeping the body warm, it doesn't have to. Insulated, thermal fabrics cut out the cold and keep in the warm so no matter how far the temperature drops, you're run won't be ruined.
Anti-Bacterial
Many brands are now introducing clothing that has anti-bacterial agents. These clothing articles are laced with antimicrobial agents to kill bacteria in the fabric from sweat production. This means that those usually smelly and sweaty clothing items won't hurt your nose and can be washed less often. Smell better and do less laundry – sounds like every runner's dream!
Ready To Run
With so much technology going into our running gear, running anytime and anyplace is more realistic than ever before. Day or night, rain or shine, running has never been more safe, more comfortable, or more accessible.