Intro to Water Aerobic Belts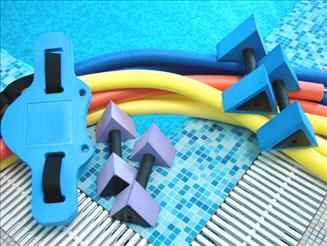 Water aerobics is one of the best activities that anyone can do in the water. No matter what your age, size or skill level, water aerobics is a wonderful physical activity that can help you get in shape. However, there are many training aids that you can use to help achieve you water fitness goals. One of the main pieces of equipment that you can use in water aerobics is a buoyancy belt. In this guide, you'll discover what this belt is, the different types and how it benefits you in the water. Along with the rest of your equipment, this will make your workout that much easier and more varied so you can always have new things to try.
What is a buoyancy belt?

A water aerobics belt, or buoyancy belt, is a water aerobics accessory that you can wear while you're in the water and aerobicizing. Wrapped around your waist, it's a belt that allows you to float in deeper water so you can tread water easily and safely. It allows you to be hands-free -- Giving you extra time to work out your arms or core with barbells or foam noodles. While you're practicing your resistance training, equipping a foam belt is a good way to help keep yourself balanced in the water so you can have more exercises in the pool.
Foam noodle or foam belt

The differences between the two main pieces of equipment when it comes to water aerobics vary greatly. While plenty of people use foam noodles, many also tend to choose the belt. If you're not aware, foam noodles are long pieces of soft plastic that can float in the water and are flexible and can be molded to almost any shape you want. There are pros and cons to both, depending on your own fitness goals and preference. A noodle can't be worn around your waist which means that it cannot be hands-free. With a belt, you can slide it onto your waist and have access to anything you wish to use during your workout. (Good point!) With a foam noodle, you can sit on these flotation devices while in the water or even use them as a separate piece of exercise equipment. One positive aspect of the foam noodle: there is no size to have to worry about unlike the buoyancy belts. See which work best for you after practicing each of them.
Types of exercises done with flotation belt

While your hands have been rendered free from carrying a foam noodle, there are more exercises that you can complete while you're wearing a buoyancy belt. One of these is to do a rowboat motion while in the water. With your belt strapped on, take two barbells and place one in each hand. Have your legs outstretched so your stomach is facing towards the sky and your back is floating in the water. With each barbell, reach your hands towards your feet and crunch your body to contract yourself in the water. Your body should look like V shape while in the first position. Once you have finished contracting yourself, release your legs and push them away from your body once more. This is a fully completed movement.
One other simple exercise which can be completed while wearing a foam belt, is the jogging motion. This exercise is most often used with ankle weights and barbells. While you're in a mid-deep section of the pool, strap on your belt as you're heading into the water. Also strap on ankle weights so you'll have more resistance in the water. While taking your barbells, kick your feet in the water as if you were doing a jogging motion but in the pool instead. Swing the barbells while your arms are underwater so your whole body will be moving. This will work out your entire body from your arms all the way to the bottom of your legs. You'll be held down with the weights and can freely move through the water while you're exercising so you can burn more calories.
Whether you're beginning water aerobics for the first time or you're a seasoned pro, there's a plethora of opportunities to try while in the water when using a buoyancy belt. Made with soft material, foam belts are gentle on your skin and can be worn for your entire workout. Make sure that you're buying the correct size: try on different versions so you can be sure to get the best one for your body type. And most importantly, have fun while you're in the water and aerobicizing to a new you!