How to Set Swimming Goals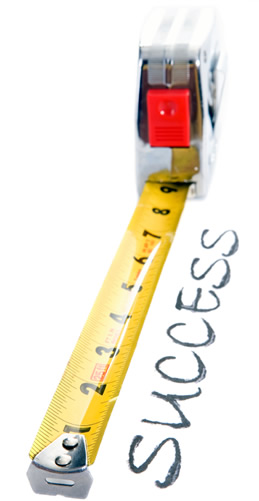 Goal-setting, when done well, can provide you with a sense of direction and a purpose, a reason to keep returning to the water. Well-written goals, whether long-term, short-term, outcome, or process, can provide you with long-lasting motivation.
There's more to goal-setting than just identifying your ultimate long-term goal. Smaller process goals will bring a sense of accomplishment to your daily swimming routine, and propel you through a plateau or a slump. And your short-term goals will help you mark progress along the way to your biggest dreams. Here's how to incorporate goal-setting into your training plan, and how to write goals effectively.
Types of Goals
You can use both process and outcome goals in the short-term to propel you toward your long-term goal. Outcome goals specify the outcome of a race. Examples include: I want to get 1st place. I want to finish in the top 10. I want to go :35.00 or faster in the 50 freestyle. 
Process goals are more about skills and elements (the process!) of racing to an outcome. Process goals sound like this: I want to under-water dolphin kick the full 15 meters on every lap of the 100 backstroke. I want to learn how to swim butterfly legally. I want to maintain my arm speed and stroke rate in the last lap of the race.
While you can always control your process goals, you don't necessarily have control over everything that has to happen in a race in order for you to achieve a certain outcome. You could do absolutely everything correctly – and achieve every single process goal you've written – but still lose a race. If that happens and your only goal was an outcome - to "win" – the only conclusion you'd be able to come to is that the race was a failure! When in fact, by any other measure, you may have been wildly successful.
Here's how you can set goals that will set you up for success.
Start with the biggest, most important, longest-term goal for your swimming career and put that at the top of your ladder. Maybe this is "losing twenty pounds" or "racing at Masters World Championships."
Next, consider what you need to do on a monthly, weekly, and daily basis to reach your ultimate goal. In the real world, this is not a linear process. What you may need to do every day is wake up half-an-hour early to do some crunches before work. Maybe you'll need to limit your weekly beer intake. Perhaps you set a goal of going to the pool for 25 swims or 30 hours of training every month. Perhaps you need to enter four meets a year and set a best time at the qualifying meet. All of these things should be on your ladder of goals.
Well-defined goals are measurable. They are challenging, yet realistic. They have deadlines or are otherwise time-based, and NOT indefinite. Most of all, well-defined goals are things that are in your control. It makes no sense to set out to accomplish something over which you have no control.
Remember to use both process and outcome goals on your ladder. As you set your goals, be realistic about the kind of commitment you can make to swimming today, next week, and in the future, knowing too that a lot can (and will) change along the way.
Eliminate Stumbling Blocks
Think about obstacles, weaknesses, and what you need to train? (Conversely, also ask yourself: what are my strengths?) Once you have identified your weaknesses you can write goals aimed at improving in those areas. In addition to knowing your strengths and weaknesses, you will need to identify obstacles, such as "my friends expect me to go drinking with them four nights a week," or "I can't get away from work with enough energy or time to swim." Eliminating -- or working around -- these obstacles should be part of your goal ladder.
For example, maybe your goal for the first month is to create an environment in which your swimming goals can thrive. You may have to convince your friends (and perhaps yourself) that you'll still BE friends, even if you only have one drink when you go out with them. Maybe you need to find a way to alter your daily routine to accommodate both the demands of your job and your practice schedule. There's always a way to eliminate obstacles if you are creative and flexible enough.
Re-Evaluate & Adjust Goals
But there are times when things don't go according to plan. Children get sick, and then you get sick. You have, for a variety of reasons, been unable to make the weekly sprint workout for nearly two months. Or you are losing weight much more quickly than you thought you would.
All of these are reasons why, once you've written out your goals, you will constantly have to re-evaluate them and adjust when necessary. If you haven't been able to make the sprint workouts recently, it may not make sense to expect yourself to be able to swim a best time in the 50 freestyle at next weekend's meet. Whenever you've fallen off track, take the time to re-set your goals so that they are challenging but realistic. Similarly, if you are way ahead of where you thought you would be, it's time to write more challenging goals.
Create incentives by identifying both rewards for when you meet a goal, and "punishments" for when you fail to meet a goal. What's the right reward or punishment? That really depends on you, and what you absolutely love or dislike.
Hot Tip: Effective Rewards
Your rewards should be realistic, affordable, and healthy. Sure, many of us relish the idea of spending a week at that 5-star resort in Spain! But there's no point of "rewarding" yourself with things you can't or won't follow through on. Be sure to reward yourself in a timely fashion. You worked hard to accomplish your goals, and you deserve whatever it is that you've earned!
The more challenging the goal, the more you should relish the idea of the reward. On days when you need a little extra motivation to get to the pool or to work just a little harder at practice, the thought of your reward should provide just that. Getting a new wardrobe when you drop that next pant size? Can't wait to hang the "finisher" medal for the Alcatraz swim on your office wall? Maybe at the end of the week you'll have earned a weekend off of swimming. Hopefully, the thought of your next reward, whatever you've chosen, is enough to inspire you.
Okay, so you stayed up really late watching Law & Order re-runs, and that's why it was impossible (impossible!) to get out of bed this morning for practice. Now it's Friday, and you only made it to one morning practice this week, meaning it's now impossible to meet your goal of three morning practices a week. Looks like it's time to re-write your goals, right? Not so fast! Instead, maybe you just need some accountability.
Some swimmers create their system of rewards and "punishments" to use as incentives. When these swimmers succumb to the lure of late-Thursday-night TV, they call their Friday night social engagement and push the time back so they can make up for the missed workout. Or, they get up early Saturday AND Sunday to make up the lost practice. But they rarely have to do that because they've written their rewards and punishments in such a way that they would rather just turn the TV off.
Others of us (that is, the vast majority of the rest of us), need some outside accountability to follow through with our plans. This is where training partners, family members, coaches, and blog readers can come in handy. Once you've written your goals, make them public. Tell your friends, family, and public fans (everyone's got at least one) what your rewards are, what you will do when you miss your targets, and they will keep you honest and on track.
Get Started
Now that you know how to use goal-setting, get started right away. Tell us your long-term swimming goals, and what short-terms goals you'll use to get you moving in the right direction!