How to Read a Swim Meet Program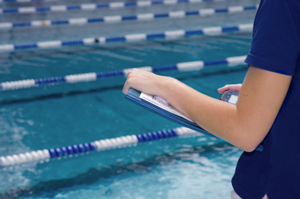 Imagine that you're at a swim meet. You buy a swim meet program to look up when you'll be swimming. As you flip through the dense book of heat and lane assignments, you feel completely overwhelmed. Trying to read a program can feel like a math problem. If you're confused about how to decipher a swim program, this guide breaks everything down for you.
Psych Sheet
Before delving into meet programs, it's important to know whether you're looking at a program or a psych(e) sheet. A meet program will contain your heat and lane assignments. A psych sheet does not have heat or lane assignments. Rather, it lists your seed times and how you are seeded compared to other swimmers in a particular event.
Find What Place You're In
A psych sheet will appear as a list. If there are 50 swimmers entered in an event, there will be 50 people listed with information next to their names. To the left of the name is a number. If there's a 14 next to your name, then you are in 14th place going into that race. Your seed time determines your place going into the meet.
A Sneak Peek
The other important number to pay attention to is the seed time. To the far right of the column, you'll see your time as well as the times of your competitors.
Psych sheets are meant as a sneak peek into the meet. You can see how close the swimmers ahead of you are, and you can mentally prepare for racing your competition. You'll usually receive a psych sheet via email or in person directly from your coach.
Meet Program
Meet programs, on the other hand, list your heat and lane assignments. You'll usually need to purchase a meet program or find one posted at the meet. The program is organized by event in the order that they occur at the meet.
Find Your Heat & Lane
When looking at a particular event, the swimmers are then arranged by heat. Find your name in the program. Within your event, you'll see that the swimmers are broken up into smaller lists of about 6-10 swimmers. Above that short list, you'll see your heat assignment. To the left of your name will be a number. This is your lane assignment.
Hot Tip: Write It Down
Keeping track of all these numbers can be confusing. If you're having trouble remembering your heat and lane assignments, write them on your hand. That way you can focus on your race instead of keeping track of where you need to go.
Find Your Seed Time
To the right of your name is your seed time. You can compare your time to others in your heat. This way, you can figure out who you can try to beat. Look to see who'll be in the lanes next to you. Swimmers in the lanes near you will have similar times to you. Figure out who has a similar time to you —or someone who's slightly faster —and think about how you want to race them.
Seeding Arrangements
Depending on the meet, the first heat can contain the fastest swimmers or the slowest swimmers. Dual meets are often organized in fastest to slowest seeding. It simplifies the organization of the meets and requires less preparation work than other types of seeding. Although bigger meets usually place the fastest swimmers in the last heats, there are a few different ways they can be organized. 
Regular Seeding
When the meet has timed finals, the events are usually organized with regualr seeding. Since swimmers only get one shot at swimming that particular event, they're matched with competitors of most similar speed.
This means that the fastest swimmers are placed together in the last heats. The fastest swimmers in a heat always swim in the middle lanes. The slower swimmers in a heat are placed in the outside lanes. This allows swimmers to compete against those closest to their speed.
Circle Seeding
When a meet has preliminary heats and finals, the events often have circle seeding. In an eight-lane pool, the 24 fastest swimmers are placed in the last three heats. Regular seeding is still used for earlier heats. In each of the three heats, the fastest swimmers are in the middle lanes. In the last heat, the top seeded individual is placed in the middle lane: Lane four. In the second to last heat, the second seeded swimmer is also placed in lane four. The third seed is in the third fastest heat in the middle lane as well. Then the pattern wraps around and repeats. The fourth place swimmer is in the last heat next to the top seeded swimmer in lane five and so on.
This way, swimmers in the top three heats get the chance to swim against the fastest swimmers. This gives swimmers the optimal chance to make it into finals or consolation finals since they race the top seeds in preliminaries.
Circle Seeding

| | | | | | | | | |
| --- | --- | --- | --- | --- | --- | --- | --- | --- |
|   | Lane 1 | Lane 2 | Lane 3 | Lane 4 | Lane 5 | Lane 6 | Lane 7 | Lane 8 |
| Third to Last Heat |  21st Seed |  15th Seed | 9th Seed    |  3rd Seed | 6th Seed    |  12th Seed | 18th Seed | 24th Seed |
| Second to Last Heat |  20th Seed |  14th Seed |  8th Seed |  2nd Seed |  5th Seed |  11th Seed | 17th Seed | 23rd Seed |
| Last Heat |  19th Seed |  13th Seed |  7th Seed |  1st Seed |  4th Seed |  10th Seed |  16th Seed |  22nd Seed |
Deck Seeding
Sometimes there will be no program for the meet. Instead, heat and lane assignments will be determined at the meet. If the meet is deck seeding, swimmers will check in at the meet. This is usually the case in more casual meets or long-distance events.
At some less organized meets, swimmers will show up and claim a lane. This is usually for meets that are more for fun. Alumni meets and parent races often have deck seeding.
Pre-seeding distance events can be problematic. If 50 people sign up for the mile and only 20 show up for the race, then many people will be swimming by themselves. This'll also hold up the meet for a really long time —maybe even for hours! Many meets have deck seeding solely for distance events. 
Making Sense
Once you understand what all the different numbers in a program mean, it'll make a lot more sense. Glance over a program a few times and it'll start to click. Soon, the numbers will no longer look like a math problem! Instead of trying to figure out where to go, you'll be able to focus on what's important: Your races and having a good time.