How to Convert Your Car Into a Surf Mobile
Sand, water, dirt, more sand — sometimes, a surfer's car can look less like a vehicle used to transport respectable members of society and more like a child's outdoor play-place. But don't despair; it is possible to cruise to the beach in a vehicle that can satisfy both form and function.
Utilizing a few simple modifications, you can easily transform your ride into a highly functional surf-mobile. Here's how:
The Rack
Unless you drive a huge SUV or a pickup truck, you're going to need a quality surf rack. Otherwise, you'll end up having to continuously stuff boards into the interior of your car, bringing water, sand, and wax onto seats and floors. Keep the boards out of the car, and you can ensure that your interior stays clean.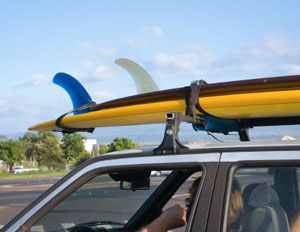 In days past, buying a solid and secure roof rack meant you had to spend quite a bit of coin to get a hard rack, but today, we've got the soft rack. Soft racks are a great invention — they're relatively cheap, lightweight, easily removable, and easy to store. You can carry them in the trunk or leave them in the garage, and when you want to go surf, stick them on the roof in a matter of minutes.
If you want to take the more permanent approach, you can purchase a sturdy hard rack in the form of roof bars. Two horizontal roof bars affixed to the top of your car can be used to secure nearly anything — surfboards included. A major benefit of hard roof racks is that many of them come with a lock and key mechanism, giving your boards a bit of security, unlike most soft racks.
Step Inside
Whether you drive a sedan with a traditional trunk space, or some kind of hatchback sports car, you're going to have to make sure the rear area of your vehicle is surf-friendly. After all, this is the part of the car where all your gear is going to go, with the exception of your boards. Wetsuits, trunks, towels, fins, wax — all the necessary gear is going to wind up occupying the back of your car.
With that in mind, it's important to avoid turning your trunk into a sandier version of a high-school locker room, with gear strewn haphazardly about and mildew asserting its stinky presence. Here's a list of some items you'll want:
Plastic tub: Tubs are the surfer's toolbox. They are a place to keep gear — wet or dry — and they double as small changing areas. Get one that's big enough to stand in when you need a sand-free changing space, but make sure it will fit into your trunk.
Seat covers: If you're the kind of surfer who likes to forgo changing in the car and just dart home in your wetsuit, invest in seat covers. They'll protect the interior of your car and can be replaced when necessary.
Changing mat: Tubs are great, but they can be a little awkward to change in, especially if they're lacking in size. You can get a surf-specific mat made from neoprene, or just use a piece of carpet or some other soft, durable material. Changing on a mat will help prevent sand and gravel from reaching the interior of your ride.
Gear bag: If you want to go beyond the tub, a watertight gear bag works great for storing sandy wetsuits, trunks, or towels during the ride home.
Air freshener: Let's be honest, even if you do a good job of keeping your car relatively clean and dry, some of that dreaded wetsuit stank will inevitably make its way into your passengers' nostrils. It's pretty much unavoidable. Grab an air-freshener to help the cause.
Fresh water container: This one is optional, but if you can fill a milk jug or something similar with fresh water, you can use it to rinse yourself off before getting into the car. Plus, it's always nice to get the saltwater off before you head home, or to school or work.
State of Ride
In case you haven't realized it yet, outfitting your vehicle to be surf-friendly isn't rocket science. The bottom line, quite simply, is that you want to take precautions to avoid bringing the beach into your car.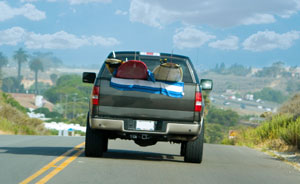 So get a tub, get some racks, and you're all set. Most importantly, remember that your ultimate goal is cleanliness. So when your buddy asks you if it's okay to skip a foot-rinse, you can confidently reply: "No, that's not okay. Go rinse off!"