How to Choose Modest Swimwear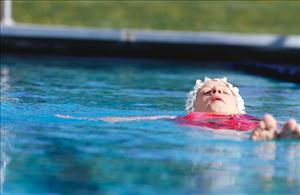 Modest swimwear is popular among women looking for full coverage in a swimsuit. There are varying degrees of coverage, but most modest swimwear covers you from head to toe. The most popular style is a rash guard style top and loosely fitted pant bottoms. A head cover may also be included. Most modest swimwear is geared towards recreational swimmers with religious or moral aversions to typical swimsuit cuts.
Common Modest Swimwear Features
There are many features common to modest swimwear. Below is a list of most of them. Carefully review the list, consider the features you most desire in your modest suit, and keep them in mind while shopping.
Fabrics that have a sun protection factor (SPF) of at least 50.
Chlorine-resistant fabrics to keep swimwear protected from chemicals and looking newer for a longer period of time.
Non-clinging fabrics that work even when wet. These are best for women who do not want their figure showing through the swimsuit.
Quick-drying materials.
Internal drawcords at the waist and ankles help to prevent ride up.
Internal buckles to secure the shirt to the pants and prevent ride up.
Invisible zippers keep the outfit secure while appearing seamless from the outside.
4-way stretch material so the swimsuit conforms to your body movements.
Double-lined front panels for extra figure-concealing.
Built-in or separate hoods to provide full body coverage.
Shop Modest Swimwear Online
Modest swimwear is sometimes hard to find in traditional boutiques and department stores, but you can find a wide array of styles and designs to choose from online. Modest swimwear is made to provide you with comfort, both in and out of the water. Based on your intended purpose and the features you most desire, you'll be able to find the perfect swimsuit for you.