How to Choose a Women's Practice Suit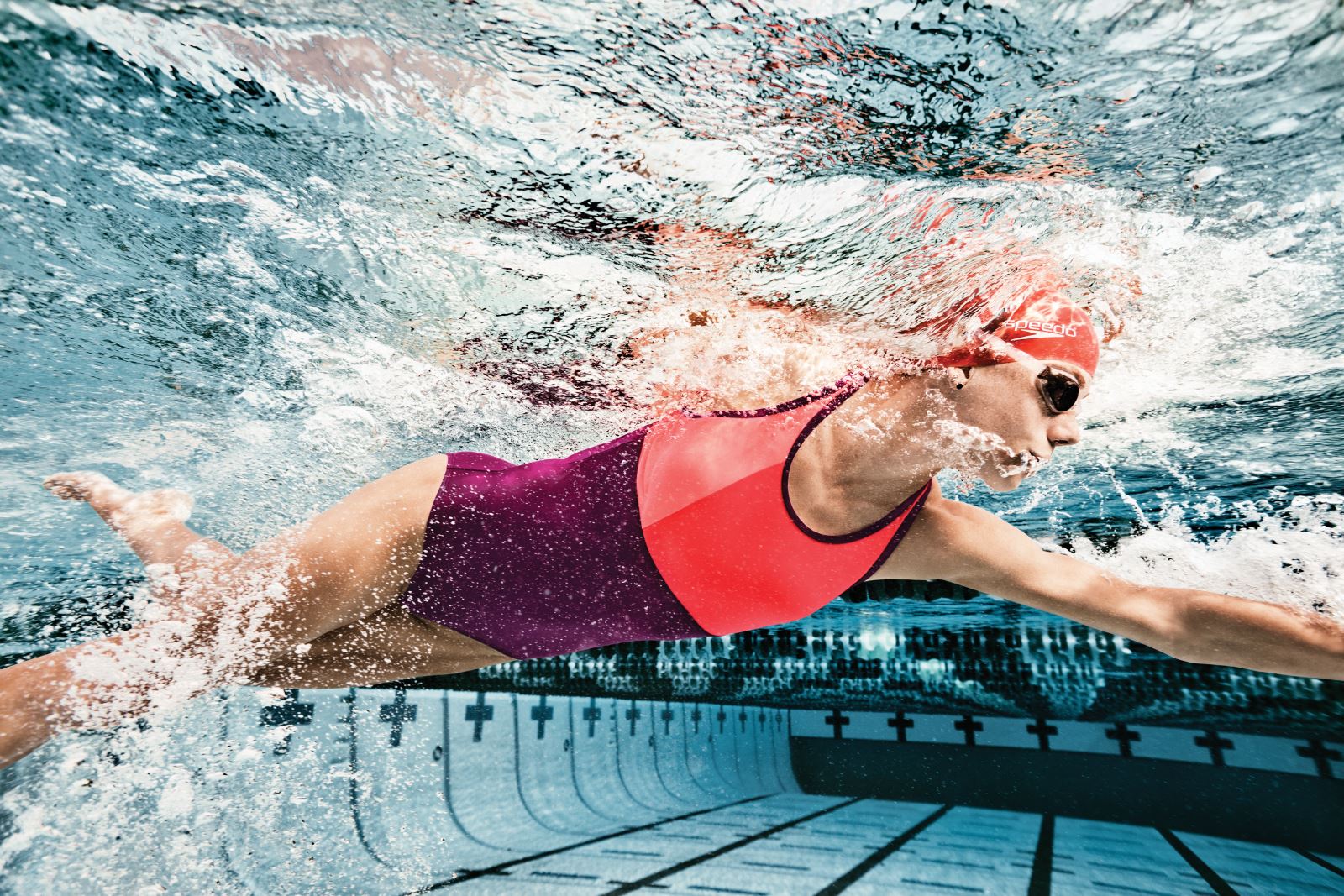 Women's practice swimsuits need to be fast and durable enough to handle intense swim practices, but flattering and fun enough to wear to the pool. Because practice suits are used for everything from lap swimming, to diving, to water aerobics, to aqua jogging, most practice suits aim to blend high-end performance technology with style. From traditional, thick strapped suits to tiny workout bikinis, your options are nearly endless. This guide explains how to find a practice suit that best meets all your needs.
Traditional Workout Suit
Traditional workout suits are one-piece suits with thick straps and fairly modest back and leg cuts. They are made of stretchy, comfortable fabric. Traditional workout suits are popular among older women, indoor swimmers, and open water swimmers because of their comfortable fit. Common features of traditional workout suits:
The thick straps and coverage will provide more support than minimalist cuts, cutout backs, or two-pieces.
Suits come in LYCRA® fabric (forgiving and comfortable) and polyester (durable and colorfast).
Traditional workout suits are extremely versatile and can be used during lap swimming, open water swimming, swim racing, diving, aqua jogging, and water aerobics.
Because of the thick straps, lower-cut legs, and less-revealing back style of this suit style, outdoor use will result in more noticeable tan lines.
Minimalist Workout Suit
A favorite style of young or outdoor swimmers, minimalist workout suits feature a sleeker, more revealing silhouette. With skinny straps, high-cut legs, and cut-out backs, minimalist suits lead to more exposed skin and therefore fewer tan lines. Because the open style of these suits creates drag, they are not used in competition. Many swimmers buy a size smaller than they normally would to ensure a tight fit. Features of minimalist workout suits include:
Minimalist workout suits provide less support and are more revealing than a traditional lap swimming suit.
Minimalist workout suits can come in LYCRA™ fabric (forgiving and stretchier), but are more commonly made with polyester (durable and colorfast).
Minimalist suits are used mainly by swimmers who swim outdoors, as skinny straps and cut-out backs result in smaller tan lines.
These suits come in a wide variety of back styles, from minimalist to traditional keyhole backs.
Minimalist suits often come in funkier, brighter colors and patterns than other suit styles.
This style of suit is popular as a training suit with swimmers who don't mind a revealing cut.
Minimalist suits are typically used during lap swimming, open water swimming, and diving.
Workout Bikini
For the woman who truly isn't afraid to bare it all — and she who wants to avoid tan lines at all costs — there are many different styles of workout bikinis. Features of workout bikinis:
Lap swimmers should be sure to get bikini bottoms that have a drawstring waistband. This will help the bottoms stay on during push-offs and dives.
Bikini top options range from sports bra-like to triangle top, but all are designed to be hydrodynamic and stay on throughout a workout.
Most workout bikinis are designed to create minimal tan lines, but there are styles with thicker straps, more support, and greater overage to accommodate different body types and preferences.
Workout bikinis are typically used during lap swimming and aqua jogging.
You've Got Options
Women's practice suits come in a wide variety of colors, graphics, and patterns. Now more than ever it is possible to find attractive and durable practice swimsuits at affordable prices. Always remember to consider your own body type, how much money you want to spend, and the type of activity you'll be doing when choosing a practice swimsuit.