How to Choose a Waterproof MP3 Player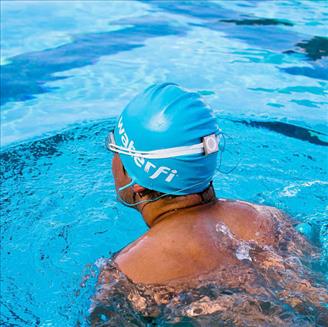 Like with most electronics, there are many technical details to consider before purchasing waterproof MP3 player. The battery life, storage capacity, and sound quality are only a few of the features to consider. This guide will help you make a confident, informed decision as you consider each of these aspects.
Waterproof Technology
Waterproofing is a reliable form of technology, but some manufacturers can be vague about the exact details. Certain products will specify that an MP3 player is waterproof up to 10 feet; whereas others will merely state that it's waterproof. As such, waterproof MP3 players should only be used in shallow depths for lap swimming or lounging at the beach or pool.
Waterproof technology is advanced enough to ensure that all products will stay functional as long as they are used properly. It's difficult to waterproof MP3 players past 10 feet because button pushing in conjunction with water pressure can compromise the device's waterproof seal.
Size & Buttons
While the size of a waterproof MP3 player doesn't appear to vary greatly at first glance, the differences in size can be quite noticeable. Additionally, the shape in which the MP3 player is designed can significantly affect how convenient it is to use. For example, the Speedo® Aquabeat is on the larger end of waterproof MP3 models, but its size allows it to also have large, intuitive buttons and fit comfortably in the hand if need be. On the other hand, minimalists might prefer a smaller model like the Finis® Swimp3 which can be less cumbersome.
Additionally, the harness style is another point of preference which varies greatly. Some waterproof MP3 players have armbands that keep them securely attached to your body. Other MP3s have a lower profile to attach to swimming goggles or snorkeling masks. One style doesn't have a particular advantage over the other: It's simply a matter of personal preference, and something you should take into consideration when making a purchase.
Technical Features & Compatibility
The technical features of MP3 players can be a little overwhelming if you're not much of a techy. Listed below are some features that can come with a waterproof MP3 player:
Pause and shuffle capability: Pause the current track or shuffle your playlist to play songs at random.
Playback mode: Repeat current track, repeat playlist, shuffle playlist, shuffle, and repeat playlist. Not all of these functions may be included in every MP3 player's playback modes.
MP3 and WMA compatible: Can play .mp3, .mpeg, .wma media files.
USB port: USB port allows MP3 player to connect directly to a computer via a USB cable.
PC and Mac™ compatibility: MP3 player's software works with both PCs and Macs.
Next / previous track: Ability to skip tracks or go to previous tracks on-the-fly.
Drag and drop playlists: Ability to easily manage your playlists through MP3 player's software on the computer.
Earphones
If you own a pair of waterproof earphones, they will likely work with the waterproof MP3 players since they use a standard audio jack. When in doubt, it's best to use the included earphones since they've been tested and proven to work with that particular MP3 player. Sometimes a poor quality or incompatible earphone can cause the audio jack connection to corrode, and the waterproof seal to become compromised.
Storage Capacity & Type
Most waterproof MP3 players will have between 2-4 gigabytes of storage. An average MP3 file is 4-5 megabytes so each GB of storage is roughly 200-250 songs. Here's a simple breakdown:
500MB: 100-125 songs, approximately 6 hours of music.
1GB: 200-250 songs, approximately 12 hours of music.
2GB: 400-500 songs, approximately 24 hours of music.
4GB: 800-1000 songs, approximately 48 hours of music.
8GB: 1600-2000 songs, approximately 96 hours of music.
Waterproof MP3 players normally have internal storage which you'll manage through a USB connection with your computer. Some, however, may use external memory such as a microSD card or similar memory cards. If you're unfamiliar with these terms, you'll need to check exactly what type of memory card the MP3 player uses and look up what your computer is compatible with. This is a topic that most computer savvy individuals would be familiar with, so when in doubt: Ask a friend or family member to help you.
Battery Life
All waterproof MP3 players will have a built-in battery to make recharging simple and convenient. The majority of waterproof MP3 players will have 6-8 hours of battery life. Typically, they're designed to last long enough for a few trips to the pool on a single charge. Anything more would require a larger battery, which would make the device bulkier.
Double Check Your Facts
As with all major purchases, you'll want to check each feature individually and carefully to confirm you're actually getting what you pay for. Never assume a feature is included if it is not explicitly stated. When in doubt, don't hesitate to contact customer service so that you ensure your experience with the product will be a positive one.