How to Choose a Men's Technical Suit
By Mark Gangloff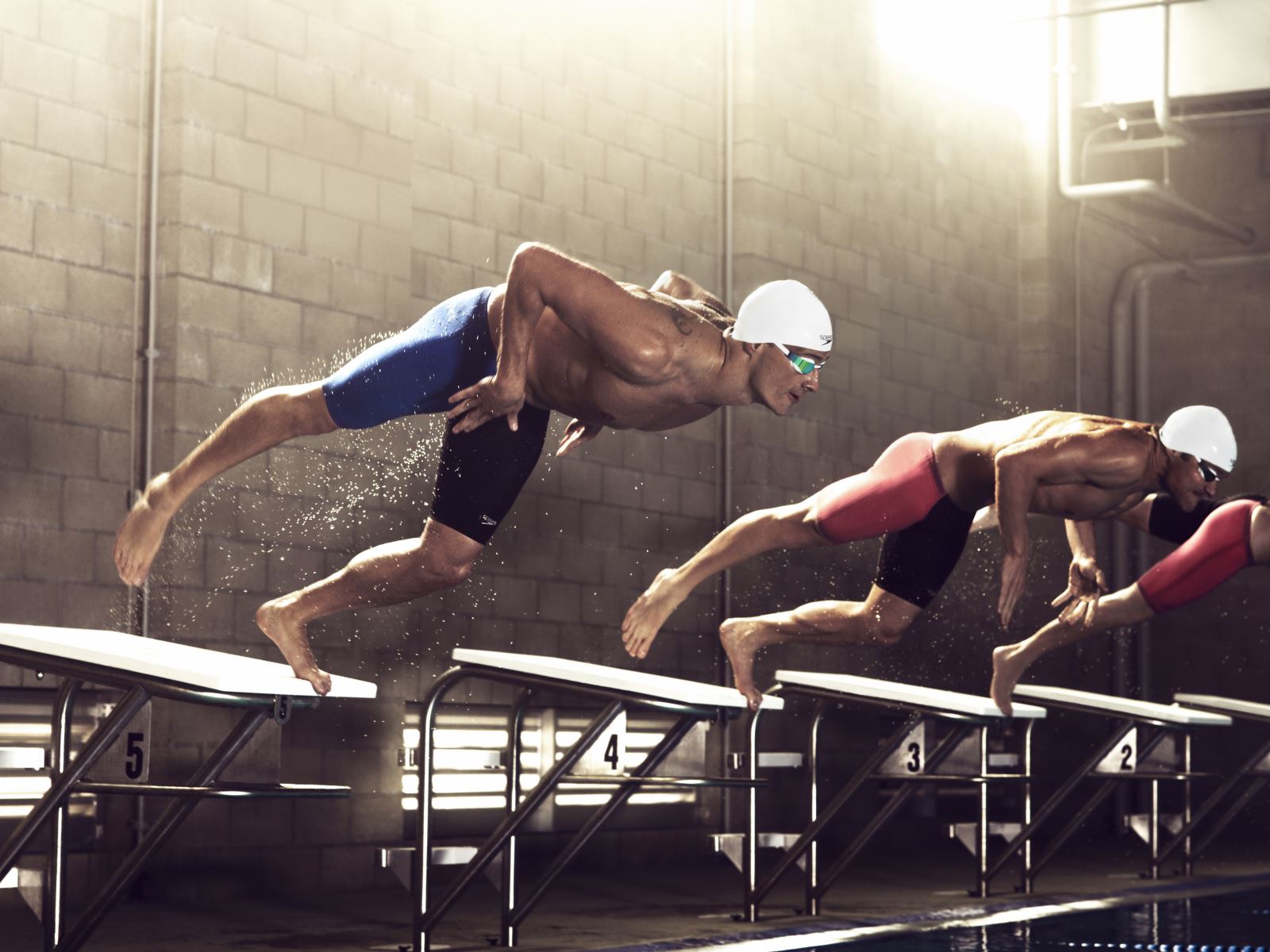 Choosing a tech/racing suit is tricky business. Sometimes an uncomfortable suit or one that fits too tight can be the best for racing. Other times it is just an uncomfortable or tight suit with little benefit. Nevertheless, I will do my best to describe the way each suit fits, feels and performs for me.
Remember, as is the case with any product, each swimmer has individual preferences. So, consider your goals and preferences (and your stroke) when shopping for and choosing a racing suit.
When choosing a racing suit, I consider four key things: 1.) How difficult is it to put on?; 2.) How does it fit?; 3.) What is the suit made of?; 4.) How does it perform?
Here's a brief overview:
1) Size/Fit
A racing suit will/should take a little time to put on because for a suit to be tight enough to be effective, it should not slide on with extreme ease. I like my suits tight enough to feel as though it holds my muscles in place. I like to plan on 10-12 minutes between the time I walk into the locker room to put on my suit and walk out of the locker room with it on. If my suit takes 15 minutes or more to pull on, then I might need to size up. If I can slip it on in two minutes, I may need to size down or choose a different suit altogether.
As a breaststroker, the most important component of the fit of a racing suit is how it fits in the crotch. To allow for mobility in the legs and hips, racing suits must fit snug, but not be restrictive. Therefore, the inseam of the suit is important and must come high enough to allow for this movement and provide "support" (know what I mean?).
Additionally, the legs should hit about one inch above my knee cap. I like to be able to pull the inseam up as high as possible without the bottoms of the legs coming up too high on my thigh. If the legs of the suit are too high, I feel restricted and a lot of discomfort in my hamstrings during breaststroke kicks.
Another component of fit is the compression. I like my muscles to feel sturdy and strong and locked into place, but also can move freely in each movement/kick. This may seem counterintuitive, but in my experience a good suit can do both. Most racing suits seem to provide compression in the legs, but often lack good compression in the hips/butt.
Each brand of tech suit fits their suits differently. See the product pages for the sizing charts, or see the following pages: Arena Men's Tech Suit Sizing Chart, Speedo Men's Tech Suit Sizing Chart, Tyr Men's Tech Suit Sizing Chart.
2) Material
You have to know what a fast suit is made of. Most often "fast" suits are made more of Lycra and less of Nylon. This combination makes them less comfortable against your skin, but provides more speed in the water. It also means that the suit is not going to stretch as much when you put it on. It is also important to understand seaming and how it affects the suit. Some seams are stitched while others are bonded (glued). A bonded seam will typically have less drag. Remember, a really fast suit does not always feel good! See the difference between bonded and stitched below:
| | |
| --- | --- |
| Bonded Seam: | Stitched Seam: |
| | |
3) Performance
When I dive in the pool with a new suit on I want to feel an easy glide through the water. The first thing I do in a new suit is dive in and glide in a streamline until I come to a natural stop. "Fast" suits make me feel like I can continue to glide without adding any propulsive force (this is usually a reflection of how the suit fits and what it is made of).
After the glide test, I usually work through each of the strokes to make sure that the suit does not affect my range of motion. I pay particular attention to how the seams stretch, which gives me some insight into the longevity of the suit (i.e. how long it will remain "fast").
I also take note of how water repellent the suit is. Suits that are more water repellent are less elastic. The more elastic a suit is, the less it will repel the water and the more it will absorb and be heavier.
About Mark Gangloff

Mark Gangloff is a two-time Olympian and Olympic gold medalist in the 4x100 meter medley relay at the 2004 Athens Olympics. He is the U.S. Open national record holder in the 100-meter breaststroke set in July 2009 in Indianapolis and attended Auburn University. He now works as an Assistant Swimming Coach at the University of Missouri. His large hand size is 8.5 inches from wrist to the top of his middle finger and 10.5 inches spread across from his thumb to pinkie.