How to Choose a Great Underwater Camera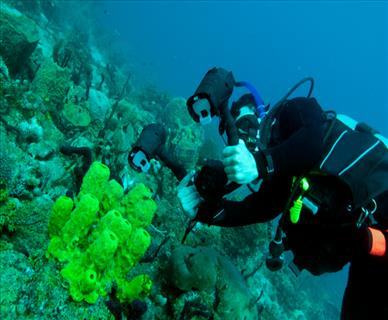 When it comes to spectacular moments, we always want to capture them on film. May it be your child's first birthday, a beautiful wedding or an amazing landscape on a vacation you're taking; pictures capture what we always want to remember. So why should that stop us when we're going underwater? We live in a day and age where we can easily take our most beloved shots and memories immersed in a pool or lagoon and we won't have to worry about our camera failing us. The question remains though: how do you decide what the best underwater camera is for your needs? We'll go over a few criteria that you should probably consider as you're deciding to purchase your first underwater camera, attachment or cover, and most importantly a mount for your camera.
Quality is Key

When it comes to cameras or photographs, you want something that has a high megapixel count. These days, it's all about High Definition or HD as some like to call it. If it's a picture that you can show on your television in HD, then that's a great camera. Cameras that say that they're around 3 or 5MP are a wonderful choice because those numbers range in the high-quality pixel scale. You'll be able to have great detail in all of the pictures that you take, whether you're swimming with fishes underwater or you want to take your phone out for a dip in the pool.
Barometers, Meters and Inches – Which One?

There are many cameras out there that boast how far and how deep they can go underwater. It can be frustrating and confusing deciding which one might be the best for you. These days, some of the highest quality cameras that you can buy for personal use can be used for up to 40 feet underwater. Most underwater cameras average at about 15 to 20 feet of water pressure. Are you planning on taking it scuba diving? Or maybe perhaps you want to take your camera snorkeling? Since snorkeling you rarely go farther than about 10 or 12 feet, an average camera would be your best choice. But if you need something more heavy duty -- choosing the camera that will allow your shots to be taken at a deep level is a great option for you. Decide where you want to use the camera first and from there you can choose what depth that you'll need for your underwater device.
Mount Away

Something that photographers or new to the craft camera users might not realize is how getting something like an underwater camera mount can make a world of difference when it comes to taking pictures. The best part about mounts is they can free up your hands to do other things, like paddling your arms for surfing. For example if you get a surfboard camera mount, you can place the mount on your surfboard and take amazing shots of you hanging ten in a wave. Another option is to take a fun head mount and place a camera inside there so you can take pictures or videos of amazing places and sights that you're seeing while scuba diving. There are also mounts that are specialized so you can mount them on your chest while swimming. Depending on your activity, you can choose whatever style most suits your needs.
Cameras have a wide array of choices that you can make for whatever activity you're deciding on pursuing. Always choose the waterproof option, including memory cards and the mounts as well so you won't worry about anything being lost or damaged while you're doing your fun activities. Whether it's taking pictures of dogs underwater or your first big wave, underwater cameras are a must-have for water lovers out there.