How Technology Has Influenced Diving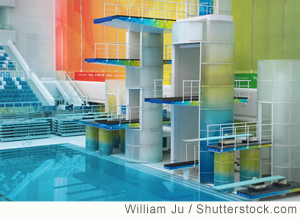 In the last several decades, modern technology has influenced just about every aspect of life. The impact has been profound and has changed many traditional methods of doing things. The influence of technology on the sport of diving is no exception.
20 years ago, reaching members of the diving community was difficult and costly. Today, members can be reached, their interest peaked, and they can be eased into the sport. Technology has influenced how meets are run, how coaches speak to their team, how colleges recruit their divers, and how divers connect with one another. Below are some details of how the world of technology has transformed diving in the 21st century.
Communication
One of the best impacts technology has had on diving is easing communication. Communication within a team, at a diving meet, and even outside to the general world of divers are all essential for promoting and advancing the sport. Technology has made the once laborious process streamlined and more cost-effective. Here are two ways this communication has been advanced.
1. Within a Team
In order for any team to succeed, effective communication from a coach to the members of the team must occur. Coaches have important information team members must be aware of; here are a few examples:
changes in practice schedule
competition venues, times, and updates
team suit purchase requirements
payment deadlines
Prior to the internet, the most effective way of communicating to a team was for a coach to either call each member of the team, or print a monthly newsletter or flyer.
Today, many teams have their own websites where they post important information. Information such as where practice will be held or changes in event venue and time can easily be transmitted to all members with a simple entry onto a website.
Many teams will also post their calendar of important dates, practice schedules, meets, and social functions. Additionally, coaches will often place a link on their site that directs their members to where to purchase team suits, shammies, and team outfits. Technological advances have been huge in helping shape and define team communication dynamics.
2. Competition
One technological advance that just about all divers have experienced is the ease of registering for a meet. Prior to the computer age, registration was a laborious effort by both parties involved; both dive meet coordinators and the divers themselves. Divers would need to fill out detailed paperwork, get registration materials mailed in by a certain date, and figure out their transportation and lodging. Meet coordinators would then need to take that information, sort it out by age group or competition event, and follow up with any inconsistencies. It was a time consuming and costly process.
Today, all of this is done online. Divers can enter all their information into a website, maintain records of their important numbers and reference information, and pay for the meet via online registration. Meet coordinators can receive the information, easily sort through the material and quickly find inconsistencies. Costs are reduced significantly and manual errors are less frequent. In short, the entire process is streamlined.
Instructional Videos & Websites
Just about anyone can upload a video onto YouTube, but that does not qualify them as a diving expert. One of the best sources for strictly diving based videos is right here on iSport. Check out iSport's Diving video page for a variety of high quality, instructional diving videos that are completely free of charge!
In previous decades, instructional videos were difficult and costly to get a hold of. The only way to purchase them was generally by attending a diving camp or seminar. Today, with the ability to shoot a high-definition video from your phone or digital camera, videos have become readily accessible. Search the internet and you will see a variety of diving meets, practices, and technique videos. Some of these videos are straight from the world's best coaches and divers.
Current Events
Technology has also made it much easier to be involved in diving: Both as a fan and as a participant. Today's diving community can keep up to date on their favorite divers and most anticipated events by the touch of a button.
In addition, many of the larger diving competitions — such as Senior Nationals — are broadcast live via streaming video. This gives a wider audience the chance of watching and following the sport. Fans around the world — as well as divers of all skill levels — can now watch these events. This ability to watch events can profoundly influence a new diver: It can teach divers skills and techniques in a way that was simply not possible 20 years ago.
Social Networking
Social networking has influenced college recruitment. The ability for a coach several hundred miles away to see the talent and potential of a new diver has never been so powerful.
In the last 10 years, one of the biggest influences on diving is the impact social networking has had on the community. Divers from all over the world can share, connect, and promote the sport of diving like never before. Divers and coaches can share notable events, advertise camps, and highlight techniques from all over the world. This can be done with a simple status update, or a link to a video or website.
Reap the Benefits
With technological advances, today's diver and fans are able to connect — and reconnect — to the diving world like never before. These advancements have made once difficult tasks easier to accomplish, and more cost effective to achieve. As such, diving in the 21st century is an exciting new world that divers, coaches, and fans will all benefit from for years to come.