Fun and Games with Pool Toys and Floaties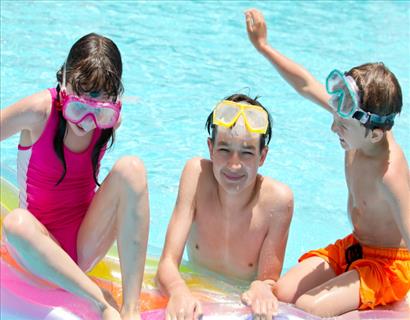 With summer ever only a day away, it's always a good idea to have fun activities in mind for children and families alike for the pool. With so many pool toys and floaties available these days, it's hard not to come up with some fresh new ideas for pool games to play in the water. Adults and children alike are always coming up with fun and fresh ideas on how to spend your time in the water. Because of that, there are tons of different games that you can play while you're out soaking up the sun and having a splashing good time. We'll go over some of our favorite pool games to play with your children and people of any age.
The Game of Ducks

What you need:

3-4 rubber ducks or more
3-4 players or more
How to play:

This is a game that needs at least three people to play. Starting at one end of the pool, give each player their own rubber duck. The point of the game is to take your rubber duck all the way to the other end of the pool. The trick however is to not be able to use your hands to move the duck, you can only use your nose. By pushing the rubber duck with your nose, you can build your swimming skills. However you cannot simply just bite the duck and carry it over to the other end of the pool as that would be cheating. As an added challenge, players are allowed to splash other players to distract them from getting to one end to the other.
Butterfinger ball

What you need:

Sunscreen, suntan lotion or suntan oil.
Beach ball.
A group of two or more players.
How to play:

This game can be played outside or inside the pool. You rub sunscreen or suntan oil all over your hands and play a game of catch with the beach ball. This can be played with adults and children alike. The fun part of it is trying to be able to hold the ball with slippery hands. Oil is recommended because it tends to not soak in your hands as much as regular sunscreen and can keep your hands slippery.
Raft races

What you need:

Inflatable rafts or pool mats.
At least two players to compete in race.
How to play:

This can be a very simple game but with an added twist. While in your pool, you can race your friends while on a pool raft or floating device. If you have a large raft then you can be on teams, with multiple people on one floater. To make it even more fun, we suggest spicing up this game with another element. Try making it a relay, by tagging people at one end of the pool and having everyone switch when they reach the end. Or you could have an item at the bottom of the deep end of the pool, so when teams or players reach that end, they must grab the object at the bottom of the pool and bring it back with them to the start. The first player back wins the race.
These are just some of our ideas on what you can do for fun games. However, taking some pool toys can always liven up any activity when it comes to the water. Using items like rings where you can toss them in the pool and see who gets them the fastest is always a favorite. There are even diving sticks as well. Another fun pool toy is the underwater torpedo, which jets through water like it's from an actual submarine. This is a fun one for young boys who want to be adventurous. Adding a raft is a great way to hang out along the pool's waves too; just sit back, relax and you'll be calm in no time.
The whole point of summer is to have a blast while swimming and enjoying the sun and one another's company. There's an endless amount of fun that you can have while on your own adventures in the pool, beach or even a lake. Just taking something simple like a beach ball can provide hours of entertainment. Check out all of SwimOutlet's amazing pool floaters and toys so you can see what you can have fun with in the water.