Yoga Mats 101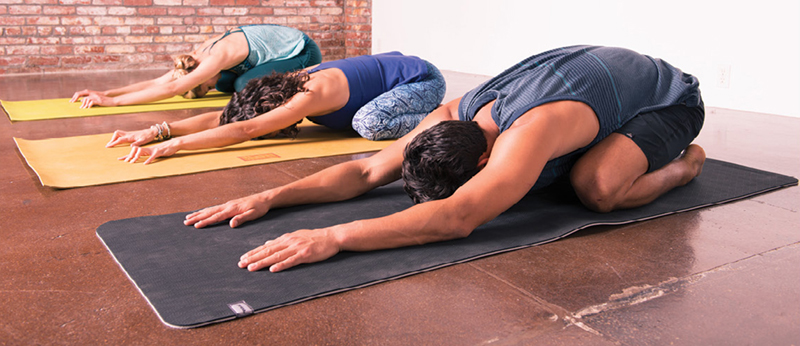 A yoga mat is, quite literally, the foundation to your practice. Selecting a stellar mat that suits your body's natural chemistry will soon be your best friend. A lot of times, people starting out in yoga will grab the cheapest mat they find, but they find themselves slipping and sliding, and calling it quits. Not to worry; this guide is here to the rescue! Besides those beautiful colors and patterns that make your heart go pitter-patter, some things to consider when finding the best mat for you.
Thickness:
Think about your hands, feet and those knees. Do you tend to need a little extra cushion for your knees when you're in cat/cow or do prefer to feel a solid floor beneath your hands or feet for stability? A thick mat is going to feel comfy on the joints, but the trade-off: you're may not feel as strong a connection to the ground.
Sticky Mats
Sticky mats take time to break in, but once your natural oils have joined forces with the mat, the mat develops a tacky surface that hugs the ground and your body. These are easy, entry-level mats with a lower price point and light weight. If you tend to sweat a lot during your practice, or like a good power yoga class, sweat can work against the tackiness of the mat and make it slippery because of their open-cell structure. The good news? They are super easy to care for (think machine washable) and durable.
Hot/Grip Yoga Mats
Sweat, Bikram and crazy yoga hair can't phase a good Hot Yoga Mat. Grip mats are made with a closed-cell, non-slip texture, ensuring your mat stays in place when you're sweating it up in the studio. The closed-cell structure absorbs any liquid and maintains its grip. The moisture-wicking qualities not only keep the mat dry, but they also help keep you dry, too. The mats do get stinky, because, we'll let's face it, we don't always smell like roses, but cleanup is easy. Invest in some tea tree oil or mat wipes and wipe the mat down after every class so it keeps fresh.
Eco-Friendly
These mats are made from natural tree rubber! If you have a latex allergy, Eco-Friendly mats are a great option. They're latex and PVC free, biodegradable and 100% recyclable. They have a good grip surface with no break-in period. Since they're biodegradable, as you use the mat intensely they may start to wear down and biodegrade. They come in a variety of thicknesses from Performance to Travel size. With an easy clean-up, these mats prove to be user – and eco-friendly.
Performance
If you're a regular at the studio or have a strong practice, the wear and tear on your yoga mat can happen much quicker than others. Instead of constantly replacing your mat, getting a Performance mat can help. Because these mats are heavier and more stable, they are also more durable and can stand up against even the most intense of workouts. With a strong grip and a non-slip construction, you can go from Hot Yoga to Restorative and not worry about your mat underperforming.
Travel Mats
For the yogi on-the-go, lighter and smaller mats are perfect for carrying with you or packing in a suitcase. They are ultra-thin and ultralight, making them hassle free to tote with you to yoga festivals or a tropical yoga retreat. Downsizing in terms of your yoga mat doesn't mean you have to miss out on some of the features mats have – many brands make travel mats with different surfaces and different qualities. Veg out even on vacation and stay motivated with a mat that will perform as well as you do.
No matter what type of yoga you enjoy or how much time you spend in the studio, there are multiple different mat choices for you. No matter how your body reacts to your stretching sessions in the studio, you'll find a mat that works best for you and your price range!