Choosing a Helmet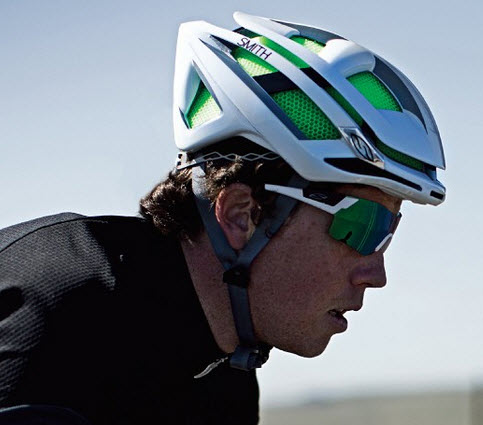 Whether you're cycling to work, riding for fun, or competitively racing, a helmet is a must-have. When properly chosen, a cycling helmet provides a comfortable fit while delivering excellent, durable protection. This helpful guide will go over important helmet features to help you choose the helmet that best fits your cycling needs.
Types of Helmets
Road helmets tend to have more ventilation than other types of helmets. Ventilation increases airflow at the top of your head, providing a comfortable fit that keeps your head cool. Road helmets leave off the visors for a lighter weight design.
Aero helmets are favored among professional cyclists and triathletes as they are designed for maximum speed and aerodynamics.
Mountain bike helmets provide more coverage than most helmets since they are meant for the rough terrain you may face off-road. Coverage increases towards the rear of the helmet and the overall design is bulkier, making them best for casual rides. Mountain bike helmets are usually equipped with visors to protect against the sun.
What's Your Hair Type?
One thing some people may not consider is their hair type. To achieve ultimate comfort, you need a helmet that accommodates your hair. Those who are bald or have very short hair may want to invest in a helmet with soft padding. That padding protects your delicate scalp from chafing and discomfort. Those with long hair may want to consider a helmet with a hair port that comfortably accommodates a longer hairstyle.
Other Things to Consider
Weight: A lightweight helmet can make you forget you're even wearing one. Thus, lightweight helmets may offer greater comfort while maintaining safety and protection.
Color: If you're likely to cycle on the road, color is even more important. A light color, like white, is easier for motorists to spot from afar; although, a bright color is most visible in a variety of environments. Patterns made with reflective tape are a simple, effective way to add visibility at night.
Ventilation: Riding your bike is a surefire way to work up a sweat. Proper ventilation is the key to keeping cool. Look for helmets with an optimal number of ventilation ports as these ports provide comfortable airflow.
What's Your Size?
In order to find the perfect helmet, you need to know what size to buy. Helmet sizes vary depending on your price range. Lower priced helmets tend to be one-size-fits-all. As the price increases, there is a wider range of sizes. Regardless of price, you're increasing your level of safety by choosing to wear a helmet with a precise fit.
To find your size, wrap a soft tape measure around your head. The tape measure should be level and rest about an inch above your eyebrows. This measurement corresponds with your helmet size on the size chart.
Finding Your Perfect Fit
Now that you have your helmet size, it's time to try on a helmet that corresponds to your measurements.
Level: Place the helmet level on your head. Avoid having your helmet tilt back; the front of the helmet should cover a majority of your forehead.
Adjust: Adjust the various straps located near your ears and the back of the helmet until you have a snug yet comfortable fit. When your chin strap is adjusted correctly, you should barely be able to fit two side-by-side fingers between your chin and the chin strap.
One Inch Rule: Tilt your head in different directions. If the helmet shifts by more than an inch, you need to tighten your helmet more. A properly fitted helmet is secure with little give.
Safety and Comfort
Don't let finding the perfect helmet overwhelm you. The fact that you're choosing a helmet means you're taking a step in the right direction towards bicycle safety. Helmets are designed to fit your every need, which is why they have countless features to ensure a great bike ride. By following this guide, you can ride in confidence knowing you've picked the right helmet.