Best Speedo Competition Goggles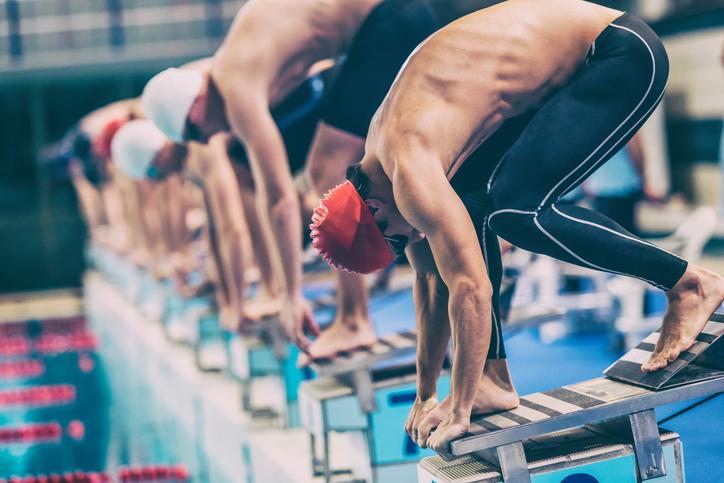 Speedo makes some of the best goggles in the world for a variety of different uses. You can get goggles specifically designed for recreation, for training, or even for competitions. But even within that wide umbrella, Speedo makes many types of competition goggles, each designed for a different purpose. How can you know which one to choose?
That's where we come in. We at SwimOutlet.com have looked at each type of Speedo Competition goggles and will pass our knowledge onto you below. We will break down each style and explain its pluses and minuses to ensure you make the best choice for you.
Speedo Speed Socket Goggles
The Speedo Speed Socket Goggles have their function right in their name. They are designed for speed and to fit snugly in your eye socket with a low profile to ensure the goggles both stay on and stay out of your way while you swim. They offer a flat lens for wide vision, surrounded by strong TPR seals. For maximum comfort, the nose piece has three different lengths so you can find the perfect fit. Compared to other goggles by Speedo, the nosepiece also sits higher on the bridge of the nose.
They also come with Speedo's anti-fog technology, ensuring that the goggles will not fog up during long swims nor after repeated use. They are shatter-resistant as well, so don't worry if they slip out of your bag on your way to a swim meet (it happens!). Lastly, they have a silicone double headstrap to ensure the best fit and that they won't fall off your head when swimming.
These goggles will serve you well in competitions, but if your face is a bit rounder or you have larger eye sockets, you may find these goggles too tight or uncomfortable around the nose. The low profile means that the goggle will help you swim faster, but may not be comfortable to wear for certain faces.
Outside of that, these goggles will work great for both men and women in any competition!
Speedo Vanquisher 2.0
The Speedo Vanquisher 2.0 Goggle is another low-profile goggle offered by Speedo, and is perhaps their most popular style of goggle. With bright colors and a simple design, it's not hard to see why. The 2.0 version of the goggle took the already well-loved vanquisher style and gave it a fresh coat of paint (literally) to ensure that it is the best goggle on the market.
The Vanquisher 2.0 goggle's lenses sit on the inner eye, around the socket, to form its seal. This not only creates a watertight seal for long and fast swimming, but it also keeps a low profile. The lens is also flat, which allows the goggles to offer a wide vision level in the water. For comfort, the seals are cushioned, which offers a more comfortable seal than the Speedo Socket goggle, but it does not keep as low of a profile.
The Vanquisher 2.0 comes in several varieties to suit your needs. You can get the goggles with a mirrored lens to keep the sun out of your eyes, or a lightly tinted lens for swimming in darker waters. And while the traditional model of the Vanquisher will fit both men and women, there is also a women's style that comes in brighter colors and offers more nose adjustment options as needed.
While these goggles will serve you both for competitive swims and even for casual pool swims, the Vanquisher 2.0 may fit tighter than a relaxed goggle and if you have a large eye socket, you may find it hard for the lens to fit around your eye comfortably. And, while the cushioned seal is comfortable, it is not as low profile as the Speedo Speed Socket goggle.
But with that said, the Vanquisher 2.0 will definitely serve you well, no matter what you use it for!
Speedo Vanquisher 2.0 Optical
The Speedo Vanquisher 2.0 Optical goggle takes all that was good about the regular Speedo Vaniquisher goggle, and makes it larger. By doing so, it offers both a larger lens to increase peripheral vision and offer a better fit for those with larger eye sockets, without sacrificing quality or speed. These goggles can also have prescription lenses as well, ensuring that everyone who wears them will be able to see in the water.
Like the Vanquisher 2.0 goggle, the Optical version has cushioned seals around the eyes that improves comfort, plus it comes coated in Speedo's best anti-fog protection. Plus, its nose strap has four different adjustment points for maximum comfort and to prevent pinching.
However, because of the larger lens and the cushioned seals, this goggle is not as low profile as the Speedo Speed Socket goggle. Plus, if you have smaller eye sockets, you may find this goggle to be a little too large for your needs.
Speedo Fastskin3
As its name implies, the Speedo Fastskin3 goggle is designed for those who want to swim fast and feel like their goggle is an extension of their skin. Fortunately, the Speedo Fastskin3 does just that, with an innovative, low-profile design that will keep you swimming faster than ever in the water. But with its unique 3D design, it is both fast and incredibly comfortable. You might even forget you're wearing them at all!
The lens is low profile, to decrease drag in the water, but it also has a 3D TPR seal that was designed around real head and face contours, ensuring comfort as well. But more unique than that is the IQ strap, which prevents dangling ends and offers easy adjustment. Unlike traditional straps, the IQ strap is one piece that you can adjust from the back of the goggle. The strap is small, narrow, and thin, which ensures that it won't interfere with your swimming and will comfortable even under a swim cap.
All of that innovation can come at a cost, however, as these goggles are more expensive than the previous ones on this list. But, if you're determined to swim your very best, and if you're swimming competitively, you should be, then you cannot go wrong with a pair of these goggles!
Additional Goggles
Speedo already has numerous styles of competitive goggles, but they are always innovating and creating new styles as well. Because of this, the goggles described in this article are just a small sampling of what Speedo has to offer. We recommend browsing SwimOutlet.com's list of Speedo Competitve Goggles to see the latest models available. Plus, if you shop on SwimOutlet.com, you will get the best price as well as the best goggles.
No matter what you choose, when it's made by Speedo, you will have some of the best goggles around. Now, go out there and break a swim record!