Beach Picnics 101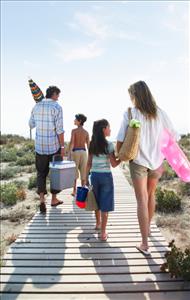 A beach picnic is a great way to enjoy gorgeous warm weather and sparkling blue ocean views. Packing a picnic is simple but does require some preparation. In this guide, you'll learn how to plan the perfect beach picnic.
Plan your Meal
It's important to plan when you want to go and what type of food to bring. In general, you want to stick with foods that are easy to eat and pack well. For breakfast, you may want to consider the following items:
Resealable bottled beverages such as water or fruit juices.
Thermos of coffee.
Handheld items such as scones, quiches, and savory biscuits.
Sliced fruit in Tupperware.
For lunch and dinner, the following items provide easy clean-up on the beach and have maximum portability.
Sandwiches on hearty breads to prevent sogginess.
If your sandwiches have a lot of produce, you may want to pack wet items like tomatoes in a separate bag then assemble your sandwich while comfortably on the beach.
Salads such as cucumber, pasta, or quinoa. These keep well in Tupperware and taste great the longer they marinate! If you plan on packing a traditional salad with lettuce and toppings, pour your dressing on the bottom of the Tupperware and layer harder vegetables on top to protect the integrity of the greens.
Sliced fruit and vegetables.
Crackers/chips and prepared dip.
Cookies/brownies.
The above options are just ideas to help spark your creativity when planning your picnic menu. Remember, choose items that are portable, keep well, and easy to eat. This will ensure a carefree, fun and easy picnic.
Keep Food Cool
Once your food is prepped and ready to go, you'll need something to store it in. Swimoutlet has a vast selection of charming traditional picnic baskets and cooler totes. Typically, your picnic basket will already include napkins, cutlery, glasses, and a food cooler among other items. Picnic baskets are great if you plan on packing a complex meal that requires cutlery, a cutting board, and glasses. The cutlery usually attaches along the wall or lid of the basket to maximize space.
If you prefer something simpler, a cooler tote is a great option. Cooler totes come in fashionable designs and are well-insulated. They're essentially tote bags with the properties of a cooler. Most cooler totes have leak-resistant and antimicrobial liners as well. If you're packing foods that need additional cooling, it's best to tuck a frozen gel pack or ice pack in your bag. The insulation of your cooler tote combined with an ice pack will ensure the freshness of your items. If you plan on hiking or relaxing before your picnic, you can ditch the ice packs and freeze one of your beverages. It'll keep your food cool and defrost into an icy, refreshing beverage by the time you're ready to eat.
Block Out Sand
Sand always seems to get into every nook and cranny while at the beach. It can even get in your food if you don't watch out! To prevent sand from infiltrating your picnic, it's best to invest in a quality beach blanket. Beach blankets are durable and allow sand to slide right off. Some companies even make beach blankets that filter sand through the blanket via mesh. This allows a sand-free environment for your picnic.
Provide Your Own Shade
It feels good to soak up the warm sun while relaxing on the beach. However, the weather may prove to be too hot on some days. To block out the sizzling sun, try an umbrella, beach tent, or canopy. Any of those items can instantly give you a little shade which will make a huge difference once you're on the beach.
Extra Items
With a packed picnic basket, beach blanket, and an umbrella, you'll be prepared for a fantastic beach picnic. However, the following are some miscellaneous items you may want to toss in your bag before heading to the beach:
Sunscreen.
Bug spray.
Extra bag for trash.
Wet wipes for cleaning your hands.
Sunglasses.
Ocean Views and Delicious Foods
You can ensure a relaxing picnic with the right foods and supplies. As a rule of thumb, it's best to leave messy foods at home and pack easy to eat, handheld items. Don't forget to bring a shelter for the sun! Whether it's an umbrella, canopy, or tent, you'll stay cool and covered. With the right preparation, you'll be one step closer to enjoying a wonderful picnic on the warm sand.