Beach Day Checklist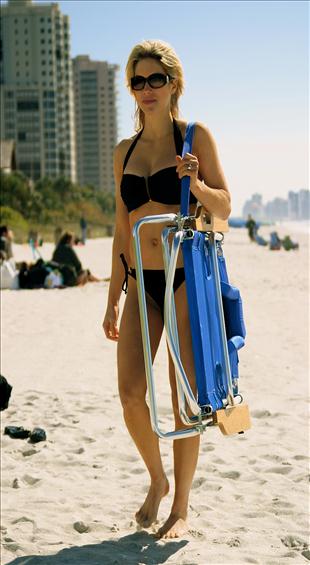 When the days get hotter and the nights get longer, your trips to the beach become more frequent. To ensure a perfect day on the sand, you pack up your cooler and beach bag the night before. There are a handful of items that are absolutely essential for a day-trip to the ocean, some of which often times get forgotten in the scurry to get to the sea. Below is a "day at the beach" checklist designed to deliver a complete day of fun in the sun.
First thing is first, you will need a beach bag or travel tote to carry all of your treasures from your sidewalk to the boardwalk. Depending on your preference, bags come in all shapes, sizes and styles to suit every lifestyle. Once you have chosen a tote that will store your necessities, you can check it off of your list.
The second, and perhaps the most important, thing you will want to bring to the beach is sun protection. Sun protection can be as simple as a tube of sunscreen, or as convenient as sun-protective clothing. Whether you choose a swim shirt with Ultraviolet Protection Factors (UPF), or a lotion with Sun Protection Factors (SPF), guarding yourself from the damaging sunrays is extremely vital. If you'd like to combine both layers of lotion and guarding garments, a sunhat or visor would also be a viable addition to your pack list.
Next you will want to choose a beach mat or towel to toss in your tote. In order to unwind in the sand, you will want to unroll a comfortable and compact beach blanket. If basking in the sun is not your idea of fun, there are plenty of compatible canopies and umbrellas that will block the bright rays from your beach play.
Following your lounging necessities, you may want to include beach toys for the sand-castle kings and queens (whether that is you or your little ones). A shovel and sand bucket can go a long way for a day full of fun in the fun. If sand architecture is not for you, you can use the bucket to collect seashells on the seashore.
Last, but certainly not least, every beach trip should be accompanied by a picnic. In order to lug your favorite summer foods from the kitchen to the beach, you will need a cooler and picnic basket. Varying in complexity, there are endless options to ensure your sunny day snacks will stay fresh.
Once you have crossed everything off of your beach checklist, you are set up for a successful day in the sun. Whether you are chasing the waves or hoping for a relaxing get-a-way, this basic checklist will carry you through all of your days spent with the sun, sea and sand.