Understanding Kids' Safety Swimwear & Gear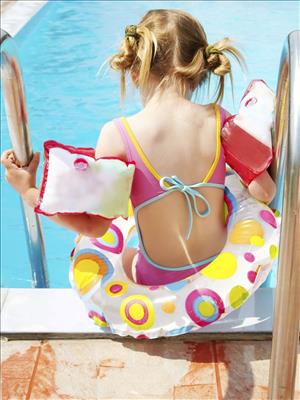 Whether your little one is being introduced to the water for the first time or is an intermediate swimmer, it is important to ensure that your child is properly prepared for the pool. This guide explains the different types of safety swimwear and swim gear that will keep your child protected at the pool.
Floatation Suits
Floatation suits are used to introduce babies and young children to the water and to build their in-water comfort and confidence. Made with buoyant foam, floatation suits help your little one stay afloat as they develop their swim skills in the pool. Recommended for beginning and first-time swimmers, most floatation suits can be worn alone or over a swim diaper if needed.
Floatation Devices & Gear
Wristband alarm: Safety alarm devices are strongly recommended for infants, toddlers, and young children who cannot yet swim. These wearable devices set off an alarm when the child falls into the water or is under the water for too long.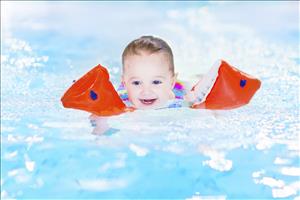 Arm Bands: Arm bands, also called floaties, are used to enhance your child's basic swimming skills. These are recommended for children who have become comfortable in the water, but are developing their swim skills.
Swim Vests: Similar to floatation suits, swim vests help to keep your child afloat in the water while they are still developing their swim skills and in-water confidence. Swim vests offer greater floatation and safety than arm bands. Girls' swim vests are designed to be worn over her swimsuit while boys' swim vests are designed to be worn in addition to his swim shorts.
Kids' Water Shoes
Kids' water shoes offer foot protection and help to prevent them from slipping on wet surfaces. The most important feature to look for in both girl's water shoes and boys' water shoes is a firm, durable sole that offers them traction on slippery surfaces.
Full-coverage water shoes look similar to running shoes and offer full-foot protection. Faux-sandal water shoes have an open design that is better for the beach, since sand will not get trapped inside.
Swim Diapers
For infants, babies, and young toddlers who are not yet potty-trained, swim diapers are a requirement for all public pools and they offer essential sanitary protection. Most public pools require a one-time use swim diaper in addition to a reusable one. 
UPF Sun Protection
UPF (Ultraviolet Protection Factor) ratings are used to measure the amount of sun protection a fabric provides. Below is a chart that explains the amount of UV-rays blocked and the amount of sun protective provided.
| UPF Rating | Amount of Protection | UV Blocked |
| --- | --- | --- |
| 15-24 | Good | 93.3-95.9% |
| 25-39 | Very Good | 96-97.4% |
| 40-49 | Excellent | 97.5-98% |
| 50+ | Ultimate | +97.8% |
Hats
Floppy hats feature a 360° brim to provide shade for the head, face, and neck. If your child has sensitive skin, look for floppy hats that feature UV and UPF sun protection. Best for infants and young children, hats with chin straps prevent the hat from falling off or being pulled off.
Rash Guards
Rash guards are worn over a swimsuit for added sun protection and are ideal for babies and children with sensitive skin. Both long sleeve and short sleeve versions are available for boys and girls. Long sleeve rash guards deliver greater coverage and protection, while short sleeve rash guards are more comfortable in warmer temperatures.
Final Note
Kids' safety swimwear and swim gear is not a replacement for parental supervision. It is important to always watch your child at the pool to ensure their safety. In addition to supervising your child at all times, utilize safety swimwear and gear described in this guide to best protect your child at the pool or beach.