Understanding Active Swimwear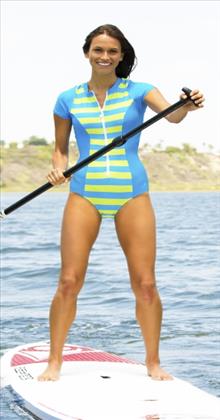 These days, swimming isn't the only sport to be a part of on the beach. Many flock to the shores to surf, stand-up paddle board, get in on a game of beach volleyball, or even go for a run. With all kinds of ways to stay active by the beach, active swimwear has become a hot trend. Hop on your surfboard in a protective rash guard and board shorts or spike a volleyball into the sand in full-coverage bikini bottoms and a sport top. If you're craving more coverage, swim leggings give you the comfort you need to move. Getting active and staying comfortable has never been easier – or trendier! Here are some typical active swim pieces to help you decided what will work best for you.
Rad Rash Guards
Whether you're surfing, paddle boarding or water skiing, rash guards help keep you covered up when you're under the hot sun. You can choose from long sleeve rash guards if you need the most coverage or short sleeves if you want your arms free, or sleeveless if you want even more movement. Some fun features for rash guards:
These tops keep you comfortable and protected against the elements. And, the best part, many rash guards come in bold colors and fun prints so you don't have to miss out on trendy swim styles!
Basic Boardies
The ever-popular and classic board shorts are every active lady's go-to choice. Board shorts offer:
- Differing lengths to suit your personal comfort level
- Soft and quick-drying materials for ultimate comfort
These shorts are a great way to paddle, jump and run. Board shorts are one of the active swimwear pieces that offer the most coverage for those who want to remain confident and protected against the elements.
Bum-Covering Bottoms
When you want to rock a bikini but still be able to move with ease, finding full-coverage bottoms is the way to go. Whether it's sporty boy shorts or fuller brief bottoms, finding a bikini bottom that gives you coverage and is also comfortable is key. These active bottoms vary from pull on to tie-side, but always have ample coverage in both the front and back. With a secure fit, you can sprint, spike and surf without worry.
Sporty Swim Tops
Active bikini tops come in an array of styles, from tankinis to triangles. Active tops always have more coverage than regular bikinis and ensure a secure closure, whether it's with a pull-on style or a bra-hook design. These tops can offer:
These tops look as stylish as everyday bikini tops while giving you the comfort and performance levels you need to keep moving on the shore.
One Piece Wonders
If bikinis aren't your thing, one piece active suits are a great choice. The following features can be found in some one piece suits:
- Supportive bust inserts
With these suits, keeping up on land or sea is a breeze and allows you to move and groove no matter what beach or water activity you partake in.
Whether you want full coverage or you still want your skin to get sun, SwimOutlet as a wide variety of styles, cuts, colors, and prints of active swimwear for you to wear. Choose from popular brands like Nike, Seea, Rip Curl and Roxy and hit the shoreline in a stylish suit meant to get your blood pumping.