Ultimate Guide to Speedo Women's Swimsuits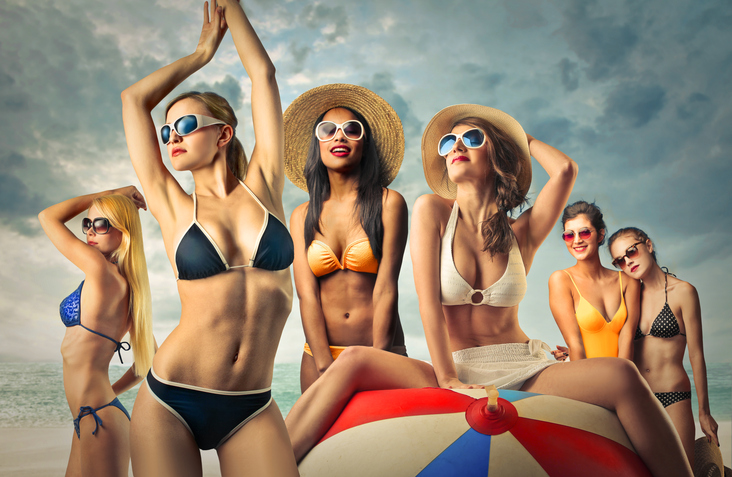 You already know that Speedo makes some of the finest women's swimwear available, but did you know they also have one of the largest libraries of swimwear varieties to choose from? With so many choices, it can be hard to determine which swimsuit is the best for your needs. Do you want a stylish bikini, or a functional one-piece? Or what about a tech suit? It's enough to make your head spin!
Fortunately, we at SwimOutlet.com are here to make things a little easier for you. We'll break down the different types of Speedo Women's swimsuits below to help you decide what will best suit your needs.
One Piece
The one piece swimsuit is perhaps the most common swimsuit for women and it's easy to see why. The most versatile of all women's swimsuits, the one piece can be both modest or sexy, depending on the style and how its worn. Plus, they offer good coverage and protection from the sun's rays.
Some of the one piece suits are designed for competition swimming, and include compression technology to keep you slim and agile in the water. Others are made more for lounging on the beach and offer comfortable, quick-drying materials to ensure that your swimsuit remains comfortable no matter how you wear it. Others still come in bright and fashionable colors, ensuring that you look your best even while out on the beach.
There are numerous variations on the one-piece style, but the most prominent is the type of back straps. Some one piece suits have an X-strap in the back, where the straps form an X shape. Others have a double strap over the shoulders, for looks and extra support. And some just have one sep of straps that wrap over the shoulders, for no-fuss function.
No matter what Speedo one piece you choose, you will be getting a high quality swimsuit that is built to last.
Bikini
Speedo Bikinis have almost as much variation among them as one piece suits, but they tend to be more similar than different. Two pieces, a top and a bottom, form the bikini, designed to show off as much skin as possible. Perfect for tanning, or just for looking good, bikinis are great for those who prefer their beach day to be spent lounging rather than exercising hard.
However, there are some bikinis that are designed for more active use. Though, whether they can still be called bikinis are that point remains to be decided.
Unless you get a bikini designed for active wear, we do not recommend them for anything more than beachgoing and casual swimming. They simply do not provide the support and protection needed for anything more strenuous than that.
Tankini
Speedo Tankinis gets their name by combining "Tank top" with "bikini." This is appropriate, since that is exactly what a tankini is. A tank-top-style top and a bikini-style bottom. This allows women who do not want to commit to a one piece but would not be comfortable in a bikini to find a middle ground.
Like the bikini, these are best used for fashionable wear, since they are not designed for strenuous workouts or heavy swims. But for a day on the beach, or even just as a comfortable top for good weather, you can't go wrong with a Speedo tankini.
Swim Shorts / Skirts
Unlike a bikini bottom, Speedo also makes Swim Shorts and Swim Skirts that are exactly what they sound like. Shorts or skirts that designed to go with a bikini or tankini top. They are made of water-resistant and quick-drying material, just like a normal bathing suit. They give you the comfort and style of a traditional pair of shorts or a skirt, but you can take them in the water with no damage to the fabric!
Because they do not cling to the skin and create a compression, you will not be winning any competitions in these kind of swim suits. But they are comfortable, fashionable, and great for swimming on the beach!
Rashguard
Speedo Rashguards resemble a typical t-shirt, but they are made of a quick-drying material designed to keep you warm and comfortable in the water. Ideal for outdoor workouts, rashguards provide additional SPF protection from the sun and the elements.
Rashguards can come in both long and short-sleeve varieties, depending on your needs, and can be worn with different bottoms, such as a bikini bottom or a swim short.
Rashguards are great for activities like water polo and aerobics,  but if you are looking to swim long distances, they are not ideal.
Dress
Dresses made by Speedo? Yes, indeed! Speedo makes a variety of water dresses designed to be worn in the water, to accentuate your workout or to look good on the beach. Unlike a one-piece, a dress hangs lower on the body and also looser, providing you with additional coverage and comfort without sacrificing style.
However, they are not recommended for heavy swimming exercises. But they are great for activities like water aerobics or yoga!
Tech Suit
Speedo Tech Suits are specialized swimsuits designed only for the most dedicated and determined of competition swimmers. You won't find a better suit for swimming fast than a Speedo Tech Suit, but you should know that these suits are not for the faint of heart.
Compared to a standard one piece swimsuit, a tech suit provides far more compression and body coverage. But while it can keep the sun off you, this is designed to keep your body as slick as possible to flow through the water with ease.
Tech suits are generally made with lycra or spandex, designed to hold up and retain their shape after many uses. They also have an open back and strategically placed straps to ensure maximum range of motion at all times.
If you are looking to swim competitively, a speedo Tech suit is the way to go. Not only will you look stylish, but you will get the most out of your regular swimming and training.