Toys and Games for the Beach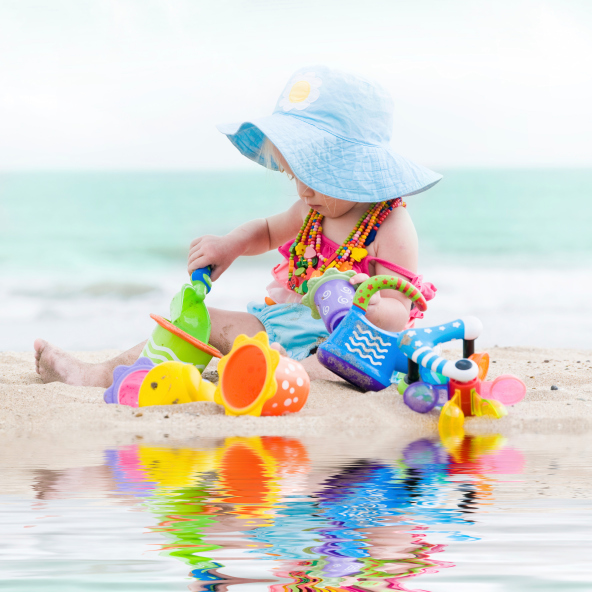 Every year when summer rolls around, there's always one thing on everyone's mind: the beach. Spending time with friends and family while soaking up the sun and wading in the water can be one of the most fun activities you do during the season. But one thing that always lingers in beach-goers minds is, what should I bring to the beach? This guide will give you a comprehensive idea on what toys, games or essential items that you should consider bringing with you to the next time that you go out to the beach, especially if you have little ones to consider.
Essential essentials

First things first: pack your essentials. One little trick to tackling this is to have everything in one backpack. You can store all of your regular belongings in here for easy storage so the next time you go to the beach, all you need to do is bring this backpack and assorted extras.
Here are a sample list of essentials that will make your day on the sand the best yet:
Change of clothes
Hats
Snacks
Water
Any necessities for babies such as diapers, baby powder and wipes
First aid kit
Pen and small notepad
Sunscreen
Sunglasses
Chapstick
Camera
Always bring this and then you'll be set when it comes to any trip you take. Make sure that you always take the necessary measures to wear sunscreen when you're heading outdoors. Try to stick with a high SPF since you'll be spending a few hours outside and don't forget to reapply.
Toys, games and all the fun stuff

As far as all the fun stuff goes, we suggest that you let your imagination run wild. Still keeping beach necessities in mind, bring along some beach chairs and an umbrella -- This will ensure you're comfortable and relaxed. Toys are a must-have if you have any children in your party. An brightly colored shovel is a common item at the beach among children and even adults. Digging holes and burying others on top of the sand is a common occurrence no matter the age. Make sure to bring multiple shovels as well, because there may be some wrestling over the shovel master otherwise. Next is to bring a few sand castle building tools. SwimOutlet sells a variety of plastic beach toys that let anyone build their own sand castles easily, coming in many shapes and sizes. Another exciting toy you can bring are molds. These are generally in the form of fish, starfish and other creatures. You can press sand into the mold and have it adorn your castle or anywhere along the beach. This makes for tons of creativity and adventures for your children. Once you have those ready to go, throw those in a mesh bag and you'll be set to tackle any beach you head to.
Games that are fun for the whole family

After soaking up the sun, you may want to partake in physical games such as Frisbee. You can either play with teams, trying to see who can rack up the most points, or just have a simple game of catch. Another fun one is to set up a volleyball net and play a fun game of volley ball. This will get the whole family moving and make the hours fly by. You can even host a sand castle competition. Whoever can build the fastest sand castle within a certain time limit is the winner. What should the prize be? Whoever wins can pick their lunch for that day!
There are so many ways that friends and families can all enjoy heading out to the beach for the day. Whether you're having a bonfire, or you decide to camp there for the night, beaches are always a huge source of fun that can't be found anywhere else. Even with all of those games and toys that you can bring,the beach toys and games, nothing beats taking a jump in the water and soaking in a good swim. Don't forget to always stay safe whenever you're out in the water as well, wearing sunscreen, sunglasses and hats are a great way to protect yourself. But the most important part? Have fun!