Speedo Teamster Backpack Technical Review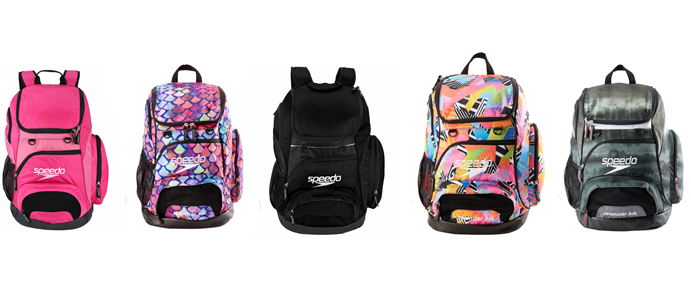 Swim backpacks are often a swimmer's best friend. It serves as their hub of essential items during daily swim practices and more importantly, swim meets. The Speedo Teamster Backpack, in particular, is one of the most popular swim backpacks to date, and here's why.
THE PURPOSE
When you're going to and from the pool on a daily basis, you are likely lugging many things along with you—a towel, a change of clothes, dry land attire, shampoo and conditioner, extra swim gear, snacks and water, etc. It is important that your swim bag accommodates all of your items so that you're always packed and prepared. No one wants to show up to practice without a dry towel, extra goggles and a water bottle (you just don't—trust us).
In today's market, swim bags have totally evolved. Now you will see these large backpacks equipped with waterproof compartments, dirt bags and breathable mesh. The Speedo Teamster Backpacks are durable and comfortable, as they should be.
THE SIZE
The Speedo Teamster Backpack, one of the best-selling swim bags on the market, comes in two sizes. It is available in both a medium size and a larger size.
The Speedo Teamster Medium 25L Backpack – This is the smaller of the two styles and measures 12.5"L x 6.5"W x 18"H. Since this one is a bit smaller, this is an ideal option for a small child or a beginner, recreational swimmer who may not have as much gear.
The Speedo Teamster Large 35L Backpack – The larger backpack measures 17"L x 8"W x 20"H, and is significantly bigger than the medium. This backpack is probably the most popular of the two, and is perfect for avid, competitive swimmers.
THE STYLE
The Speedo Teamsters are swimmers' go-to backpacks, and rightfully so. They feature the classic shape and styling of the veteran design, the Speedo Pro Backpack, but have new and improved materials. Each backpack features a removable, cozy bleacher seat behind the laptop sleeve for cold, hard surfaces, front and side zip pockets, a large main compartment with an organizer and a side media pouch and water bottle holder. In addition, you'll find a removable dirt bag which can be used to keep dirty, wet items away from electronics and clean garments.
The Speedo Teamsters are super durable, and are built with abrasion resistance for demanding athletes and travel. The backpacks come in a wide array of colors and prints, so there is something for every team member or swimmer. In addition, all of the Speedo Teamsters are available for embroidery or personalization, which earn extra points in our book!
THE FIT
The Speedo Teamster is very comfortable, regardless of how heavy. The straps are made thick and padded with the athlete's comfort in mind. Likewise, the back of the backpack is made with breathable cushion to protect your back from the hard contents inside.
THE PRICE
The Speedo Teamster Bags range anywhere from $30-$60 depending the size and color.