How to Wash Fashion Swimwear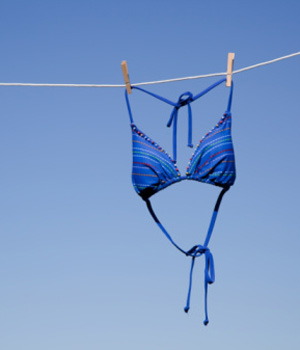 Proper washing can help to keep your fashion swimwear looking newer, longer. Gradual wear and tear is bound to happen, but if you care for your swimsuit properly, you will be rewarded in the long run. Your suit will stay vibrant and maintain its elasticity. The following tips outline how to properly wash a fashion swimsuit.
Rinse after Use
Rinse your swimsuit in cold water as soon as possible after use. This helps to wash off any chemicals, saltwater, or sand before they can damage the suit's material.
Many pools and beaches have showers. If you don't have access to a shower, simply rinse your swimsuit in a sink or other clean water source after use.
Washing Instructions
If the suit's care instructions avoid against using a washing machine, hand-wash the swimsuit in cold water.
If the suit's care instructions allow using a washing machine, place the swimsuit in a pillow case or mesh bag to protect it from getting torn, tangled, or stretched by the machine or other garments.
Wash the suit with only two white towels (to protect it from the rigors of the machine), or with other delicates in place of the towels.
Make sure the machine settings are on "cold wash" and "delicate."
Use only a small amount of mild detergent.
Hang Dry
Dry the swimsuit by hanging it on a clothes line or hanger. Do not hang the swimsuit in direct sunlight — UV rays can cause the fabric to fade.
Do not put your swimsuit in a dryer — dryers can do permanent damage to the fabric.
Do not twist or wring out your swimsuit to remove excess water — this could damage the elasticity of the fabric.
Enjoy the feeling of owning a brand new swimsuit by keeping yours looking good-as-new!