How to Choose Swim Fins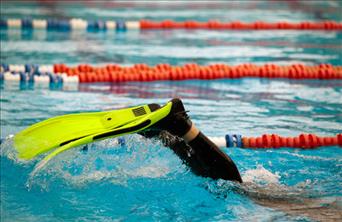 Swimming fins are designed to help swimmers—both competitive swimmers and casual—develop a more powerful kick, increase their kick tempo, and improve ankle flexibility and leg muscles. They also help swimmers move through the water faster and improve body position, which makes them a very attractive piece of swimming equipment. Since fins for lap swimmers come in a wide array of styles that vary in length, stiffness, and heel design, this guide helps swimmers choose a pair of fins that best meet their swim training needs, whether you're in open water or a pool.
Training Fins
The length of the fin blade has a big impact on how it will affect a workout. The longer the blade, the more resistance there will be in the water. That means that the legs have to work harder, but that the swimmers also kicks at a slower rate. Each fin blade length serves a slightly different purpose, explained below.
Short blade fins create resistance in the water while forcing the swimmer to use a faster kick, making them ideal for freestylers and backstrokers. Shorter fins also help swimmers develop proper kicking tempo and technique. Most lap swimmers or swimmers on swim teams use these short "Zoomer" style fins.
Notched fins (fin blades with a V-cut) are also intended for serious swimmers, as they mimic the natural path of the foot through the water. Most notched fins have the same short blade that promotes proper kicking technique.
Mono fins and breaststroke fins are rarely used, but certainly have their benefits. Mono fins force swimmers to keep their feet together as they kick, enforcing correct butterfly/dolphin kick movements. Breaststroke fins are curved and allow swimmers to execute a correct breaststroke kick (impossible with traditional straight fins) while increasing resistance.
The stiffer the fin blade, the more resistance it will provide. While this sounds appealing to those who want to increase leg strength, it also leads to a slower, ineffective kick without fins. Softer fin blade material provides a more natural movement through the water.
Some fins include channels that direct the flow of water over the foot. The more the fin is designed to mimic the feel of swimming without fins, the more benefit the swimmer will get.
Long blade fins are best for young swimmers who are still learning how to move in the water, snorkelers, and recreational swimmers. Longer fins improve ankle flexibility and leg endurance.
Fin Heel Styles
Most lap swimming fins are "full foot," meaning they are designed to encase the entire foot like a shoe. However, some models come with an adjustable back heel strap instead. The attributes of different heel styles are explained below.
Swim fins usually have a "full foot" or closed heel — a soft rubber pocket that helps keep the foot inside the fin while kicking. Because the foot is totally encased in rubber, an improper fit can lead to rubbing and blisters. Carefully look at the size chart to compare with your shoe size before purchasing.
Open heel fins use a strap across the back of the ankle to keep the fin in place. This usually results in less rubbing on the heel, but may not provide the same secure fit as a full foot fin.
Some swimmers get blisters from fins. If this happens, wear fin socks. These are specially designed to prevent chafing.
Swim Fin Advice
The right type of fins can be valuable training tools that help their users increase leg strength and develop proper kicking technique during swim workouts. Once you have the right fit and model, you're sure to enjoy the speed and variety fins add to your swim gear and athletic performance. Remember, though, that swimming with flippers all the time will make it that much harder when you have to take them off. Check out the most popular swim training and diving fins from top brands like FINIS, Speedo, and TYR!