How to Choose Running Socks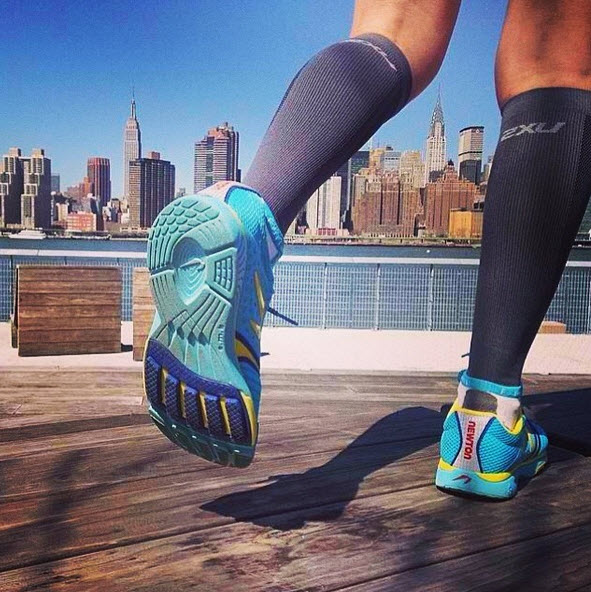 With so many running shoe options, it's easy to focus solely on what shoe would improve your performance. However, finding the ideal pair of running socks is just as important as selecting a good pair of shoes. A satisfactory pair of running socks will help prevent pesky blisters while giving you comfort. In this guide, you'll learn the ideal characteristics of running socks so you can choose the right pair for your cardio routine.
Say No to Cotton
It's common for people to wear socks made out of 100% cotton. Cotton is known for its soft, comfortable properties. However, cotton does a poor job of wicking away moisture. Instead, cotton absorbs moisture like sweat. Absorption is a bad quality for running activities. A presence of moisture will invite blisters and cause friction inside of your shoe. For this reason, it's best to stick with the following fabrics:
Nylon
Polyester
Cotton blends: Blends can be worn as long as you steer clear of 100% cotton.
Merino wool: Unlike traditional wool, Merino wool is not itchy. It also easily wicks away moisture and features antimicrobial properties to keep bacteria at bay and prevent odors.
CoolMax: This fabric is specially created to wick moisture away from your skin and through the fabric so that it can evaporate. CoolMax essentially creates your own personal cooling system and can be found woven into other fabrics.
Comfortable Padding
Running socks come in varied levels of thickness and cushion. Thickness is a personal preference. Some people prefer socks that are akin to liners. These socks are incredibly thin but still have moisture-wicking capabilities. Others prefer a thick sock for extra cushion and protection. Thick socks are ideal for people that are prone to foot issues such as bunions and quick foot fatigue.
In addition, cushioning can be found in several areas of the sock. Cushioning promotes comfort and a long lifespan of the sock. One area that typically has extra cushion is the back of the heel by the collar of the shoe. The back of the heel is a popular place for blisters to form due to friction. If you prefer socks with a no-show height, make sure the sock reaches above the back of the shoe collar to prevent uncomfortable friction. Another area of importance is the ball of the foot. Both areas experience a lot of wear and with proper cushioning, you'll escape painful blisters and possible fabric tears or holes.
Try It On
Trying on your socks with your chosen running shoes is incredibly important. Although running socks with extra padding are comfortable, they may not fit comfortably inside of your shoe. An overly snug fit will negate any positive aspects and painful blisters may form. Likewise, an overly thin sock that leaves extra room in your shoe is dangerous. The last thing you want are shoes that are too loose which will cause your feet to shift around while running. This can cause possible injuries.
Run In Comfortable Confidence
Running socks tend to be an afterthought when considering running gear. However, once you find the perfect pair for your lifestyle, you'll instantly feel the difference. The socks will help prevent blisters and aching feet after a run. You can even experiment with cool colors and extra features like mesh ventilation and different cuts once you find the right pair for your workouts. Running socks will quickly become a much-needed item for your next run.