How to Choose a Women's Tri Suit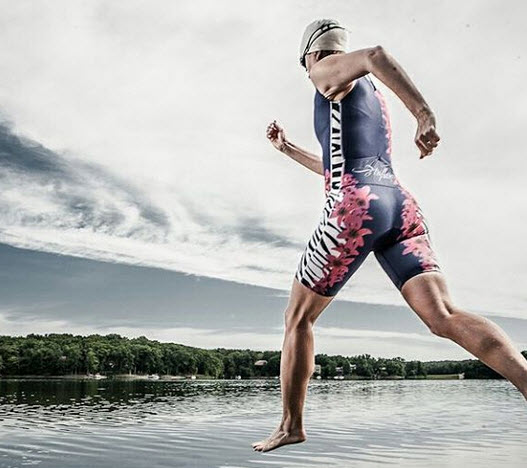 A triathlon suit, or tri suit, is a single article of clothing you wear throughout an entire triathlon. It can be worn under your wetsuit for faster transitions and it can provide the performance advantages you need for a great race. When choosing a tri suit, there are a few basic things to keep in mind. This guide will answer any questions you might have about finding the right tri suit.
Water Temperature
You likely need a wetsuit if your triathlon has a cold, open water portion. Since it will be worn under the wetsuit, the tri suit does not need to have any special features that provide added speed in the water. On the contrary, if the water is warm enough for a non-wetsuit swim, look into tri suits with special features like quick-drying, drag reduction, and buoyancy.
Triathlon Weather
Hot, sunny days call for a tri suit with cooling features and sun protection. Tri suits typically have a high UPF rating that blocks most ultraviolet B (UVB) and ultraviolet A (UVA) rays. When searching for a tri suit with protective features, look for materials and keywords like:
Mesh: Improves breathability and increases ventilation.
Moisture transfer/management/wicking: Moves sweat to the outside of your tri suit where it dries quickly.
Anti-bacterial/anti-microbial: Protects you from bacterial and fungal growth.
Built-in Support
Some women's tri suits come with built-in sports bras. If you have a flatter chest, this feature might not be necessary. If you are a bustier woman, having a sports bra included in the tri suit can give you one less thing to worry about. If you have a particularly large chest, the built-in sports bra may not give enough support and you may want to wear a separate, more supportive one underneath.

Extra Padding for the Bike Portion
Some tri suits come with a chamois (pronounced shammy) or a tri pad for extra padding on the bike. The chamois is sewn into the tri suit at the crotch area where your body meets the bicycle saddle. Some seat pads are more discreet than others so the padding isn't obvious while running or swimming. Many chamois sections are specifically designed for male or female bodies to provide gender-specific support and comfort.
Pockets
Many tri suits include aerodynamic, convenient back pockets at the back for your gels, MP3 player, and other essentials. If you can attach things to your bike or prefer an arm band, the number of pockets on a tri suit won't be a deal breaker.
Recovery Time
Tri suits with compression properties support your muscles to boost endurance and reduce your recovery time. If certain parts of your body take a beating after a race, look into compression tri suits to help your muscles.
Tri Suit Fit
Once you have your tri suit, try it on properly to make sure it fits. A tri suit that is too small can cause chaffing and skin irritation, circulation problems, constricted range-of-motion, and a longer transition time. If a tri suit is too big and there are bulges, you will be slowed down in the water. Tri suits should have a snug, close fit that sits comfortably against your body like a traditional rash guard.
The Perfect Tri Suit
What's the difference between try and triumph? A little "umph"! The same goes for finding your perfect tri suit. There are so many different options and features, the best way to find the ideal tri suit is to know your needs and to use this guide as a starting point. The more knowledge you have, the closer you'll be to tri suit triumph.