How to Choose a Swimsuit for Your Swim Team: Tips and Tricks from Swimoutlet.com Team Sales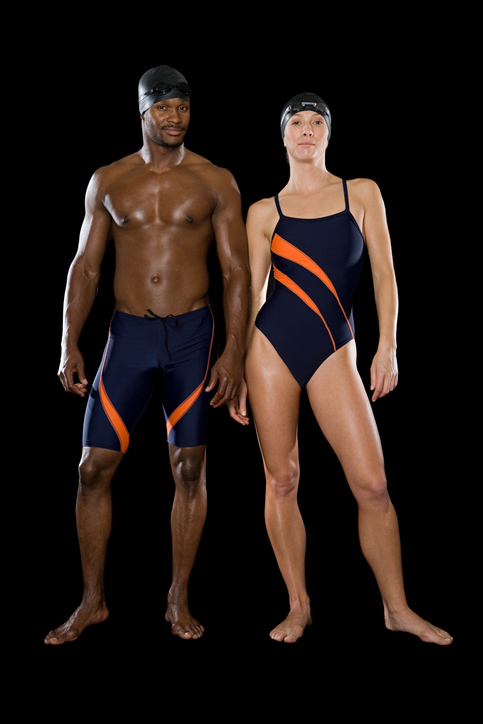 Choosing the right suit for your team is important. When selecting a suit you want to ensure it fits within your team budget, is durable, and enhances performance, all while making sure your team stands out from the crowd. Fortunately, SwimOutlet.com is here to help! We offer plenty of customization options to help your team look their best. 
When selecting a team suit you should take the following into consideration: price, style, fabric, and design. We'll break down these considerations in more detail below:
Before You Shop
Before you can decide which swimsuit is the best for your team's needs, you should ask yourself the following questions:
What is my budget?

Do I want a specific brand?

Do we need a specific color?

Do we want a print or a solid?

What will allow me to outfit my whole team?

How long will this be the team suit?

Will my swimmers wear the team suit as a practice suit?
All of these questions will help you determine what kind of swimsuit and style to purchase, and to ensure that you keep your team from going over budget. 
Price
If you are shopping by price it is important to determine your team's budget and how much can be spent per suit. Before you get started ask yourself:
Who is going to pay for the suit?

Is the team or the individual swimmer going to pay for the suit?

Do you have a budget?
Whatever your answer is to those questions, SwimOutlet.com Team Sales has a wide selection of suits starting as low as $9.99 per suit. Keep in mind that prices can vary depending on the brand, style, and quality of fabric. SwimOutlet.com allows you to shop by price point and our Team Sales can make suit recommendations based on your price range. Get started now by checking out our team suits category. 
If you are catering to a wide audience that varies in purchasing ability, it's good practice to pick a solid color suit offered at multiple price points hosted on a team store powered by Swimoutlet.com Team Sales. This allows each swimmer to choose what is best for them.
Customized Logos
A customized logo on a suit will help unify the various teams and a great way to add character any solid team suit. Learn more about customized swimsuits here.
Styles
Considering different suit styles for your team is a must! The suit you pick can depend on a multitude of things like age, gender, and style views. Take a step back and ask what type of team are you trying to suit. Here are some questions to help:
What is my age range?

Do I have to fit youth and teens?

Girls and boys?

Would my swimmers prefer thick or thin straps?
For female swimmers, the younger age groups tend to prefer a thick strap suit. If you have a team with multiple age groups consider finding a suit that offers multiple strap styles. Older swimmers usually prefer the style and cuts of a thin strap suit. Skinny straps are more popular with older female swimmers who do not mind a more revealing suit.
Men's options are a straightforward brief, square leg, or jammer style. Jammers are preferable for high school age and younger swimmers, but the old school brief style might suit the seasoned swimmer best.
Fabric
Swimmers spend hours both in and out of the pool. Chlorine can slowly wear down the fabrics of the suits over the course of the season, so choosing the right fabric will help your suits withstand the test of time, especially if your swimmers wear their team suits to practice. Below are the most common types of fabrics that swim suits are made of:
Nylon
Ideal for drag suits and training suits. Nylon is often blended with Spandex for elasticity. This provides the swimmers with a lightweight, smooth fit that is quick-drying and has low-water absorbency. Plus, these suits tend to be offered at a low price point.
Spandex/LYCRA®
Ideal for competition suits.These suits tend to be form-fitting and are about mid-range for cost. Commonly used because of durable elasticity.  
Xtra Life LYCRA®
Ideal for competition suits and is often blended with other fabrics like nylon. Suits made with this fabric tend to last longer than LYCRA® Spandex suits. It also know for being a comfortable material and form fitting. Suits containing this fabric tend to cost more.
PBT
PBT stands for polybutylene terephthalate, a texturized polyester. These suits are often blended with Polyester. Which make it an Ideal suit for fitness and competition suits. These suits are chlorine- and heat-resistant and known for being durable. Due to their longevity they tend to be more expensive however.
Polyester
Durable alternative to Spandex. It is form fitting and is chlorine-resistant and colorfast. It will hold up 2-3 times longer lasting than Spandex, but does not offer as much stretch. The feel is not as comfortable as Spandex. The suits made of polyester tend to be Higher cost.  
Spandex Vs. Polyester
If your team has a short season and wants to keep it cost effective, Spandex may be the best option. These lightweight, smooth fitting suits are quick drying and lower in cost. If your team puts their suits through their paces or has a long season, choosing a polyester suit is best.  The suit will keep its color and shape throughout the season and hold up through the most rigorous of events. 
Colors and Prints
Should you pick a solid color swimsuit? Or one with a custom print? If you go a solid color, you will get a swimsuit that will last more than one season with no worry about the print rubbing off. However, you won't get a customized team logo on your suit. If you go the print route, you can get a customized look, but it may not last more than a season. Consider the following when making your decision:
Will I want to use this suit next year?

How big is my team?

Is my color offered?

Is it offered in boys and girls styles?
Customization
No matter what suit you choose, adding a custom team logo is a great option! You can create a suit unique to your team with minimal added cost. We offer, heat press, multi color logos (if your team qualifies), and embroidery options to make your suit stand out for your team. Learn more about SwimOutlet Team Sales Custom options here:
Team Gear: Take it to the Next Level!
Now that you've chosen your team's winning suit, don't forget to tie it all together with team gear! Team Sales can help you finalize your look with matching shirts, bags, parkas, you name it! Add your team logo and walk the deck with style.
Need help with your order, or still have questions?
There are many options when ordering team suits from creating a team store for individual orders to a bulk team order. Swimoutlet.com Team Sales can help you figure out what is best for you and your team!  You can reach us at 1-800-469-7132 or teams@swimoutlet.com.