How to Choose a Swim Towel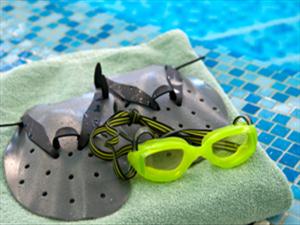 Although it's not required for swimming itself, a swim towel is pretty much a necessity for drying off afterward. There are a few different types of swim towels, each with their own special benefits. This guide explains the different types of towels, as well as how to choose the one that's best for you.
Cotton & Terrycloth Towels
Soft, absorbent towels made of cotton or terrycloth are the most commonly used towels in the aquatic world. Because they are cheap and effective, most swimmers, water polo players, and other aquatic athletes choose these as their drying-off method of choice. Towels come in a wide variety of prints, from solid colors, to fun graphics, to those that feature the logos of popular swim brands. These towels also come in a variety of sizes, so athletes can choose from compact or more generous styles, depending on their preferences.
Sport Towels
Made of soft polyvinyl, sports towels are small squares of super-absorbent chamois. Their material makes it possible for them to dry people off quickly, and their compact size means they take up hardly any room in gear bags. In order to stay usable and absorbent, the material needs to be kept slightly moist and for this reason all sports towels come with their own plastic storage case. These towels came into popularity with divers who used them to dry off between dives, but they have become popular with swimmers and other aquatic athletes who want a fast, space-efficient means of drying themselves.
Sport towels are most commonly used by divers or aquatic athletes who practice in warm temperatures. They're also a popular choice for travel, since they take up far less space than a bulky cotton towel. These towels tend to wear out a bit faster than traditional towels, but with a little care they can last for several seasons.
Beach Towels
Beach towels are larger than traditional towels, and are designed to be both a drying mechanism and a blanket for lounging by the water. Beach towels — because of their extra bulk — may not be the best choice for serious athletes who will be using the towels for practice several times a week.
Every Towel Will Work
Luckily, it's hard to go wrong when purchasing a towel. They're practically impossible to "break," and every towel is guaranteed to dry you off. Think about the how you spend your time in the water, and how you'd prefer to dry off afterwards, and then choose your towel based on those factors.