How to Choose a Rash Guard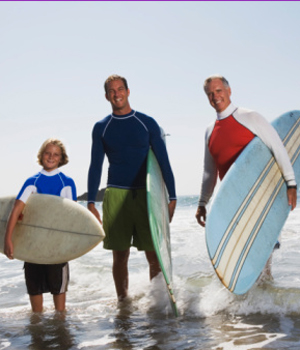 Rash guards come in various styles, thicknesses, and fabrics depending on their purpose. Rash guards are used for a number of ocean sports, but the most popular is surfing. This brief guide covers the different types of rash guards and how to choose one specific to your needs.
What is a Rash Guard?
The primary purpose of a rash guard is to provide warmth, sun protection, and rash protection.
They can be worn under a wetsuit for rash protection and additional warmth, or by themselves (without a wetsuit) in warmer weather.
They are also used with modest swimwear and as additional top coverage.
Most are made of spandex, nylon, polyester, or neoprene.
Every rash guard provides at least some UV protection (even if not specifically stated).
Thermal Rash Guards
Thermal rash guards provide some extra warmth in cold water. Choose a thermal rash guard when you're planning on being in chilly water for an extended period of time.
Thermal rash guards are commonly used for aqua aerobics and ocean sports (in water that is too warm for a wetsuit, but too cold for bare skin).
Aside from the word "thermal," look for "thermo" in the title of the product. These terms means that it is made of thick, insulating fabric.
Thermal means the rash guard is made for warmth.
Neoprene is the most common fabric used for warmth.
The "mm" designates the thickness of the material in millimeters. Choose a higher thickness for extra warmth. If there are two numbers, such as 3/2mm, the first number refers to the thickness in the torso and the second refers to the thickness in the sides and/or limbs.
Rash Guards for General Sun Protection
Choose a general purpose rash guard for sun protection or surfing. While surfing, the rash guard can be worn alone (to protect skin from a surfboard rash), or under a wetsuit (to protect skin from wetsuit irritation). Some information on rash guards in general:
Regular rash guards are lightweight and are made to fit tight/snug. If you want a looser fitting rash guard, purchase a size up, or just get a surf shirt (outlined below).
General rash guard styles come in both short sleeve and long sleeve cuts.
The short sleeve designs provide more freedom of movement, while the long sleeve designs provide additional support and protection.
Boardshort connectors attach the rash guard to shorts to prevent it from riding up.
Surf tees and surf shirts are used primarily for sun protection. These are very lightweight, and unlike regular rash guards, are loose fitting. Surf tees should be worn as a regular shirt; they are too loose for surfing.
Rash Guard Vests
Choose a vest for additional warmth in ocean sports. These can be used alone, or under a wetsuit. The lack of sleeves provides more mobility in the shoulders, which has obvious advantages for any athletic activity.
Vests add an extra layer of warmth for the core (but not enough warm for cold-water use). Materials dictate the best use for an individual vest:
LYCRA™ vests are similar to general rash guards (but obviously without sleeves).
If the rash guard vest is made for thermoregulation (warmth) it will have an "mm" in the title.
Full-body Rash Guards
Full-body rash guards are made of the same materials and have the same fit as a rash guard, but have the cut of a full-body wetsuit. They are used for a number of ocean sports, either alone or under a wetsuit. Sports that commonly use full-body rash guards are: Canoeing, kayaking, wake boarding, water skiing, windsurfing, kite surfing, and surfing. The downside of these suits is that they can sometimes restrict freedom of movement.
Many Rash Guards, Many Uses
There are different rash guards with cuts specifically for men, women, and children. Children's rash guard sets are commonly used for sun protection, and are called "sun suits." Men's and women's rash guards are often used for water aerobics and ocean sports. So whether your need is warmth, sun protection, rash protection, or sport specific, you shouldn't have a problem finding a rash guard that is perfect for your needs.