How to Choose a Men's Lap Swimming Suit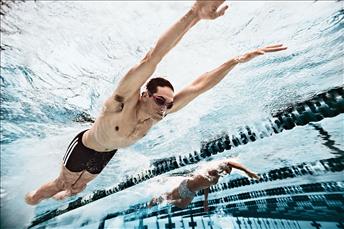 There are a surprising number of choices to make when it comes to purchasing a men's lap swimming suit—swim briefs, swim trunks, swim shorts, just to name a few. Designs and features to consider include the length of the suit, the style, the fabric, your body type, and more. Choosing the right suit makes a difference in training and therefore in the race. This guide explains the benefits of different men's swimsuits for competitive swimmers who want to excel in lap swimming and the difference between their designs and materials.
Suit Cuts & Styles
Men's lap swimming suits range in coverage from minimal to full. Depending on style, comfort, and intended use — such as racing vs. practice — some styles will better meet your needs than others.
Swimsuit Fabric & Durability
Some suit fabrics are designed to withstand hours of exposure to sunlight and chlorine, while others are meant to stay lightweight and water-repellent during a race. This guide explains how different fabrics act in the water.
Suits made of LYCRA™ or spandex have more stretch and are more forgiving, but tend to fade and grow loose quickly.
Suits made of 100% polyester are more chlorine resistant and long-lasting.
Polyester blends combine the durability of polyester and the stretch of LYCRA™ or spandex.
Suits with a high UV/UPF rating offer increased sun protection, and are more useful for outdoor swimmers.
Fully-lined suits do not wear through as quickly and prevent fabric transparency.
Other Considerations
It's important to remember how the suit is going to be used. Little details such as waistbands and styles that can be used for two purposes (such as practice and racing) make a big difference. Some things to keep in mind:
Lap swimmers who constantly push off walls or practice dive starts should look for suits with a drawstring waist.
Swimmers who want a more modest suit should opt for jammers or consider layering a drag suit over a regular brief.
Swimmers looking for a suit that can be worn for practice and competition should buy tight-fitting briefs or jammers to reduce drag.
When it comes to men's swimwear, a well-fitting swimsuit can make a big difference in your time in the swimming pool. Whether it means no longer worrying your suit staying on when pushing off walls or just enjoying a fresh new color for water polo practice, the right type of swimsuit may be all the motivation you need to step it up in the water.