How to Choose a Fitness Suit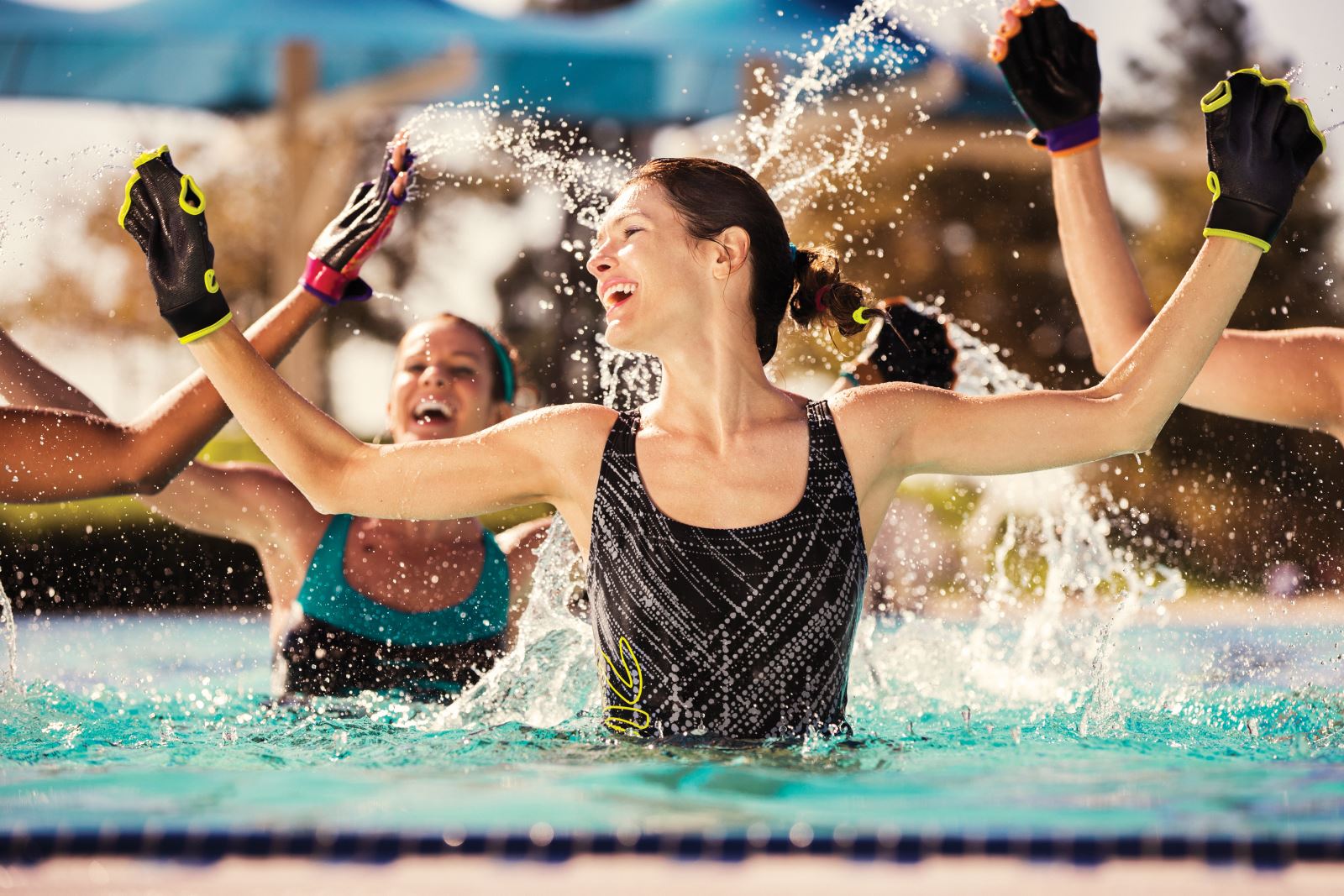 Fitness suits come in a wide variety of cuts and styles. Some are designed purely for athletic activity, such as swimming, aqua jogging, or water aerobics. Others are intended to function as a workout suit or a leisure suit, with fashion-forward prints and cuts.
Fitness suits as a category tend to be quite modest, with thicker straps, conservative legs cuts, and more coverage in general. Many fitness suits also come with features not found in typical lap swimming suits, such as bra tops, tummy panel support, short skirts, and extended size ranges. This guide explains the different styles of fitness suits.
Conservative Fitness Suits
Conservative fitness suits make up the bulk of the fitness suit category. They blend fashion and athletic apparel and generally provide more chest, back, and leg coverage than traditional workout suits. Features like V-necks, shirring, prints, and skirts make them flattering and appropriate for leisurely activities, but these suits are also designed for workouts. Form-fitting silhouettes and water-friendly materials hold their shape during exercise.
Although these suits can worn for swimming, certain design details such as padded or supportive bra tops and gathered fabric make them less hydrodynamic than dedicated lap swimming suits. Conservative fitness suits are designed for short swim workouts, water aerobics, and aqua jogging.
Unitards & Aquatards
Unitard and aquatard styles provide the most coverage of all fitness suit styles. With a traditional top but long legs, these full-coverage suits are sleek enough for a water workout, but much more modest than traditional suits. People looking for extra coverage and support during water aerobics or aqua jogging should consider a unitard.
Because of their longer legs, unitards and aquatards also provide a bit more insulation in the water. Anyone who tends to get cold during water exercise can pair a unitard with a rashguard or swim shirt for extra protection against the cold.
Tankinis
Tankinis combine the fun of a bikini with the performance of a workout suit. Sleek but flattering, fitness tankinis feature a snug, full coverage bikini bottom with a comfortable top. Tops tend to be supportive yet flattering, with padded or supportive bra tops, thick straps, and coverage that extends to the hips. Tankinis are a great choice for water aerobics, aqua jogging, or simply having fun in the water. Tankinis also make it possible to transition from working out to hanging out in the blink of an eye.
Fitness Suits Should Look & Feel Good
Fitness suits are designed to balance form and function: Their modest cuts are at once flattering and comfortable, and they can used for a wide variety of water-based activities. Because they combine aspects of both fashion swimwear and exercise apparel, the right fitness suit will perform well during a workout but still look good enough for a day at the beach.