How to Care for Stretch Cords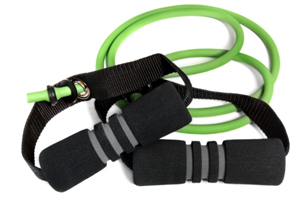 Swimmers use stretch cords in and out of the water to increase endurance and improve their body position. As equipment, these long stretchy cords help in lots of ways, but can also tangle, snap, and twist. A few simple steps can keep your swim stretch cords in great working condition.
Avoid Knots
Sometimes stretch cords get tangled as swimmers put on and take off the waist belt. If a knot develops in a stretch cord, untie it as soon as possible. Once the cord is stretched tight, a knot can be nearly impossible to untie.
Store Cords Safely & Loosely
Store stretch cords out of the sun in a cool, dry place. Also try to store the cords as loosely as possible. Coiling the cords into tight bundles can — over time — permanently twist the cords and compromise their stretchiness.
Replace Cords Early
The most dangerous part of using stretch cords is their potential to snap. Be sure to inspect your stretch cords regularly for weak spots, such as: Stretch marks, tears, and cracks. As soon as a cord shows any of these signs of aging, it's time to replace the cord.
Stretch Cords Don't Last Forever
With the right care, stretch cords can last for several seasons. But the fact of the matter is that they are simply not designed to last forever. Stretch cords are quite affordable and should be replaced regularly to ensure that they are both functional and as safe as possible.