Fashionable Sun Protection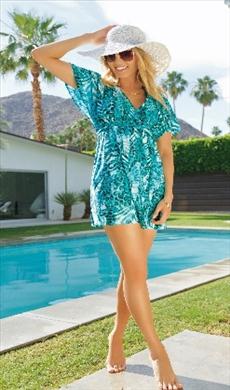 When the sunny seasons roll around, it is time to pack up your beach bag and hit the water. Before you embark on your sunny excursion, it is important to make sure you have all of the necessities. Swimsuits and beach towels aside, the first item you toss in your bag is probably sunscreen. Sunshine enthusiasts are forced to juggle the importance of soaking up the sun and the vitality of avoiding a sun-burn. Contrary to traditional beliefs, there are now fashionable options when taking sun precautions. Below are various accessories designed to keep you stylish and safe in the sizzling sun.
Beach Chic Cover-ups
A classic cover-up is a stylish garment that can double as a layer of sun-protection. Cover up dresses, tunics, and bottoms were designed to enable fashionistas to cover up without compromising their beach chic styles. Whether it is short-sleeved, long-sleeved, or sleeveless, cover ups can guard you from the harming sun-rays. Varying from linens to lace and sarongs to shorts, there are endless styles in covering up and fighting the UV rays.
Rad Rashguards
Traditionally, rashguards were designed for the wave chasers and beach boarders. However, these athletic swim shirts have now taken on a new role combining powers with Ultraviolet Protection Factors (or UPF). Previously designed for surfers to avoid rashes and chaffing, these shirts are now being worn by avid swimmers and young sandcastle builders to avoid sunburns. Rashguards allow those with active lifestyles to endure day-long adventures without having to worry about damaging rays.
Haute Hats and Vibrant Visors
Top off your sunny-day style with a hat or visor to avoid that extra, unnecessary contact with the sun. These accessories are perfect for religious sun-bathers who are not willing to completely cover-up. Differing in shapes, sizes, and styles, hats are a unique way to guard your eyes and face from the beaming sunshine. Whether you prefer a visor, a fashion forward fedora, a baseball hat, or a sophisticated straw hat, there are limitless choices for fashion and functionality.
In regards to sun protection, lathering up in sunscreen every ten minutes is not your only option. Although, it is a great idea to apply sunscreen as needed, it is also important to incorporate your sun-style in to your sun-safety. There is a wide array of beneficial apparel and accessories, designed to suit every lifestyle under the sun.