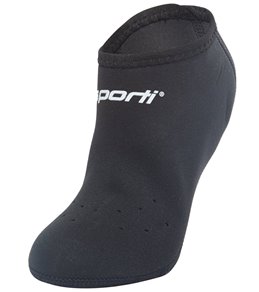 SALE
Sporti Neoprene Swim Fin Socks
$13.00
$7.99 - $9.95
(210)


in

Swim Socks
loading more items...
Triathlon Gear
Triathlon is a sport made up of three different disciplines, each of which requires its own type of type of training and the gear that goes along with it. You can't comfortably and efficiently wear or train with all the same garments during the swim, bike and run. Plus, much of the equipment reserved for each sport individually can now be found in a design made for triathletes. For example, wetsuits worn on the swim often contain quick-release zippers to speed up transition. Certain bikes contain pedaling mechanisms the conserve leg energy for the run.
Training is no exception to the multisport environment, as triathletes frequently incorporate bricks--workouts involving two disciplines performed back to back--and the outfits and equip,ents used are chosen with this in mind. This is not to say triathletes avoid gear targeted at a specific discipline, but that there exists apparatus designed for those whose specialty is multiple specialties.
Fill up your transition bag with and tri item you need. We have a selection of triathlon gear for the beginner to the experienced triathlete, and everyone in between. In addition to our swim products, we also have cycling and running items. Browse through our latest arrivals or shop by brand. We have gear from renowned companies like Castelli, Tifosi, Nike, Giro and Louis Garneau.
steaswfbzawteqycavavrxffzut