How to Deal with Crowded Surf Spots
---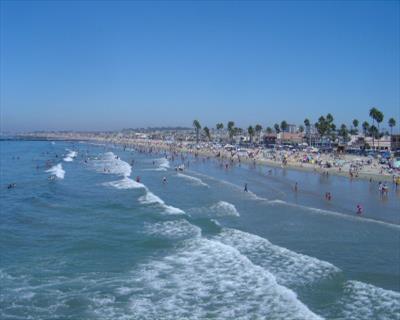 As the sport of surfing advances and becomes more convenient, it also gains popularity. As a result, every surfer has those days when it seems that the entire world has descended on the same break.
If your local spot happens to be near a populated area, chances are that you're dealing with crowds on a regular basis. In this situation, you're left with three options: Find a new sport, move to an uninhabited island, or figure out a way to deal with throngs of surfers. If you chose the third option, you're in luck — this guide will provide you with some coping skills.
Tips for Dealing with Crowds
As surfers grow older, they will often reminisce about the "good old days" when their local break wasn't crowded. However, as the sport evolves and surf-industry marketing budgets grow, so does surfing's appeal. The good news is that there are a few ways to handle a sought-after lineup:
1. Adjust Expectations
There are a lot of tempers with short fuses and grumpy dispositions at crowded breaks. In order to salvage your session it's important to adjust your expectations and accept the reality of the situation. More boards in the water usually equals less waves per surfer, more riders per wave, and a more hectic session overall. So be cool, practice great surfing etiquette, and share waves. Above all, try to maintain a positive attitude and a cooperative spirit.
2. Keep Moving
Surfing is a very big business that continues to grow worldwide. According to the Surf Industry Manufacturers Association, U.S. retail-surf-industry sales jumped from $6.52 billion in 2004 to $7.22 billion in 2008. That's a 10% increase over a five-year period despite a global economic slowdown.
On a crowded day, a surfer who moves around will tend to grab more waves than the one who continually lines up in the same place.
Once you've identified the patterns of how and where waves are breaking, take advantage of any opportunity to score some waves that are not in as much demand:
If there are multiple peaks where you surf, choose the least crowded option at any given time.
If the masses are waiting outside for the next set and there are lulls between choice waves, hang out inside for a while.
If there are lefts and rights where you surf, position yourself on the less popular side.
3. Surf Off-Peak
One way to avoid the rush is to plan ahead. The crowds are generally thickest midday on the weekends and when people get off of work during the weekdays. A beautiful weekend day with consistent waves, for instance, will bring your brethren out in full force.
So if you're looking to minimize the crowd factor, opt for a dawn or dusk patrol session. Many surfers will also plan their session around the ideal tide for the conditions. If you go out a little bit before or after that prime window, you can sacrifice some wave shape for the sake of not having to share as many waves.
4. Find a Less Popular Spot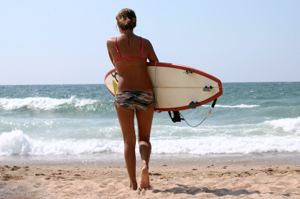 Although your local break might be overrun, there is some good news. The average surfer tends to stick to the most popular, unintimidating, and accessible spots. With a little research, you should be able to find some desirable waves that are frequented much less often. Ask around, conduct online search, and spend some time scoping out the coastline within a reasonable distance from where you live.
There are numerous epic surf spots all around the world that are still flying under the radar because they're either tougher to get to, only work with a very specific tide, swell size, and direction, or are intimidating to the average surfer. So if you don't mind driving a little or potentially hiking into a spot, you could find some real gems closer to home than you think.
5. Take a Surf Trip
When all else fails, bail. Take a long drive or hop on a plane. Luckily, waves are hitting undeveloped coastlines all over the planet. Treat yourself to a "surfari"; the more remote the destination, the less competition there will be for waves. Depending on your perspective, however, there could be a potential drawback. Once you find that nirvana dream spot — epic waves, great weather, and solo sessions — you may never return home.
Silver Lining
The next time a crowded session gets you down, look at the bright side. Popularity of any sport leads to an increase in innovation, advancements, and variety, while also keeping the price of gear under control. So take a deep breath, relax, and have some fun. After all, it could be infinitely worse — at least you're surfing!