How to Choose A Lap Counter
---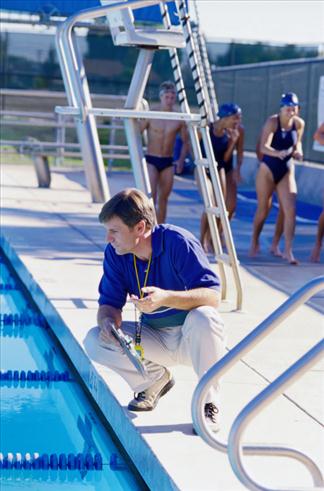 Swimming down and back can be one of the most invigorating yet repetitive things we can do in a pool. While it's the exact purpose of swimming, it can be difficult to keep count of what lap you're on, especially in a race. Luckily, the lap counter was invented to help swimmers keep track of their laps, leaving the swimmer to focus only on their pace or stroke count in the water. Whether you're a coach, the designated lap counter or the swimmer, a lap counter can be an essential piece of equipment that every swimmer owns to put their mind at ease. A lap counter is essential for races 500 yards or 800 meters and higher. This guide will go over the basic information on lap counters to give you the tools you need to choose the right fit for your next practice or race.
The old-fashioned clicker
One of the best counters available that's simple and easy to use is the Tally Tracker. It's a simple, fool-proof way of keeping track of how many laps you're swimming in the pool. Simply press the clicker and the number goes up showing you how many laps have been completed. This is a great tool if you're a coach or another swimmer who is trying to keep track of any distance event and have to count the laps swam. While this shouldn't be used by someone who is swimming, this is a simple tool to help anyone outside of the pool. It also has the capability to count up to higher numbers should you ever be swimming that many laps in a practice. For those that want to keep it modest, then this is the counter for you.
Waterproof wrist counter
For the swimmer who likes to practice independently and keep record of how many laps swam, newer models of lap counters are the perfect fit for you. This convenient lap counter comes in the form of a watch. Completely waterproof, you wear them on your wrist. One simple press of a button while you're flipping into your next lap, you can press the button on the watch and it will add up a tally of how many laps you've completed. Some versions of these watches include timers on them as well, so you can time yourself on each lap. The ease of this device is handy to someone who doesn't have the advantage of another person counting their laps for them. This is also a great way to challenge yourself to see how you can differ on your different strokes and how much you can improve your time spent in the water.
Automatic lap counter
The latest and greatest lap counter that's been recently developed is the automatic counter. What's fun and handy about these devices is there is no button to press at the end of every lap. The watch can time and understand when you're making your turn at the end of the pool. Additionally, it can also tell the difference from when you're swimming to when you're starting your next lap. These are the most convenient of all of the counters for three reasons: they take no extra time spent in the water having to keep track of the device, no extra person is required and you don't even have to click anything. Simply continue your normal swim routine and it counts your laps, distance swam and times laps as well. There are certain models that you can customize your swim, recognizing the different strokes so it changes depending on your arm motions in and out of the water. The only requirement for this is to stop and change the setting on the watch, letting it know that you're changing strokes. This watch is geared towards those swimmers who want to full luxury of never having to worry about counting your laps again.
Pro tip: Tally Boards

These counters are best used for teams, schools and leagues that have longer distance events. Tally boards are placards that are hung at the end of a the lane and dipped into the water so the swimmer is aware of how many laps are left in the race. While not as compact and easy as a clicker, it's another model option for those that want something easy to read and so the swimmer can be aware of how many laps they have left.
While everything is a personal choice, deciding to use a lap tracker is a great way to keep track of your progress and see what goals you can achieve. If you're trying to swim the mile for the first time or you've never swam over 100, having the comfort and accessibility of a tracker is a must so you can easily know how far you've come within your workout or race.