2014 Swimwear Trends
---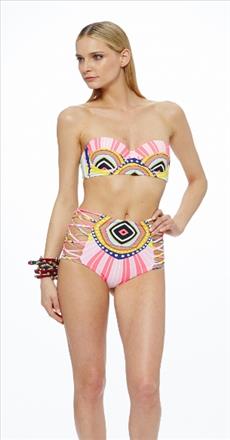 The hottest swimsuit trends for 2014 have taken the runway and will soon take over your sunny days. This guide will give you a sneak peek on what to expect in fashion swim for the 2014 season.
Tie the Knot with Style
Sexy straps and nautical knots are tying up the swimwear trends. Below are the macramé masterpieces that everyone will be talking about in 2014:

Knots: Cut your ties with boring swimwear and add an exciting edge with nautical knots.
Straps: Rows of straps are front row on the runway this season. Cross the line to fashion and add strappy details to your sunny day style.
Macramé: Master the intricate details of macramé, a dynamic duo of chic crochet and modern knots.
Posh Prints
Whether you want to look fashionable in fruits or feminine in floral, you can't go wrong with prints in 2014. Below are some posh prints that are diving in to the pools:

Photo Realism: Tell a story with your unique style. Photo Realism allows you to unravel a world of fashion adventure with photographic prints and scenic designs.
Novelty Prints: From foxy felines to fashionable fruits, novelty prints are taking the runway by storm. Varying in themes and trends, these novelties are swimwear necessities.
Printed Rashguards: Printed rashies are covering poolside princesses across the world. Slip into your own whimsical design for an ultra-chic sun protection in 2014.
Cutting Edge Cut Outs
Chic cut outs are slicing their way through the sunny days. From modern meshes to flirty laces, you'll see cutting edge cut-outs in 2014. Listed below are a few styles everyone will be splashing around in:

Modern Mesh: Mix and mesh. From overlays to inserts, mesh is adding a modern edge to varying styles of swimwear this spring and summer.
Laser Cut: Laser cut swimsuits are cutting through the competition with its sleek shapes and edgy designs.
Lush Lace: Flirt with lace ruffles and luscious overlays this season. These girly goodies will have all eyes on your sweet swimwear.
Contemporary Tops
A modern twist on a classic top, the bra inspired bustier remains dominant on this year's runways. Still, flattering flutters stay bold with flowing designs. Below are the swimwear styles sure to turn heads:

Flutter: Frolic on the sand in a flattering fit. This Fluttering fashion will accentuate your bust, making it a 2014 must.
Midkini: Take your bikini to new lengths in a revolutionary midkini top.
Bustier: Get a grasp on a vintage style with bustier bandeau tops and high-waisted bottoms. These unique "pin-up" silhouette styles will radiate vogue vibes all season long.
Sporty Spice
Sporty, spice and everything nice- these athletic inspired swimsuits are sure to turn heads. Designed to offer full functionalism, and superior style, these pieces make it easy to endure your favorite sunny day adventures in confidence.
Start Trending Today
No matter where you're soaking up the sun, these designs will make your hot days a breeze. With the bold new trends already making a splash in 2014 swimwear, you can dive into next season's hottest styles by shopping early.